Brexit: Food Standards Agency should be able to say no to chlorinated chicken
The Conservatives' favourite think tank says the decision on chlorine-washed chicken should be left to the regulator, not to the trade negotiators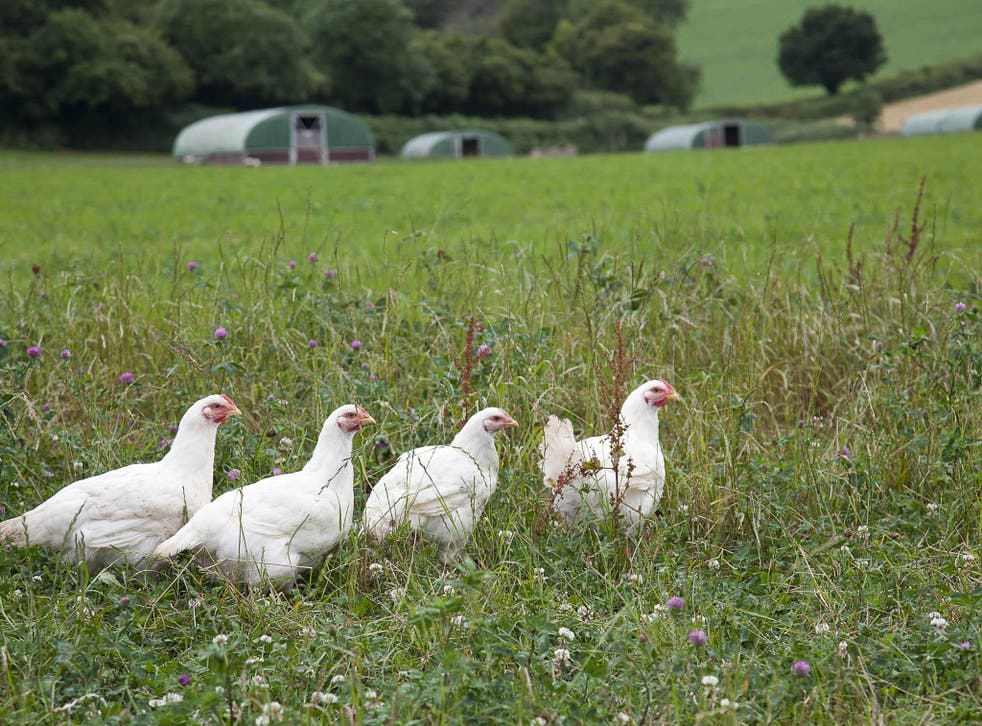 The British food regulator should have the independent right to say yes or no to chlorine-washed chicken and other controversial food products, as a way to move quickly beyond potential stumbling blocks in agriculture and accelerate free trade deals with other countries after Brexit, according to a new report from an influential think tank.
Policy Exchange, the favoured think tank of centrist Conservatives, also said that 87 per cent of UK farming income currently comes from subsidies, which it described as "a perverse and unsustainable state of affairs".
It recommends that the Food Standards Agency should commission and assess scientific evidence on foreign food production methods, including chlorinated chicken, hormone treated beef and genetically modified food, and assess whether they are suitable for sale in Britain.
The report says the EU has followed the "so-called Precautionary Principle" on these and other standards compared to countries such as the US. It argues that it lags behind other nations and "has not always kept up with the latest scientific evidence" on food safety standards.
After Brexit, it says British farmers should be able to choose whether to meet EU standards after Brexit if they wish to keep selling products into the bloc, or instead match British standards and those in international markets outside the EU.
It also argues for clear labelling on food products to "allow the public to make their own decisions about what matters to them".
Chlorine-washed chicken, which has served as the symbol of US food standards over the EU's preferred "farm-to-fork" approach has divided the Cabinet.
Environment Secretary Michael Gove has insisted chlorine-washed chickens would not be allowed to enter the UK market under any post-Brexit trade deal with the US.
However, International Trade Secretary Liam Fox, ahead of talks with US trade representatives, said there was "no health issue" with the controversial practice and it was "too early" to comment on the specifics of a free trade agreement.
The report from centre-right think tank Policy Exchange, titled Farming Tomorrow, calls for the UK to phase out tariffs on agricultural products, saying they raise prices and complicate trade deals.
It also recommends replacing the EU's Common Agricultural Policy with a new system that rewards farmers who deliver on the likes of biodiversity and flood prevention, rather than paying them production subsidies.
The report says any spare money could be used to fund rural infrastructure as well as research and development in agriculture.
Warwick Lightfoot, Policy Exchange's director of research, said: "While we are in the EU, 87 per cent of UK farming income comes from subsidies, a perverse and unsustainable state of affairs.
"Leaving the European Union allows us to think again about agricultural policy from first principles.
"The starting point for policy reform must be the consumer.
"The EU's historic reluctance to open up trade in food products has repeatedly stymied trade deals and led to higher prices for consumers and a distorted farming industry."
The report also calls for key EU environmental directives to be brought into British law.
"For the first time in over 40 years, we can have a proper land management policy which balances agriculture with other land uses like forestry: outside the EU we can plant more trees," Mr Lightfoot said.
Register for free to continue reading
Registration is a free and easy way to support our truly independent journalism
By registering, you will also enjoy limited access to Premium articles, exclusive newsletters, commenting, and virtual events with our leading journalists
Already have an account? sign in
Register for free to continue reading
Registration is a free and easy way to support our truly independent journalism
By registering, you will also enjoy limited access to Premium articles, exclusive newsletters, commenting, and virtual events with our leading journalists
Already have an account? sign in
Join our new commenting forum
Join thought-provoking conversations, follow other Independent readers and see their replies