Labour vows to fight for environmentally friendly Brexit
'We should make the case for more ambitious domestic environmental policy,' says Sir Keir Starmer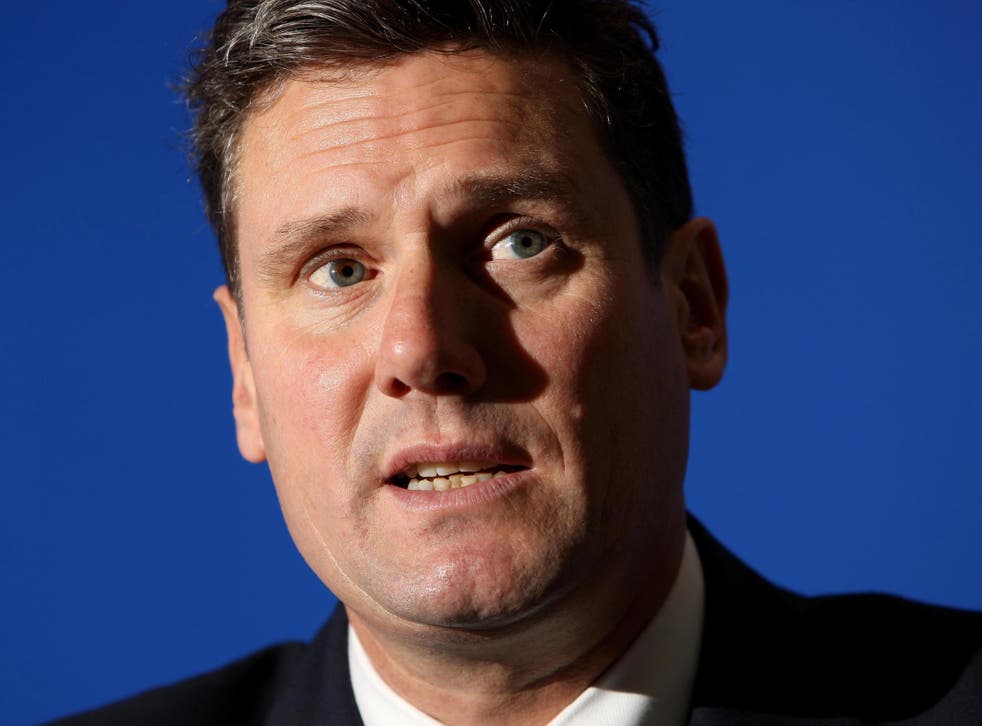 Labour has vowed to fight any attempts to weaken European Union-imposed environmental laws after Brexit.
Shadow Brexit Secretary Sir Keir Starmer has demanded that all existing EU green laws are put into a new Act of Parliament, saying it would then be harder for future governments to U-turn on them.
Environmentalists have expressed concerns that leaving the EU will allow the climate-sceptic wing of the Conservative party to bring about a "bonfire" of green regulations, since more than 70 per cent of environmental safeguarding is regulated by the European Parliament.
In a speech to Labour environmentalists at London's Coram Fields today, Sir Keir called for stronger protections for EU law than those proposed in the Government's Great Repeal Bill plan.
He said: "A hard Brexit – removed from the single market and outside of common regulations and minimum standards – could be hugely damaging for our environment, our climate and our wider politics and society.
"Labour will fight for a Brexit deal that puts the economy, jobs and living standards first and makes sure there is no watering down of key environmental protections or standards.
"We will call for all existing EU environmental laws to be put into primary legislation through a new Act of Parliament.
"This would make it far harder for future governments to weaken environmental legislation.
"And it would enshrine EU minimum standards in UK law."
The Government's plan for a Great Repeal Bill will convert existing EU law into domestic law "wherever practical", yet the process could weaken environmental standards because green laws may be transferred to secondary legislation rather than a full Act of Parliament.
Sir Keir added: "We should make the case for more progressive, more ambitious domestic environmental policy too. Not to match EU standards but to go beyond them."
The UK is currently on course to cut emissions by only half the amount needed by 2030.
Climate change: It's "game over" for planet earth
A report by the Committee on Climate Change (CCC) in October said there was an urgent need for action and that targets to reduce carbon emissions "must continue to be met after the UK has left the EU".
The CCC warned that a failure to switch to an energy-efficient and green economy could cause economic problems, as British companies would struggle to sell their products in Europe.
Fears that the UK will not retain needed environmental protections after Brexit have been encouraged by a series of Conservative U-turns on green policy.
Having once championed itself as the "greenest government ever", the Conservatives have now slashed subsidies for onshore wind and solar power; scrapped the zero carbon homes standard; ended an incentive for home insulation; and reversed its promise to exclude national parks from fracking.
Brexit Concerns

Show all 26
Theresa May has sent mixed messages on global warming, abolishing the Government's Department of Energy & Climate Change as soon as she assumed office and replacing it with the Department for Business, Energy and Industrial Strategy.
But her Government has also signed up to cut emissions and Business Secretary Greg Clark – who now presides over the issue of climate change – has said the UK will "continue to play our part in the transition to a global low-carbon economy".
Britain's forthcoming departure from the EU raises further questions about how the burden of reducing carbon emissions, agreed in the Paris accord, will be shared among European governments.
Now that the UK is leaving the EU, it is thought the only way for the bloc to reach its overall goal for cutting carbon emissions will be by increasing the burden on the remaining 27 countries.
Additional reporting by Press Association
Join our new commenting forum
Join thought-provoking conversations, follow other Independent readers and see their replies