Brexit: Corbyn should walk out of talks with Theresa May if she refuses to discuss fresh referendum, says senior Labour MP
'Maybe she has got more sense than that, you just never know'
Jeremy Corbyn says he is 'very happy' to meet Theresa May after her latest Brexit announcement
Jeremy Corbyn should walk out of cross-party talks with Theresa May if she refuses to discuss a second referendum, the senior Labour MP Margaret Beckett has said.
The remarks from the party's former foreign secretary come as talks between the prime minister and the Labour leader are set to commence in an effort to break to Brexit logjam at Westminster.
Appearing at a press conference organised by the People's Vote campaign for a fresh referendum, Dame Margaret said Mr Corbyn is now in "a very powerful position".
She said that if any new proposal is to command Labour's support and a stable majority in parliament, "it cannot, must not, and will not preclude the idea of any Brexit deal is put to the people".
Opposing protesters flock to parliament on would be date of Brexit

Show all 30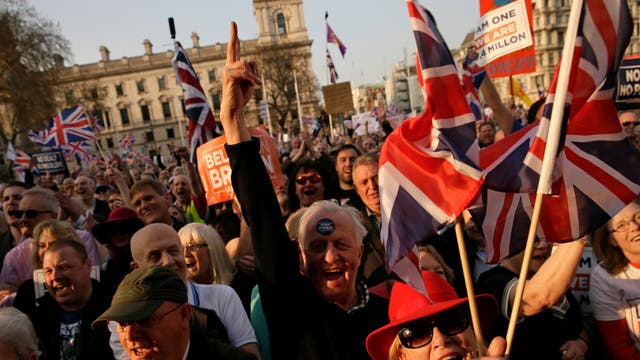 Laying out three demands, Dame Margaret said three concessions should be extracted from the prime minister, including a "confirmatory" public vote on a Brexit deal, a long extension to the Article 50 process, and to rule out a no-deal scenario.
Asked if the Labour leader should walk out of talks if Ms May fails to offer a second vote, Dame Margaret told The Independent after the event: "If she says that this is a condition that we don't even discuss it, then yes, I think he should.
"Maybe she has got more sense than that, you just never know."
At a Commons committee just moments before, Stephen Barclay, the Brexit secretary, said it would take around a year to legislate for a fresh public vote - a timeframe that has previously been disputed.
"You have got to pass the primary legislation, you have got to resolve the issues with the Electoral Commission, you have got to have the purdah period in the run-up to any referendum," Mr Barclay said.
Asked whether it would require an extension of the Article 50 negotiating period of more than a year, he told MPs: "There has been no cabinet agreement to an extension beyond 22 May."
Join our new commenting forum
Join thought-provoking conversations, follow other Independent readers and see their replies