Brexit: Leaving customs union to cost UK businesses £4bn a year, study shows
Around 180,000 traders would be hit by pulling out of the free trade area, imposing 'a canyon, not a cliff edge'
Rob Merrick
Deputy Political Editor
Monday 11 September 2017 00:58 Comments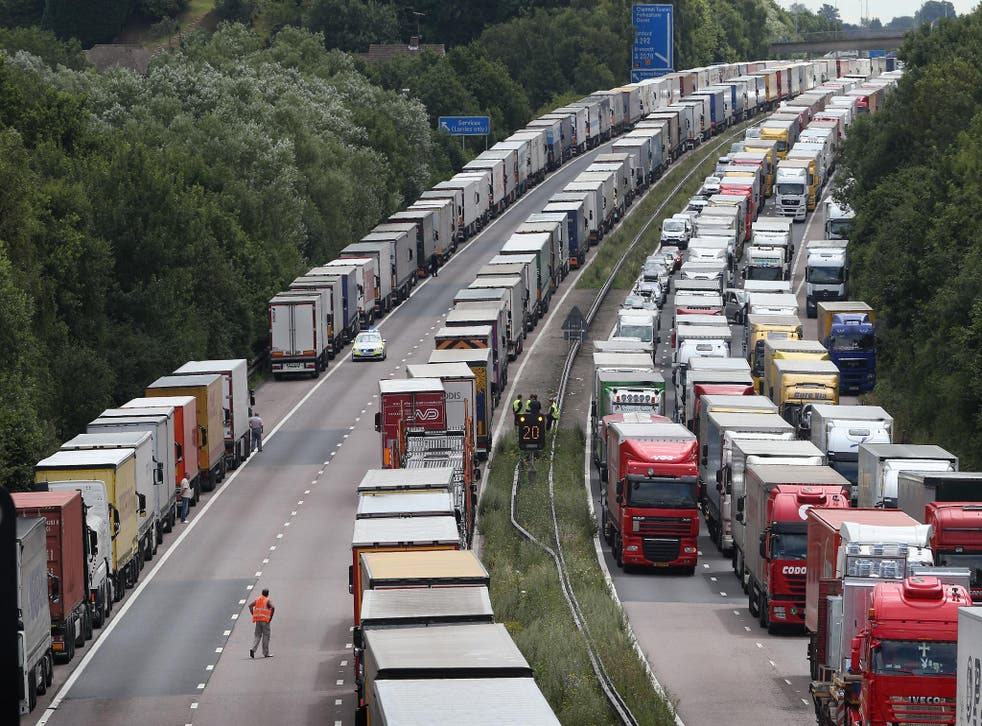 Leaving the EU customs union after Brexit threatens to cost UK firms more than £4bn a year and trigger enormous disruption to trade, a study warns today.
Up to 180,000 traders would be hit by pulling out of the EU's free trade area, imposing red tape at borders, according to "Implementing Brexit: Customs", an analysis from the Institute for Government think tank.
The study found that the daunting task of making Britain "ready for day one" requires changes at more than 30 government departments and public bodies, as well as around 100 local authorities.
Meanwhile, Calais, Dunkirk, Rotterdam and other European ports would also have to prepare to avoid disruption – but far less attention was being paid to their efforts.
Joe Owen, the Institute's senior researcher, said: "The problem is that everyone from port operators to small traders can only undertake limited preparation while future arrangements are so uncertain.
"When it comes to customs, business faces a canyon, not a cliff edge. Disruption can be caused from either side of the border, and we are reliant on the successful preparation of our European partners too.
Brexit: the deciders

Show all 8
The warning is the starkest yet about the impact of leaving the customs union and – in the absence of any new system – having to introduce customs declarations.
In recent weeks, the Government has stepped back from its "no deal is better than a bad deal" rhetoric, under fierce pressure from business leaders to prevent the "border chaos" that would follow.
Instead, David Davis, the Brexit Secretary, proposed a "temporary customs union" for a few years, amid evidence that businesses are already pulling investment because of the threat to trade.
However, some EU figures warned the plan was unacceptable because Britain is insisting it must also be free to seek trade deals with non-EU countries, from day one after departure.
A deal could also be obstructed by Britain's reluctance to continue abiding by decisions of the European Court of Justice and to pay large contributions for market access.
Mr Davis has boasted that Britain's new high-tech system for customs declarations would be ready for Brexit Day in 2019, while admitting doubt over the set-ups in some EU countries.
But the IfG said the new technology promised in this country was "already facing significant issues because of constricted timelines".
"The Government has said that new technology will help, but has provided little clarity about how," said Marcus Shepheard, a researcher at the Institute.
"In fact, it seems unable to manage existing technology. So with less than two years to go, ministers must be clear about what is and what is not feasible."
The customs union means no duties are levied on goods travelling within the EU, with a common external tariff imposed on all goods entering the bloc.
According to the IfG, today's report also showed "the complex web of private sector organisations that must also be ready to ensure UK trade can continue to cross the border on day one after Brexit".
To avoid the worst of the cliff edge, it said, customs requirements should be moved away from the physical border and access retained to key EU computer systems.
Register for free to continue reading
Registration is a free and easy way to support our truly independent journalism
By registering, you will also enjoy limited access to Premium articles, exclusive newsletters, commenting, and virtual events with our leading journalists
Already have an account? sign in
Join our new commenting forum
Join thought-provoking conversations, follow other Independent readers and see their replies