David Cameron's replacement as Prime Minister must back Brexit, says Iain Duncan Smith
For Tory leader says public would be unlikely to accept a PM who had wanted UK to Remain
Charlie Cooper
Whitehall Correspondent
Sunday 26 June 2016 17:31 Comments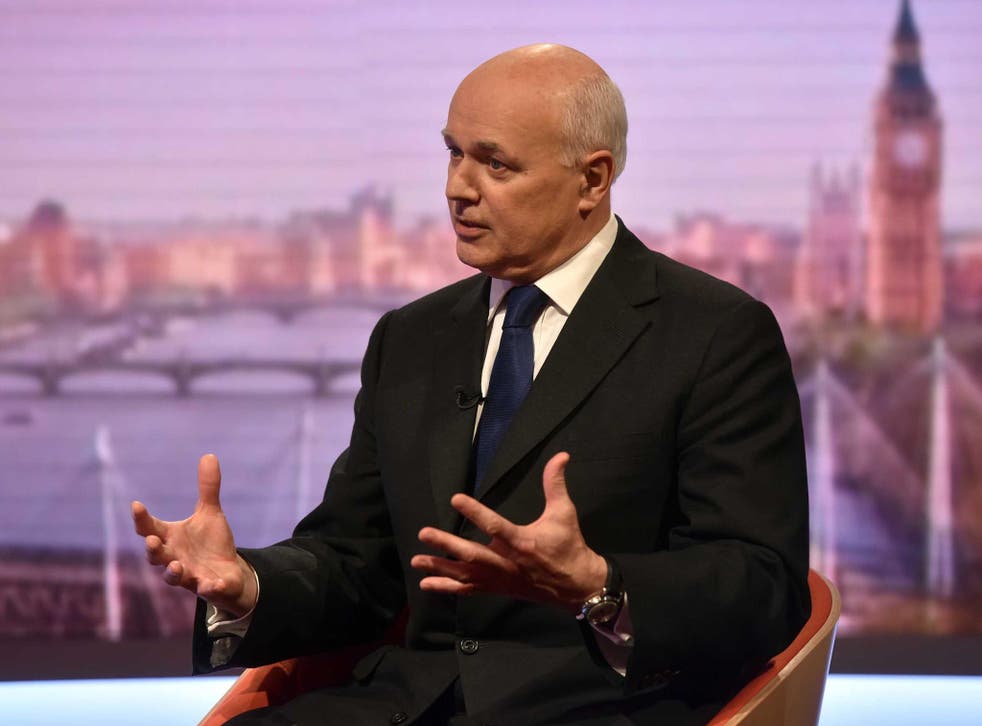 The next Prime Minister must be a backer of Brexit, former Tory leader Iain Duncan Smith has said, as a number of leading Conservatives geared up to be the 'Stop Boris' candidate in the leadership election triggered by David Cameron's bombshell resignation.
Theresa May, Stephen Crabb, Nicky Morgan and Jeremy Hunt were all reported to be considering leadership challenges. Boris Johnson, who is expected to announce his candidacy later this week, is seen as the favourite, but could face a further challenge from fellow Leave supporters.
Follow the latest live updates after the EU referendum
Ex-Defence Secretary Liam Fox, an ardent Brexit campaigner, became the first to publicly say he was considering a leadership bid and there is also speculation that Michael Gove could challenge for the top job.
But there were also calls for the Conservatives not to have a leadership contest at all. International Development Secretary Justine Greening said that Boris Johnson and Theresa May were the obvious frontrunners and should unite in the national interest, with a joint leadership "under one or the other".
But in an apparent warning to pro-Remain colleagues thinking of running for the leadership, Mr Duncan Smith, the former Work and Pensions Secretary, said that after voting for Brexit, the public would be unlikely to accept a new Prime Minister who had wanted Britain to stay in the EU.
Home Secretary Theresa May backed Remain but kept a low profile during the campaign. Meanwhile, George Osborne, who until Thursday was considered a leading contender for the Tory leadership, may still run, but would face an uphill struggle to convince MPs and party members, because of his central role in arguing against Brexit.
"Whoever takes up that job... it would be very, very difficult for the public who have voted for leaving the European Union to find that they then had a prime minister who actually was opposed to leaving the European Union," Mr Duncan Smith told BBC1's Andrew Marr Show.
"There was a clear decision, and what has to happen is delivery on that, and somebody who has been involved in that clearly has to be the case, because the Government itself had a view... which was to Remain, so now we need to change that position and actually deliver on this very clear mandate form the British people."
6 ways Britain leaving the EU will affect you

Show all 6
His comments were at odds with Ms Greening's call for a May-Johnson unity leadership. In an article for ConservativeHome she said: "A leadership contest now is not in the interests of our country. It will mean our party focuses inward – at the very time our country most needs us to focus outward.
"Instead of a leadership contest which could take weeks and months, Boris and Theresa should agree to forge a deal which means they are a united leadership, under one or the other: a united leadership that for the sake of unity I hope the rest of our party could support."
Despite their victory Mr Johnson and Mr Gove have made no public statements since their initial response to the referendum result on Friday.
Who will replace David Cameron?
With the government under pressure from European leaders to trigger Article 50 immediately – placing the UK formally into the two-year process of withdrawing from the EU – the leaders of the Brexit campaign faced calls to take responsibility and lead Britain's negotiations with Brussels.
Former deputy prime minister Lord Heseltine, who lamented the Brexit vote, saying the country had been "sold a fool's promise", said that Mr Johnson, Mr Gove and UKIP leader Nigel Farage must be in charge of negotiations, so that they would have no-one else to blame in the event of an adverse economic outcome for Britain.
"It is essential that the negotiations are conducted by Boris Johnson, Michael Gove and Nigel Farage, the architects of this policy," he said. "Any other negotiating team will produce claims that those three would have achieved a better result and during the negotiations they will excuse any deterioration in Britain's position as a failure of the negotiators.
"They must be in charge and seen to be in charge."
He warned that the situation for industry and commerce was "deteriorating day by day" with investment decisions being postponed because of uncertainty about what kind of settlement Britain will get from the EU.
The foreign ministers of the six founding EU member states have said Britain must activate Article 50 urgently to avoid prolonged uncertainty and instability, and to allow the EU to move on with a process of reform. Meanwhile, US Secretary of State John Kerry will come to London for talks with Foreign Secretary Philip Hammond, and will also visit Brussels. Mr Kerry has urged both sides to handle the negotiations responsibly to minimise the impact on the markets.
Mr Hammond said that UK should not bow to pressure to begin formal talks with Brussels right away. But he said that any settlement that included a loss of access to European single market would be "catastrophic" and said that the government would have to be willing to sacrifice some control over immigration in order to retain access.
Register for free to continue reading
Registration is a free and easy way to support our truly independent journalism
By registering, you will also enjoy limited access to Premium articles, exclusive newsletters, commenting, and virtual events with our leading journalists
Already have an account? sign in
Join our new commenting forum
Join thought-provoking conversations, follow other Independent readers and see their replies