David Davis to make emergency trip to Brussels in bid to kick-start Brexit talks
Expected visit comes as Theresa May faces a fresh setback in her hope of early post-Brexit trade talks - as Germany and France toughen their stance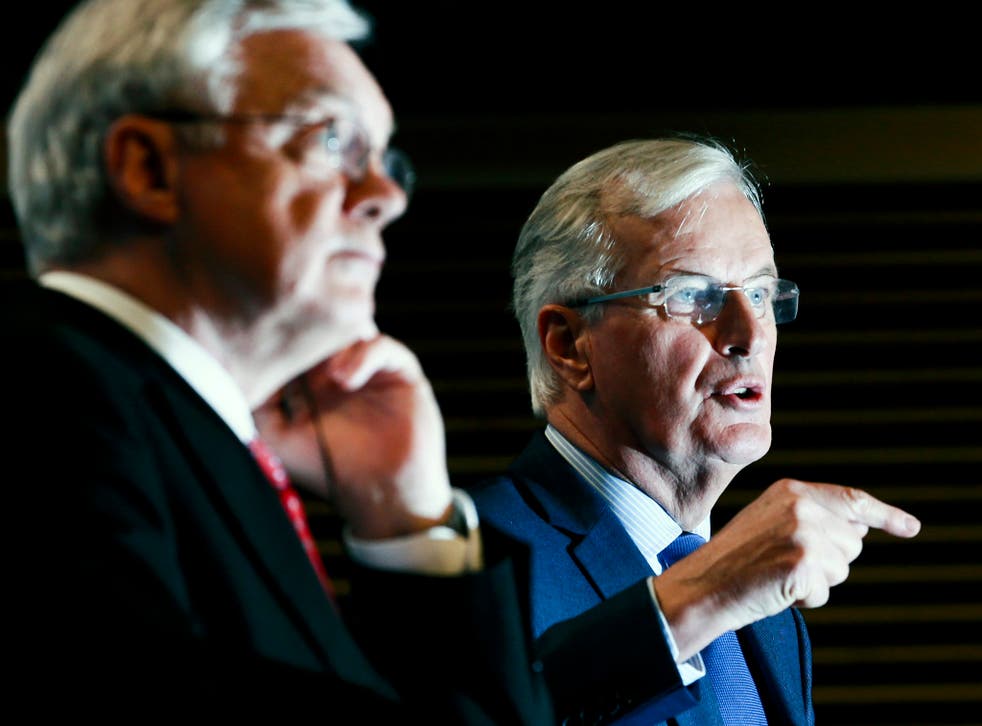 David Davis is set to make an emergency trip to Brussels on Monday, as Theresa May faced a fresh setback in her hope of early post-Brexit trade talks.
The Brexit Secretary is expected to try to open up negotiations with key figures from EU member states, to break the deadlock before a crucial summit on Thursday.
The trip comes as The Independent learns of an attempt by Germany and France to toughen the EU's stance in demanding that Britain first agree to settle its so-called divorce bill.
A draft last Thursday appeared to offer the Prime Minister a chink of light by suggesting the EU could start planning for trade negotiations, albeit without involving the UK yet.
It said "additional guidelines" could be drawn up in December, moving onto trade and "possible transitional arrangements" – the Holy Grail for Britain.
The statement added that "in order to be fully ready for such a scenario", the EU heads of government should "start internal preparatory discussions".
But a fresh draft, put forward by the EU's two most powerful states, omits the section proposing "additional guidelines" at this stage, The Independent has been told.
The move is fresh evidence that Angela Merkel, the German Chancellor, and French President Emmanuel Macron, are unwilling to go as far on future trade talks as EU officials.
Michael Barnier, the EU Commission's chief negotiator, had emerged as a possible ally for Britain, in pushing for a less rigid negotiating mandate.
In contrast, removing the immediate prospect of "additional guidelines" would put pressure on Britain to make a more generous offer on money – to the fury of Brexiteer Tories.
Downing Street is resigned to several drafts of the statement before the summit, when Ms May will join EU leaders for breakfast, before leaving the room.
Meanwhile, it emerged that Mr Davis is poised to make an unscheduled trip to Brussels – just four days after his fifth round of talks with Mr Barnier hit a wall.
He will not meet the chief negotiator, but is expected to try to open up a new front with likely friendly figures from both the Commission and member states.
The Prime Minister spoke with the German Chancellor on Sunday, primarily about Donald Trump's undermining for the Iran nuclear deal, but also about Brexit.
"They looked ahead to next week's council, agreeing on the importance of continued constructive progress in the UK's exit negotiations," a No 10 spokesman said:
The first Brexit talks with ministers from across the UK for eight months will also be staged on Monday – but with little sign of any progress.
The Joint Ministerial Committee was set up to give Scotland, Wales and Northern Ireland a voice, but they have protested that it is little more than a fig leaf.
Scottish nationalists will continue to push for the Government to give Scotland a legal say on the exit process and on leaving the EU's single market.
In advance, Damian Green, the Prime Minister's deputy, insisted he wanted the meeting to be "positive and constructive" – but said "preserving" the UK single should be the priority.
Register for free to continue reading
Registration is a free and easy way to support our truly independent journalism
By registering, you will also enjoy limited access to Premium articles, exclusive newsletters, commenting, and virtual events with our leading journalists
Already have an account? sign in
Register for free to continue reading
Registration is a free and easy way to support our truly independent journalism
By registering, you will also enjoy limited access to Premium articles, exclusive newsletters, commenting, and virtual events with our leading journalists
Already have an account? sign in
Join our new commenting forum
Join thought-provoking conversations, follow other Independent readers and see their replies