Cabinet reshuffle: Allies fear weakening of David Davis's position as May looks to wield axe
There is evidence that the Brexit Secretary has already been sidelined as the Prime Minister takes stronger personal control of the Brussels talks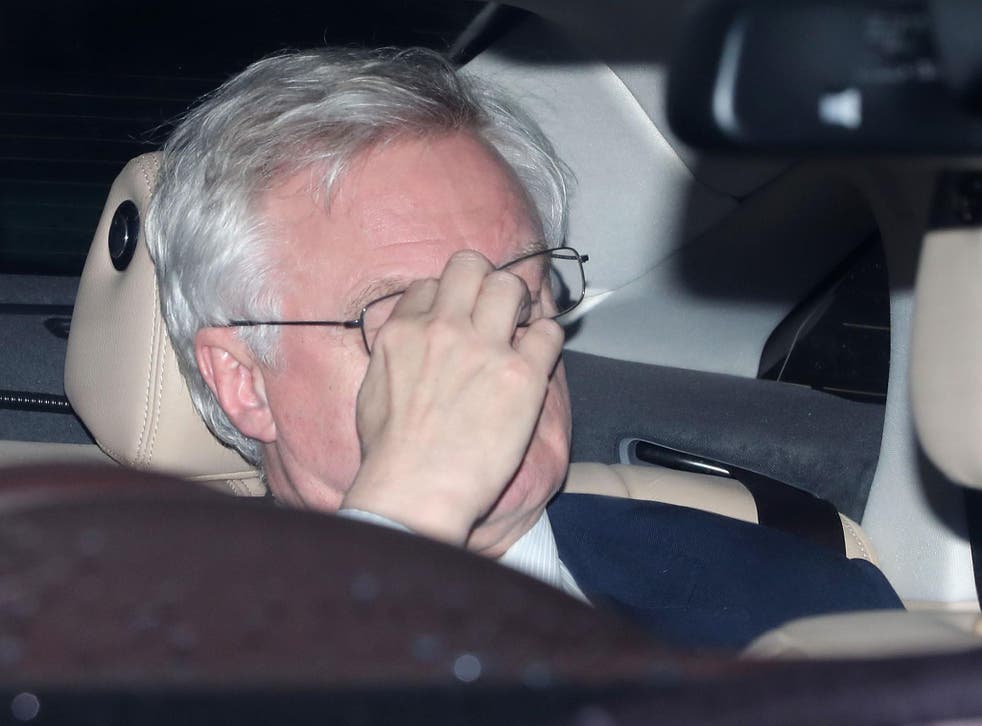 David Davis's role in the Cabinet will be further weakened if a looming reshuffle hands Boris Johnson a new job directly involved in the Brexit negotiations, his allies fear.
Theresa May is preparing a New Year shake-up that is tipped to see the Foreign Secretary offered a place in a different department, helping to deliver EU withdrawal.
The reshuffle could see several sackings, with Justine Greening, the Education Secretary, Commons Leader Andrea Leadsom, Transport Secretary Chris Grayling and party chairman Patrick McLoughlin all thought to be under threat.
But moving Mr Johnson out of the Foreign Office – after a series of major gaffes – to a new Brexit role would be the most significant move and one he is likely to resist strongly.
It would also ruffle the feathers of the Brexit Secretary, amid evidence that Mr Davis has already been sidelined as the Prime Minister takes stronger personal control of the Brussels talks.
Olly Robbins, Mr Davis's former chief of staff, left his department to lead a newly formed European Unit in the Cabinet Office, reporting directly to Mrs May.
David Davis on Brexit: 'You don't have to be very clever to do my job'
He is regarded by some key figures in Brussels as the person effectively running Brexit talks, after recent face-to-face talks with EU negotiators.
An ally of Mr Davis told The Daily Telegraph: "The role of the Brexit Secretary is being impinged on right, left and centre. I am seriously concerned that David Davis is being marginalised.
"If you look at the way Olly Robbins has usurped his function, and now you have this, I'm getting really quite concerned about David's role. It does seem to me that there would be a loss of focus if Boris was to take on a bigger Brexit role."
Mrs May will carry out at least a limited reshuffle as early as next week to replace Damian Green, her former deputy who was sacked before Christmas.
Brexit: the deciders

Show all 8
Jeremy Hunt, the Health Secretary, is a contender to take over his Cabinet Office role and the leadership of a series of influential Cabinet committees, although he may not be given the title First Secretary of State.
The Prime Minister's aides are believed to be divided over the wisdom of a more radical shake-up, to meet calls for younger Tory MPs to be promoted.
Some recognise the danger of sending more sacked ministers to the backbenches, when the perilous debate over the desired final Brexit deal is only just beginning.
Mr Johnson could be asked to replace Greg Clark, the Business Secretary, with the portfolio significantly bolstered to give him more direct oversight of Brexit.
However, the speculation is potentially damaging for the Prime Minister if the Foreign Secretary refuses to go and she is forced to back down, exposing her continued weakness.
One senior Cabinet minister who is safe is Philip Hammond, the Chancellor, who received Mrs May's public backing for what was viewed as a successful autumn Budget.
Among those tipped for promotion are Dominic Raab, Damian Hinds, Claire Perry, Margot James and Brandon Lewis, the immigration minister who unveiled the post-Brexit blue passport just before Christmas.
Join our new commenting forum
Join thought-provoking conversations, follow other Independent readers and see their replies