Brexit deadline: Theresa May to avoid another embarrassing defeat with last-gasp compromise over departure date
29 March 2019 will still be on the Bill, as Prime Minister vowed, but MPs can 'amend the definition of exit day' if needed – effectively making it meaningless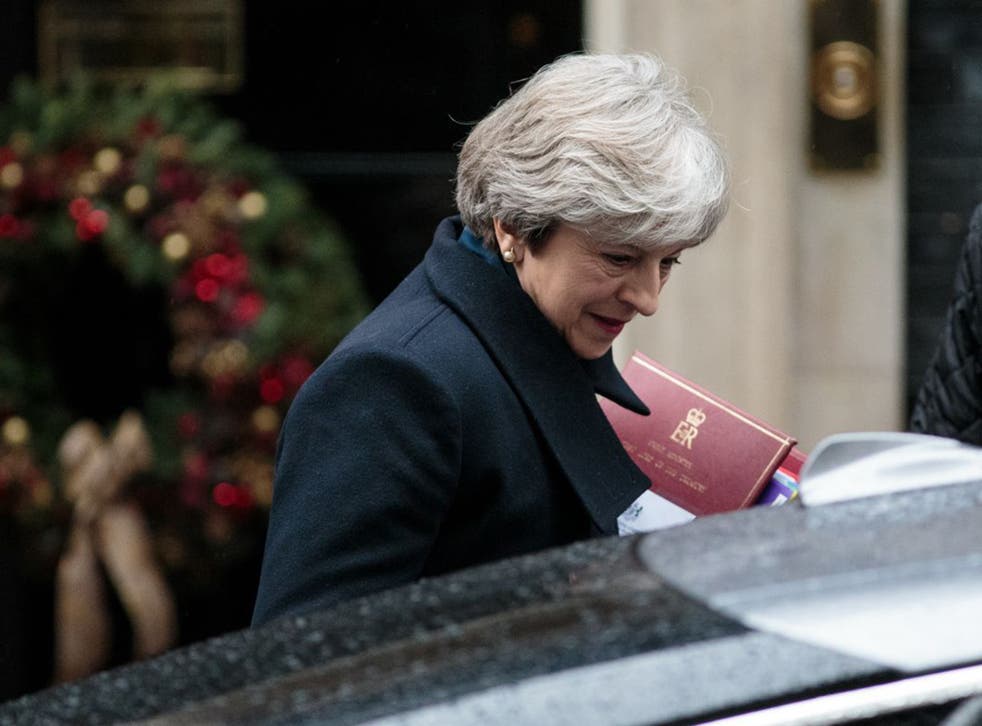 Theresa May is set to escape another defeat on the Brexit Bill, under a last-gasp compromise on her plans to cement the exact withdrawal date in domestic law.
Pro-EU Tories had vowed to fight the idea – in a showdown next Wednesday – warning it would be harder for Parliament to force a change of course if the exit talks break down.
The development left the Prime Minister facing the prospect of a second defeat on the flagship EU (Withdrawal) Bill – just days after her humiliation over a "meaningful vote" on the exit deal.
Now an amendment has been tabled, apparently with No 10's support, which is likely to allow Ms May to save face, while putting Parliament in control of the process.
The planned date and time – 11pm on 29 March 2019 – would still be on the face of the Bill, as the Prime Minister pledged in a blaze of publicity last month.
However, MPs would be given the "power to amend the definition of 'exit day'" at a later date, providing the potential for the UK to ask the EU to extend the Article 50 negotiations if necessary.
The early indications were that both pro and anti-EU Tory MPs would get behind the change, saving the party from another bitter public split next week.
Dominic Grieve, the former Attorney General who led this week's revolt, told the BBC that the new amendment left him "fairly satisfied".
Paul Masterton, another likely rebel, tweeted: "Pleased to see a sensible amendment to the Withdrawal Bill that gives us flexibility on Brexit date if we need it.
"Look forward to adding my name to it on Monday and hope it draws support across the Party."
The amendment has been tabled by Oliver Letwin, a former Cabinet minister loyal to the leadership and likely to be acting with its backing.
Significantly, it has also been put forward by Bernard Jenkin – a leading hard Brexit supporter.
Ms May herself had hinted at rowing back just 24 hours earlier, when she twice ducked questions asking if she was preparing to "compromise".
When she announced her amendment to put the Brexit date on the Bill, she described it as firm proof she would not "tolerate" dissent – making it hard to climb down.
But Dominic Grieve – who described the move as "incoherent and thoroughly stupid" – had warned of inevitable defeat if she did not.
The pro-EU Best for Britain group described it as "yet another U-turn by this chaotic Government".
"Whether it's May U-turning on Ireland or finally agreeing to scrap the preposterous exit date, this Government has shown again and again it is way out of its depth on Brexit," said chief executive Eloise Todd.
"That's why we need No Brexit on the table, so we have a safety net if the Tories' approach to Brexit continues in this way."
The Government is still considering its response to this week's defeat, which will prevent it putting through regulations to implement Brexit until MPs have had a "meaningful vote".
David Davis, the Brexit Secretary, warned it left "a very compressed timetable" for a "smooth and orderly exit".
Register for free to continue reading
Registration is a free and easy way to support our truly independent journalism
By registering, you will also enjoy limited access to Premium articles, exclusive newsletters, commenting, and virtual events with our leading journalists
Already have an account? sign in
Register for free to continue reading
Registration is a free and easy way to support our truly independent journalism
By registering, you will also enjoy limited access to Premium articles, exclusive newsletters, commenting, and virtual events with our leading journalists
Already have an account? sign in
Join our new commenting forum
Join thought-provoking conversations, follow other Independent readers and see their replies