Brexit: Britain could withhold agreed divorce bill payment from EU if it doesn't get a trade deal, David Davis suggests
Two issues are 'bound up in one', Secretary of State suggests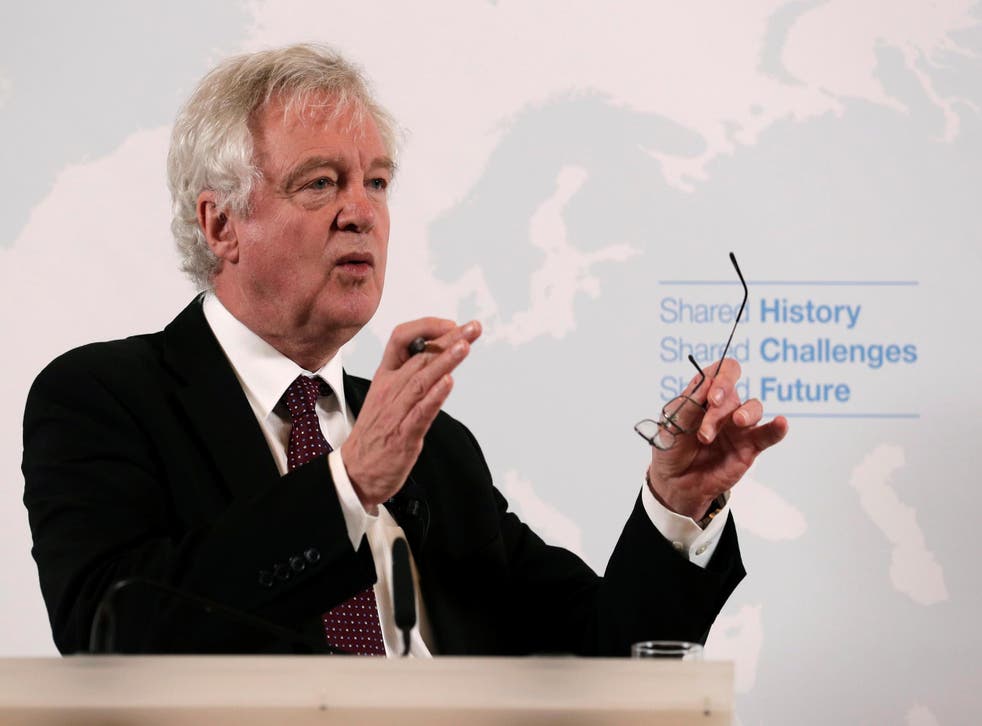 Britain could withhold payment of its Brexit divorce bill if the EU doesn't give it a trade deal, David Davis has suggested.
The Brexit Secretary was asked about reports of a "secret plan" to withhold the payment agreed in December and said the issue was "bound up into one" with talks on the UK's future relationship.
"Secret plan – as announced by the Prime Minister," he told reporters in a question-and-answer session after a speech in Vienna.
"We have been very plain that the withdrawal agreement follows Article 50. Article 50 says the withdrawal agreement has to take into account the future relationship. They're bound up in one, they're not a separate issue."
The statement, the clearest yet that the UK does not consider the £39bn sum of liabilities a done deal, is likely to enrage Brussels – where officials were unimpressed after Mr Davis suggested the deal was not legally binding late last year.
The issue is of such concern for the EU that it has prioritised converting the phase one deal – which cover sufficient progress on the bill, citizens' rights and the Northern Ireland issue – into a legally binding text.
The UK's departure is already leaving the EU with a major budget hole and the withholding of the financial settlement – which covers already agreed liabilities – would be financially extremely difficult for the EU member states.
In September, European Commission chief negotiator Michel Barnier spoke of a "problem of confidence" with the UK's approach to talks – a perception Mr Davis's comments are likely to inflame.
Mr Davis used his speech to spell out the UK's favoured conditions for a trade deal after Brexit, in which the EU recognised British regulations even if they differed from European ones.
Speaking to business leaders in the Austrian capital, the Brexit Secretary rejected the idea that the UK has to stay aligned with EU regulations to avoid trade barriers, and called for "mutual recognition" between the two regulatory regimes to avoid cutting British firms off from the continent.
Mr Barnier had said earlier this month, however, that if Britain left the customs union and single market "barriers to trade in goods and services are unavoidable".
The biggest issues facing UK on leaving EU

Show all 8
As expected, Mr Davis used the speech to try and assuage concerns the UK could try and cut regulations after it leaves the bloc, saying Britain would not become a "Mad Max" society, in reference to the dystopian film.
He said Britain had in fact been at the heart of shaping EU regulations and often went beyond European standards in many areas.
Register for free to continue reading
Registration is a free and easy way to support our truly independent journalism
By registering, you will also enjoy limited access to Premium articles, exclusive newsletters, commenting, and virtual events with our leading journalists
Already have an account? sign in
Join our new commenting forum
Join thought-provoking conversations, follow other Independent readers and see their replies