Brexit: Theresa May's plans for EU citizens' rights under intense pressure for not doing enough
The Prime Minister even appeared to take a weaker position on the European Court of Justice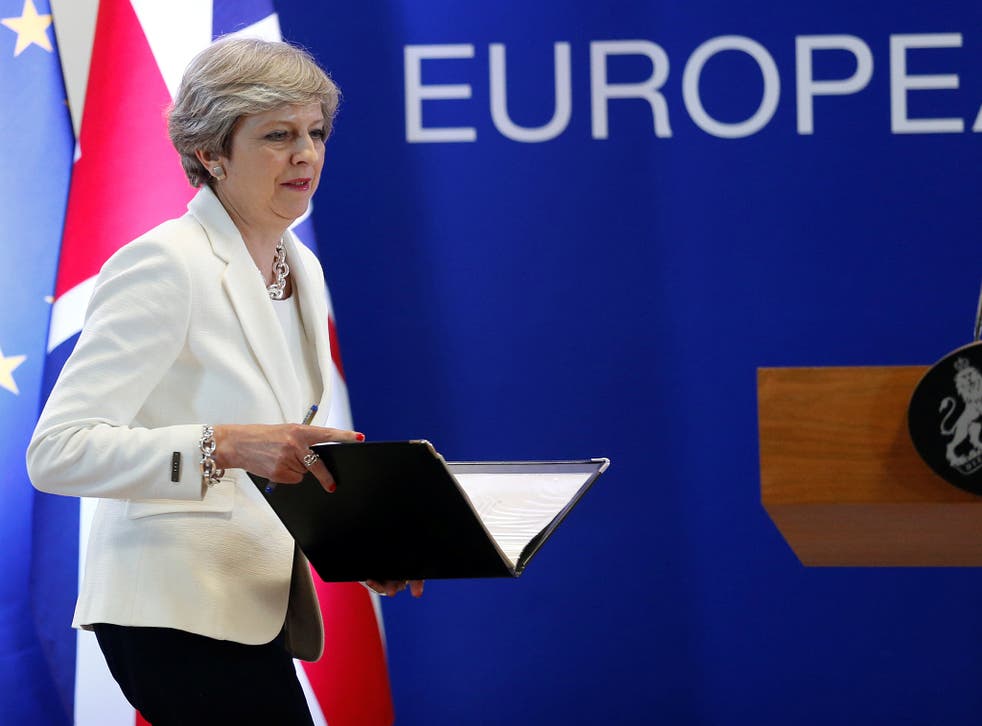 Theresa May is under intense pressure to improve her plans for EU citizens' rights, after her opening offer was dismissed by European leaders as not good enough.
The EU institutions' key figures branded them "below our expectations", "not sufficient" and said they "failed" to ensure EU citizens in the UK would be fully protected after Brexit.
National leaders of European states whom the Prime Minister had hoped to be more amenable also piled in - calling her proposals "vague" and saying they left "thousands of questions" unanswered.
She had hoped citizens' rights would provide an easy opportunity for a positive agreement early on in talks, but the frosty reaction has brought home just how difficult negotiations on thornier issue may be.
At a European Council summit, the humbled Prime Minister even appeared to take a weaker position on the critical point of ending the European Court of Justice's influence after Brexit.
Ms May will publish full details of her proposals on how she wants to deal with EU citizens' rights in a paper on Monday, when she will also have to give a statement to the Commons on the meeting in Brussels.
The start of the summit had been dominated by emollient comments from leaders, suggesting the UK was welcome to return to the bloc if it wished.
But the kinder words gave way to the harsh realities of negotiating from a weakened position, when the Prime Minister used an after dinner speech to broadly outline her plans to grant post-Brexit rights to the three million or so EU citizens living in the UK.
She offered to guarantee the status of almost all of them, but left uncertainty around a group of people who arrived in the UK after Article 50 was triggered. There were also unanswered questions about the rights citizens' family members among other issues.
European Council President Donald Tusk said during a press conference at the conclusion of the two-day summit: "My first impression is that the UK offer is below our expectations and risks worsening the situation of citizens.
"It will be for our negotiating team to analyse the offer line-by-line once we receive it on paper."
Mr Tusk also said that Brexit had taken up "very little time" in the two-day summit, underlining the EU's desire not to be distracted from what it sees as the more pressing concerns of the bloc.
European Commission President Jean-Claude Juncker described the proposals as "a first step, but not sufficient".
The European Parliament's Brexit co-ordinator Guy Verhofstadt said the offer "does not fully guarantee the rights of EU citizens living in the UK", adding: "Hopefully the UK position paper, expected on Monday, will deliver what we are looking for."
Leaders of member states who had listened to the Prime Minister's speech were not any more positive, with Dutch Prime Minister Mark Rutte commenting that there are "thousands of questions to ask" about Ms May's proposals, and Austrian Chancellor Christian Kern described them as "a first step" which did not cover the situations of many EU citizens in the UK.
Belgian Prime Minister Charles Michel called it a "particularly vague proposal". Using a Flemish phrase to describe a dubious deal, he said: "We don't want a cat in the bag. We want the rights of EU citizens to be permanently guaranteed."
German Chancellor Angela Merkel said the proposals represented "a good start" but cautioned there were "many, many other issues" before Britain could reach agreement on a withdrawal deal.
Ms May's proposals would see anyone who has already lived in the UK for five years given a new 'settled status', securing their position in the country.
Anyone arriving after the triggering of Article 50, but before a notional cut-off date, yet to be set, would also have the chance to stay for five years and gain the status.
But people arriving after the cut-off date but before Brexit day, will be given a "grace period" of up to two years to "regularise" their status in the country, possibly managing to stay for the five years and gain settled status, but potentially not.
Arriving for the second day of the summit on the anniversary of the referendum on June 23 last year, Ms May said EU expats should take "reassurance and confidence" from the package.
"I want to reassure all those EU citizens who are in the UK, who have made their lives and homes in the UK, that no one will have to leave. We won't be seeing families split apart," she said.
But the vagueness around the UK's position on the cut off-date, gives Ms May some leverage that she could use to urge the EU to ditch its call for the ECJ to guarantee the rights of citizens after Brexit - something she has always said she is against.
However, in a press conference at the end of the summit she appeared to suggest her stance would "go into negotiations" and indicated that protecting EU citizens' rights could go beyond the British courts and include an element of "international law".
Asked by a Polish journalist to address the issue of ECJ jurisdiction, she said: "The question of how we enforce the rights that we would be enshrining, as I say we want to see a reciprocal deal for UK citizens in the EU, but the question of enforcement is of course one that will be taken into the negotiations.
Brexit Concerns

Show all 26
"But from our point of view, these will be enforced, they will be enshrined in UK law, they will be enforced through the highly respected UK courts and of course if this is an aspect of the withdrawal treaty then it will be enshrined in international law as well."
At home her proposals were given an equally frosty reception - dismissed as "pathetic" by a group campaigning for an estimated three million European expats living in the UK.
Liberal Democrat Brexit spokesman Tom Brake said: "It is a badge of shame that Theresa May blocked attempts to guarantee the rights of EU nationals after the referendum. It shows how cold and heartless she is.
"Now that mean-spirited decision is coming back to haunt her as we see an exodus of skilled EU workers, from nurses to academics.
"Simply setting out vague assurances without giving a clear guarantee or sufficient resources for the Home Office is not good enough."
Labour's Sir Keir Starmer said the PM's plan was "too little too late", while London Mayor Sadiq Khan said it "does not come close to fully guaranteeing the rights of EU nationals living in the UK".
Join our new commenting forum
Join thought-provoking conversations, follow other Independent readers and see their replies