Brexit: EU president says 'we have found way forward on most issues'
'Big step forward' on level playing field but fishing could still sink negotiations, Ursula von der Leyen says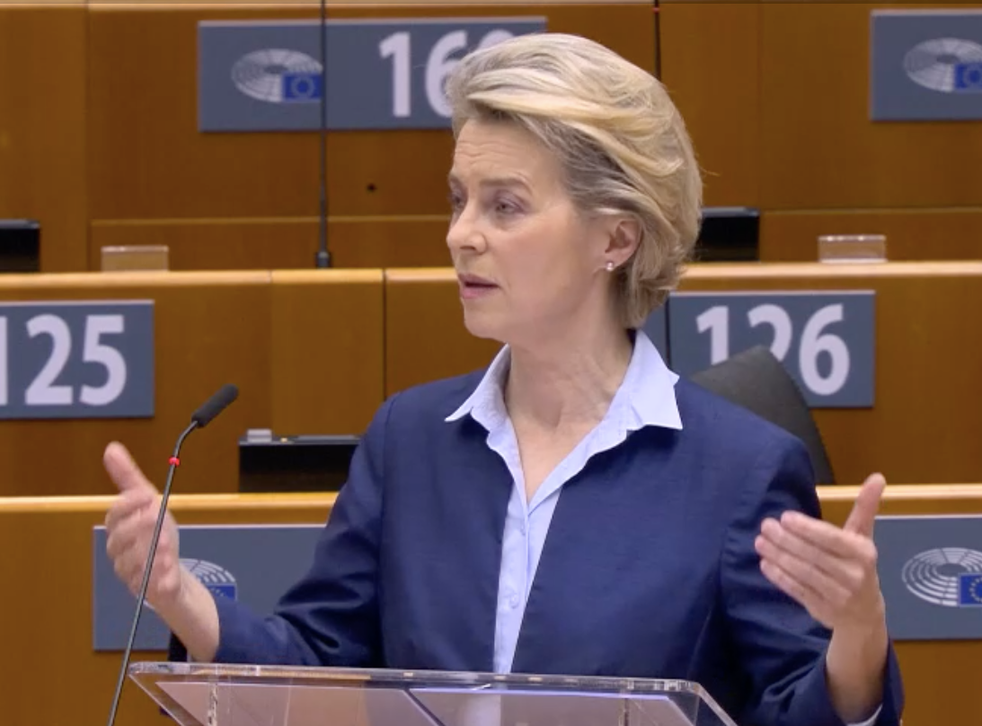 There is now a "path to an agreement" in Brexit talks thanks to a "way forward" being found on most issues, the president of the European Commission has said.
Ursula von der Leyen gave her most optimistic assessment of negotiations yet to MEPs on Wednesday morning, but added that she could still not say for sure whether there would be a deal.
Boris Johnson also said that there was now "every opportunity" for a deal, but told MPs that it depended on the EU "seeing sense" on the UK's demand to control its own laws and fishing waters. 
Taking questions in the House of Commons, the prime minister repeated his claim that the UK would anyway "prosper mightily" from a no-deal Brexit.
Addressing the European Parliament, Ms von der Leyen said: "I can not tell you whether there will be a deal or not but I can tell you there is a path to an agreement now. The path may be very narrow but it is there.
"The good news is that we have found a way forward on most issues, but this is now a case of us being so close and yet being so far away from each other because two issues still remain outstanding – you know them a level playing field, and the fisheries."
Ms von der Leyen said a "big step forward" had been made on the decisive issue of common standards, though there was not yet total agreement on the subject. Fishing remains the most difficult issue.
She told MEPs: "On state aid we have made progress, based on common principles, guarantees of domestic enforcement, and the possibility to autonomously remedy the situation where needed.
"On standards we have agreed a strong mechanism of non-regression: that's a big step forward. That's to ensure that our common high labour, social, and environmental standards will not be undercut. Of course, difficulties still remain on the question of how to really future-proof fair competition.
"But I'm also glad to report that issues linked to governance by now are largely being resolved. On fisheries the discussion is still very difficult. We do not question the UK's sovereignty on its own waters, but we ask for predictability and stability for our fishermen and fisherwomen.
"In all honesty it sometimes feels like we will not be able to resolve this question, but we must continue to try and find a solution, and it is the only responsible and right course of action."
Speaking in the Commons, Mr Johnson gave no detail of any progress in talks.
He told MPs: "There's every opportunity, every hope, that our friends and partners across the Channel will see sense and do a deal.
"All that that takes is for them to understand that the UK has a natural right like every other country to want to be able to control its own laws and its own fishing grounds."
Once again using his description of a no-deal Brexit as "Australian" - because Australia has no trade deal with the EU - Mr Johnson added: "Whatever happens in the next few days, I know that this country will prosper mightily on the terms that we agree with our European friends whatever they may be, whether they're Australian or Canadian."
Following Ms von der Leyen's speech, a UK official in Brussels said: "We've made some progress, but we are still very far apart in key areas."
And leading backbench Conservative Brexiteer David Jones said Ms von der Leyen's comments may amount to no more than "spin".
"I hope we get a deal, provided it satisfies the government's position on sovereignty," Mr Jones told The Independent. "Clearly it would be good but it remains to be seen what the proposals are.
"The EU has been putting out a lot of spin over the last few days. There's no detail in what she has said. I would be very surprised indeed if (chief UK negotiator) David Frost moved his position."
Join our new commenting forum
Join thought-provoking conversations, follow other Independent readers and see their replies