Brexit: EU leaders to discuss Britain's departure in Theresa May's absence at European Council summit
The Prime Minister demanded to be 'fully involved in all discussions' while Britain's remains an EU member - but the other 27 nations will meet without her
Rob Merrick
Deputy Political Editor
Wednesday 09 November 2016 18:42 Comments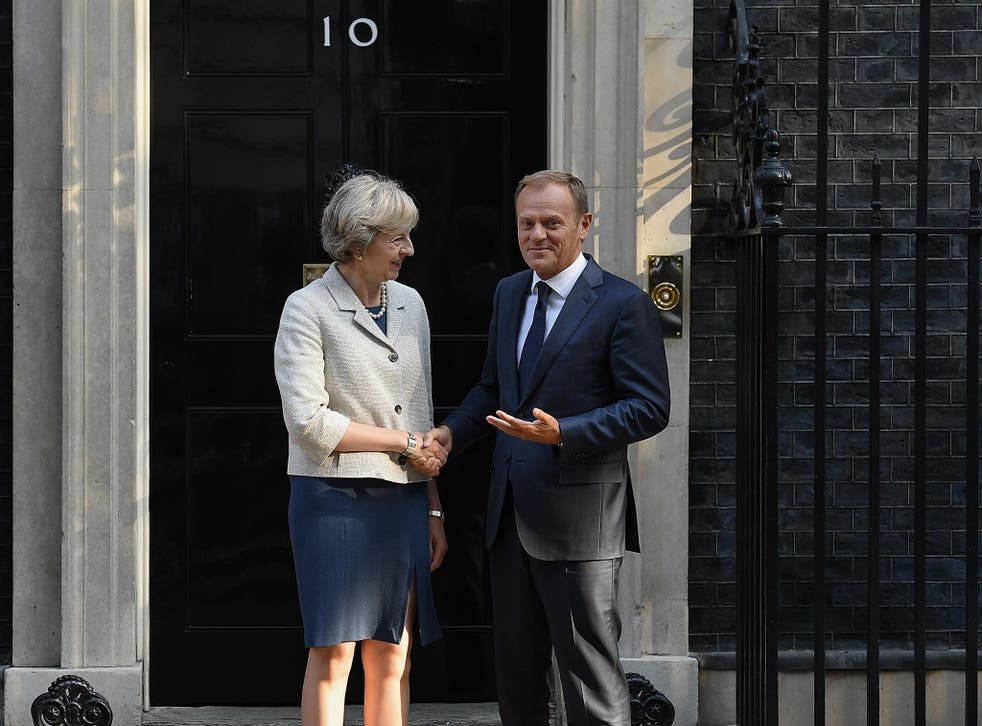 EU leaders will risk angering Theresa May when they discuss Brexit in her absence at a summit next month.
The Prime Minister had demanded to be "fully involved in all discussions" about Britain's continued membership of the bloc, after being excluded from previous meetings.
The plea accompanied Ms May's statement that she was determined to remain fully involved in all EU decision-making up until Brexit was completed, probably in 2019.
But the leaders of the so-called EU27 – every EU nation except Britain – are expected to meet on the second day of December's European Council summit in Brussels.
A spokesman for Council President Donald Tusk told the Politico website that "the EU27 leaders will meet on the margins of the December [summit] to discuss the Brexit process".
It will be the third such meeting in Britain's absence since the June referendum vote to leave the EU in June.
The EU27 also plans to stage another informal summit in Malta in January 2017, when Ms May will not be invited at all.
According to an EU diplomat, the Prime Minister – after being excluded last month – told fellow leaders: "I accept that 27 needs to meet, but I want the UK to play an active part.
"Thus, we should meet as 28, otherwise it will be hard for me to accept things you agreed among yourselves. I expect to be fully involved in all discussions related to the EU28."
It was reported that Mr Tusk told Ms May the EU would continue to meet without the UK when it wished to.
However, Downing Street has insisted she will only be unhappy if the meeting of the EU27 tries to make decisions on issues that affect Britain while it remains a member - not if it simply discusses Brexit itself.
The Prime Minister will travel to Brussels for the two-day summit on December 15 and 16, after a difficult summit debut last month.
She was made to wait until 1am to deliver her message that Britain will not change its mind about Brexit – and given just five minutes to speak, at dinner.
She was not allowed to speak until "long after the waiters were waiting to clear the dishes away", one observer said.
No other leader spoke in response to Ms May's brief speech – a united front reflecting the EU's refusal to start exit negotiations until the formal Article 50 notice is invoked, probably early next year.
Mr Tusk had urged all the other leaders to stay silent, because formal talks must not begin until that two-year process is underway.
Both the French president and German chancellor warned that, if Ms May pursued a "hard Brexit", talks would be hard too.
The tough stance also reflected the reality that the rest of the EU is currently more focused on Russian aggression in Syria and the ongoing migration crisis.
Register for free to continue reading
Registration is a free and easy way to support our truly independent journalism
By registering, you will also enjoy limited access to Premium articles, exclusive newsletters, commenting, and virtual events with our leading journalists
Already have an account? sign in
Join our new commenting forum
Join thought-provoking conversations, follow other Independent readers and see their replies