Fake news worse during election campaign than Brexit referendum, whistleblower says
'We must act now to protect ourselves as voters, or we will continue to see Facebook profit off the erosion of our freedoms', Ms Kaisar says
Vincent Wood
Monday 27 January 2020 20:43 Comments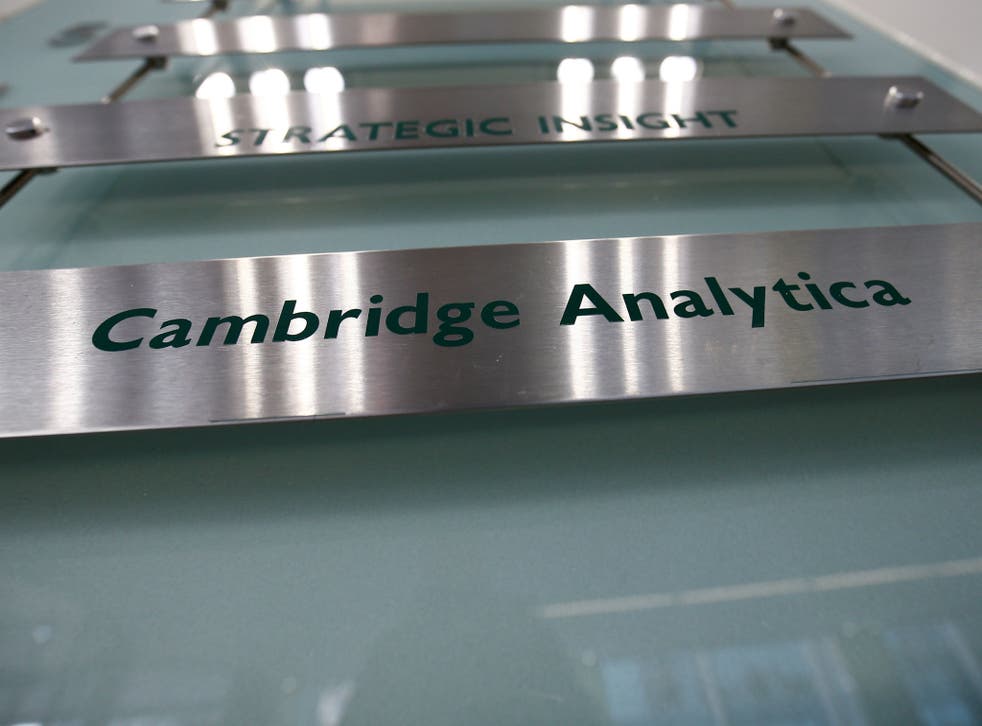 The state of fake news on Facebook is no better now than it was at the time of the EU referendum, a Cambridge Analytica whistle-blower has warned while accusing the social media giant of undermining people's rights.
Brittany Kaiser served as business development director at the political consulting firm before it ceased operations after being accused of harvesting data from millions of Facebook profiles without permission from users.
The firm was deployed to provide services to the winning side in both the EU referendum of 2016 and Donald Trump's presidential campaign the same year.
Now Ms Kaiser has claimed Cambridge Analytica interfered in the elections of "at least" 68 countries – adding that the latest general election included many of the same disinformation tactics seen during the UK's vote in 2016.
Her comments came after the whistle-blower met with MPs in Westminster to discuss how the online data of UK residents is exploited.
EU referendum - in pictures

Show all 18
She said: "I saw in the last British election so much widespread usage of fake news, disinformation and even suppression campaigns that look very similar, if not worse, than what we saw in 2016.
"Technology has advanced greatly in the past few years and there's now not just one Cambridge Analytica, there are hundreds.
"They are companies that specialise in propaganda as a service, that use fake accounts and bots in order to spread disinformation and fuel hatred and violence."
Writing for The Independent, Ms Kaiser added the world was facing a "democratic crisis" and that she believed "our rights are being undermined by the world's largest communications platform – Facebook – and no one is being held accountable."
"We must act now to protect ourselves as voters, or we will continue to see Facebook profit off the erosion of our freedoms," she added. "We need action to protect our digital democracy."
On Friday, former deputy prime minister turned Facebook communications boss Sir Nick Clegg hit back at suggestions the company benefits from allowing controversial or extreme content to appear on its platforms.
"We take down material that is reported to us or we find through our automated systems which could lead to self-harm or, even worse, people taking their life," he told the BBC's Today programme.
"But, I'll be very candid with you, why on earth would Facebook want to put (up) that kind of material? Advertisers, upon whom the business relies, don't like it at all — of course, no sane human being wants to see young, particularly vulnerable or anguished individuals, exposed to such material.
However Ms Kaiser remained critical of the former Liberal Democrat leader's claims
"I, unfortunately, haven't seen Facebook take the serious steps that I hoped to see to protect people in election time," she said.
The Independent has approached Facebook for comment.
Register for free to continue reading
Registration is a free and easy way to support our truly independent journalism
By registering, you will also enjoy limited access to Premium articles, exclusive newsletters, commenting, and virtual events with our leading journalists
Already have an account? sign in
Join our new commenting forum
Join thought-provoking conversations, follow other Independent readers and see their replies