Chances of Brexit 'fish wars' recede as France hails 'useful and positive' talks with UK
No 10 insists no ground given, but says Paris will not press ahead with 'previous threats' for now
Rob Merrick
Deputy Political Editor
Thursday 04 November 2021 19:21 Comments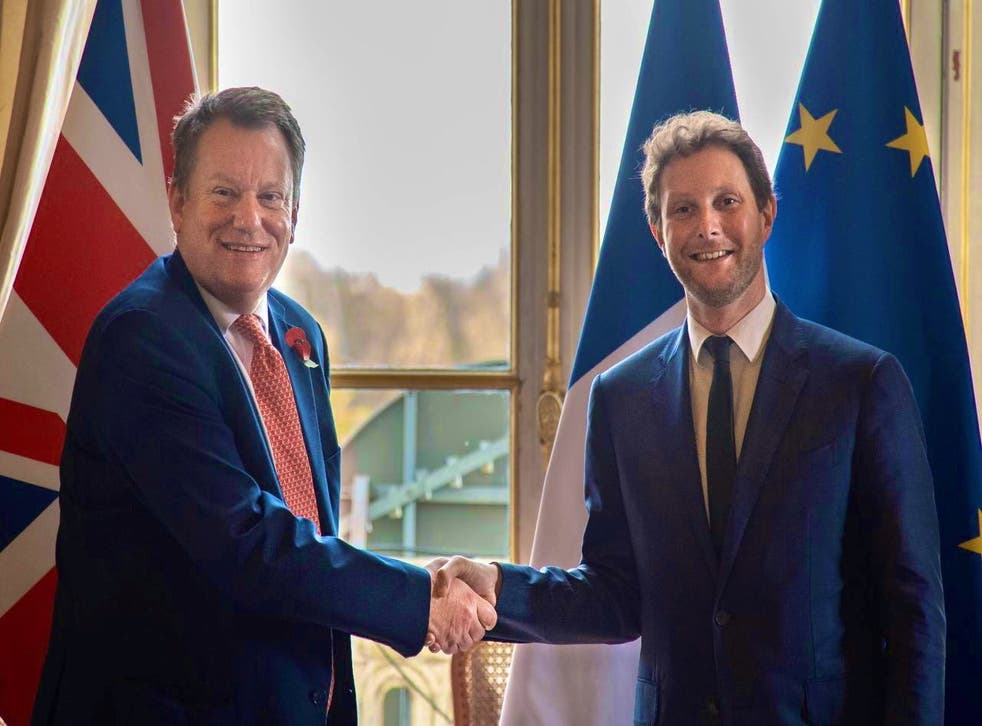 The risk of "fish wars" breaking out in the Channel has receded after France agreed to further talks with the UK to settle the dispute over post-Brexit licences.
Clement Beaune, France's European Union affairs minister, described his meeting with David Frost, the Brexit minister, as "useful and positive" and said the pair would speak again next week.
Downing Street insisted it had given no ground, but said Paris had agreed not to press ahead with its "previous threats" before those further discussions.
France had vowed to snarl up cross-Channel trade with port restrictions and border checks unless more licences were issued, before Emmanuel Macron pulled back earlier this week.
After the meeting, Boris Johnson's spokesperson said: "The French government have been clear they're not looking to proceed with those threats in breach of the TCA [trade and cooperation agreement] in the coming days."
In Paris, Mr Beaune told reporters: "The discussion was useful and positive. We are giving the chance to dialogue and keeping options open, without naivety and with European coordination."
But the French minister said there were still "significant differences" with Britain, insisting reprisals remained possible and adding: "Today we did not resolve the question of fishing licences."
Meanwhile, Lord Frost will meet Maros Sefcovic, the European Commission vice-president, in Brussels on Friday over the second dispute centring on the Northern Ireland protocol.
Mr Beaune and the Brexit minister had clashed on Twitter over the weekend, each accusing the other of having breached the post-Brexit trade agreement.
Since Brexit, about 98 per cent of applications for licences have been granted – but just 19 of 50 put forward by small French vessels, seeking to continue to fish between six and 12 miles off the UK coast.
The UK government says it accepts GPS data as evidence of past fishing that should continue, but the French government has protested that many smaller boats do not have that technology.
Boris Johnson's spokesperson said: "We've worked extensively with the French government and fishing fleet to help them provide that requisite evidence.
"We're obviously happy to talk to the French government on a wide range of issues, and we'll continue to do so, but I'd emphasise that we're not negotiating on how the licences are granted."
Tensions have been eased a little by a French court ruling that a British scallop dredger seized last week could leave Le Havre port with no requirement to pay a €150,000 (£128,000) deposit.
Register for free to continue reading
Registration is a free and easy way to support our truly independent journalism
By registering, you will also enjoy limited access to Premium articles, exclusive newsletters, commenting, and virtual events with our leading journalists
Already have an account? sign in
Join our new commenting forum
Join thought-provoking conversations, follow other Independent readers and see their replies