Food exporters 'strangled by red tape' as Brexit disrupts trucks and risks end for covid-hit seafood firms
Risk of European firms turning backs on British produce 'a nightmare scenario', trade body warns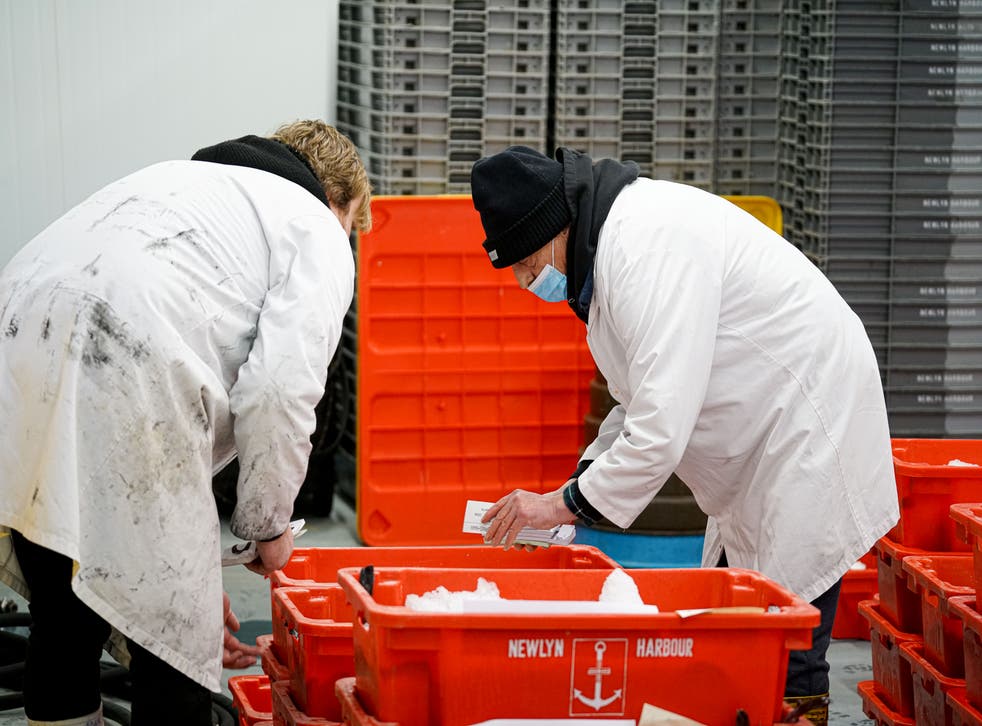 British seafood firms exporting to the continent have been left at risk of collapse by red tape brought on by Brexit, a body representing the food and drinks sector has warned.
The opportunity for the UK to continue to trade with the continent was touted as a key upside of the PMs Brexit deal in the run up to December 31st - with Boris Johnson saying the accord "will if anything allow our companies and our exporters to do even more business with our European friends".
However 10 days into the year food and drink firms including those exporting seafood have been left with no way to transport their goods across the channel after a number of haulier firms decided to stop any groupage transport - which allows companies unable to fill a full trailer with their delivery to share the journey with goods from others.
James Withers, CEO of Scotland Food & Drink, told The Independent truckers had elected to ignore shared shipments in order to get moving following the disruption of IT failures in Bologne and Dunkirk followed by stringent checks in Europe as traders are forced to rapidly adapt to new import and export rules.
"If you've just got a 40 ft trailer full of a different product like salmon they will continue to ship that and move that this week, but most of them are stopping exports of multiple different products going in one load - and what that means for many exporters is their route to the EU is now closed until that starts again", he said.
Over the next week industry representatives are set to urge the government to offer financial compensation to businesses damaged by the disruption, and request that Westminster's European counterparts ease up on border checks to help protect the nation's businesses.
The seafood sector, which relies on quick transit to trade products that do not sell to the UK market, has already seen trips that would ordinarily be made in a day take up to 72 hours as paperwork grinds journeys to a halt.
The time needed to secure a health certificate from authorities, a document required to apply for other customs paperwork, has taken up as much as five hours, prompting some firms to lose business.
Donna Fordyce, chief executive at Seafood Scotland, said: "It's a perfect storm for Scottish seafood exporters. Weakened by Covid-19, and the closure of the French border before Christmas, the end of the Brexit transition period has unleashed layer upon layer of administrative problems, resulting in queues, border refusals and utter confusion.
"IT problems in France meant consignments were diverted from Boulogne sur Mer to Dunkirk, which was unprepared as it wasn't supposed to be at the export front line. There have also been HMRC IT issues on the UK side that need to resolved ASAP regarding certification."
Mr Withers has urged the UK to pressure the European Commission into approaching checks on British produce with a 'light touch' - an approach that has so far been taken at the nation's border to EU goods.
He added firms in the UK were "being strangled by the very red tape that we were promised we were escaping".
The damage to firms comes as Covid wreaks havoc with the sector - with domestic restaurants shut to stem the UK's growing case number and foreign exports hampered already by a ban on hauliers entering France at the end of 2020.
"I genuinely fear that it could tip some businesses over the edge because they're in an incredibly fragile position anyway", Mr Withers added. "I think there are real knock on consequences down the supply chain and farmers can start feeling that as well if we start seeing disruption in other food products as well as fishermen
"It needs to be fixed fast because we sell over a billion pounds of food to the EU every year and the real fear is that, even if we just face a few weeks of disruption, if European customers start switching away from doing business with the UK that could last way longer beyond what the actual disruption period. That's a nightmare scenario."
Cabinet Office Minister Michael Gove warned on Friday he expects more disruption at the UK border in the coming weeks.
Mr Gove told broadcasters: "So far disruption at the border hasn't been too profound but it is the case that in the weeks ahead we expect that there will be significant additional disruption, particularly on the Dover-Calais route.
"It is our responsibility in Government to make sure that business is as ready as possible, and hauliers and traders have already done a lot but we have to redouble our efforts to communicate the precise paperwork that is required in order to make sure that trade can flow freely.
"So over the course of the next few days, Government will be stepping up that communications effort to make sure that business knows what is required."
Additional reporting by agencies
Join our new commenting forum
Join thought-provoking conversations, follow other Independent readers and see their replies