William Hague: Theresa May must plan for a general election over Brexit vote or risk losing her job
The former Foreign Secretary urges the Prime Minister to have a Plan B she can 'pull out of a drawer' - if Parliament tries to amend or delay the exit talks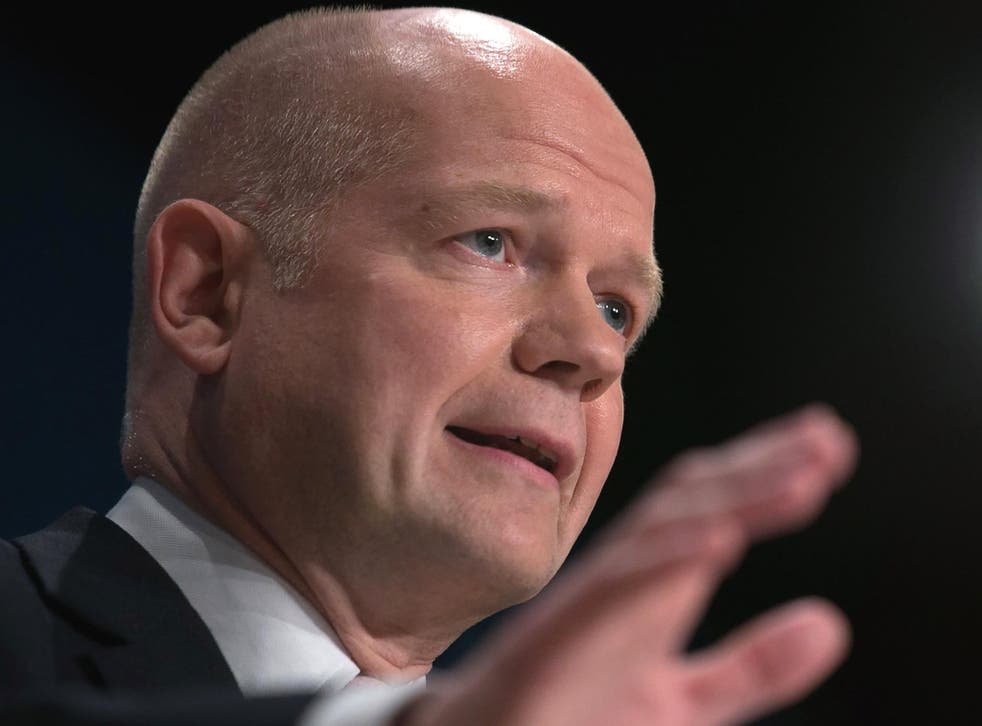 William Hague has urged Theresa May to start planning for a general election next year – or risk repeating Margaret Thatcher's fatal blunder over the poll tax.
The former Foreign Secretary said the Prime Minister badly needed a 'Plan B' if, as expected, the Supreme Court confirms she cannot bypass Parliament and trigger Article 50 alone.
In a newspaper article, Lord Hague backed growing numbers of Tory MPs who want a vote on Article 50 to be held in the next few weeks – before the Supreme Court verdict, due in early January.
And he went further, becoming the first senior Conservative to openly call for a general election plan which Ms May can "pull out of a drawer", if Parliament tries to amend or delay the exit talks.
Lord Hague said her 'Plan A' – to invoke Article 50 by the end of March next year – was "eminently sensible", but could be overtaken by events if the Supreme Court challenge was lost.
He wrote: "There are sufficient warning signs of danger that quietly preparing a different approach to achieve the same objective would now be a good idea.
"Plan B involves holding the parliamentary votes which the High Court said were necessary.
"If ministers believe there is a strong chance of the more senior judges upholding this, then they ought to think about cutting short the legal wrangling and getting on with it anyway."
Lord Hague then raised the prospect of Parliament obstructing progress on Article 50, adding: "Then the second part of Plan B comes in: preparation for a general election after all."
Predicting victory for Ms May, he said: "Those who were against implementing the referendum result and against an election would then be taking the biggest risk of all - the risk of ultimately severe electoral consequences for defying the voters, obstructing a popular new Prime Minister and confusing the country's negotiating position all in one go."
Intriguingly, Lord Hague – who was an MP when Tory MPs threw out Lady Thatcher in 1990 – said that "searing trauma" illustrated the mistake of having no Plan B.
"I was then the most junior Tory in Parliament, and went with some trepidation to meetings at which MPs lined up to plead with her to modify the dreaded poll tax," he remembered.
"On a matter so difficult, many argued, even a prime minister known for her strength and adamant insistence on getting her way needed a Plan B.
"She would not budge, and as a result our greatest peacetime leader of modern times was brought down."
Yesterday, Brexit Secretary David Davis rejected backbench calls to fast-track the triggering of Article 50, but suggested backbench MPs should stage their own pre-Christmas vote.
Mr Davis made clear there was nothing to stop Parliament taking that step immediately – hinting the Government would be delighted if it did.
Such a vote could force Labour to come off the fence and back the invoking of Article 50, despite Jeremy Corbyn's weekend threat to block it, unless his 'bottom lines' were satisfied.
Register for free to continue reading
Registration is a free and easy way to support our truly independent journalism
By registering, you will also enjoy limited access to Premium articles, exclusive newsletters, commenting, and virtual events with our leading journalists
Already have an account? sign in
Register for free to continue reading
Registration is a free and easy way to support our truly independent journalism
By registering, you will also enjoy limited access to Premium articles, exclusive newsletters, commenting, and virtual events with our leading journalists
Already have an account? sign in
Join our new commenting forum
Join thought-provoking conversations, follow other Independent readers and see their replies