Theresa May in 'naked power grab' over Brexit Repeal Bill, Scotland and Wales first ministers say
Nicola Sturgeon and Carwyn Jones issue joint statement condemning the plans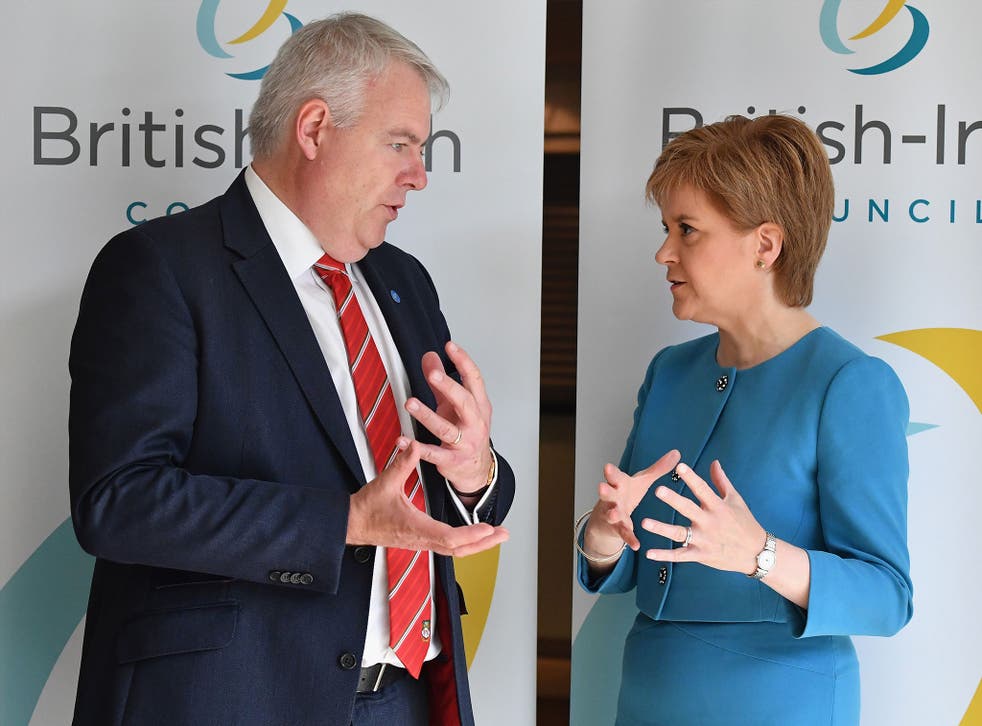 The Scottish and Welsh First Ministers have voted to block legislative consent for the Government's Brexit Repeal Bill – throwing a spanner in the works of Theresa May's plan to leave the EU.
Nicola Sturgeon and Carwyn Jones said the bill was a "naked power grab" by Westminster because it did not immediately return powers to the devolved administrations after taking them from the EU.
The Brexit Repeal Bill moves all EU law into the UK government statue books – freezing it during the Brexit process so that it can be changed piecemeal once Britain has left the bloc.
In a joint statement the SNP's Ms Sturgeon and Labour's Mr Jones said the UK government had refused to properly engage with the devolved administrations on the Brexit process and that the bill does not "respect devolution".
"This week began with the Prime Minister calling for a constructive and collaborative approach from those outside Whitehall to help get Brexit right," they said.
"Today's publication of The European Union (Withdrawal) Bill is the first test as to whether the UK Government is serious about such an approach. It is a test it has failed utterly.
"We have repeatedly tried to engage with the UK Government on these matters and have put forward constructive proposals about how we can deliver an outcome which will protect the interests of all the nations in the UK, safeguard our economies and respect devolution.
"Regrettably, the Bill does not do this. Instead, it is a naked power-grab, an attack on the founding principles of devolution and could destabilise our economies."
Legislative consent would be required for the bill to pass, Conservative Scottish Secretary David Mundell said.
The First Ministers' statement continues: "The European Union (Withdrawal) Bill does not return powers from the EU to the devolved administrations, as promised.
"It returns them solely to the UK Government and Parliament, and imposes new restrictions on the Scottish Parliament and National Assembly for Wales.
"On that basis, the Scottish and Welsh governments cannot recommend that legislative consent is given to the Bill as it currently stands."
UK news in pictures

Show all 50
The Prime Minister's spokesperson admitted she was not aware of any contingency plans were the devolved administrations not to back the Bill but said she hoped they would back it.
"We've set out the bill today for the first time, it has to go through a process now," she said.
"Within that process we will continue talking to the devolved administrations who we hope will get behind it."
Register for free to continue reading
Registration is a free and easy way to support our truly independent journalism
By registering, you will also enjoy limited access to Premium articles, exclusive newsletters, commenting, and virtual events with our leading journalists
Already have an account? sign in
Join our new commenting forum
Join thought-provoking conversations, follow other Independent readers and see their replies