Brexit campaigners take hamper of British foods to Brussels - made by firms worried by EU withdrawal
Some goods made by firm that suffered post-Brexit sales slump - while another delayed a decision on consolidating in the UK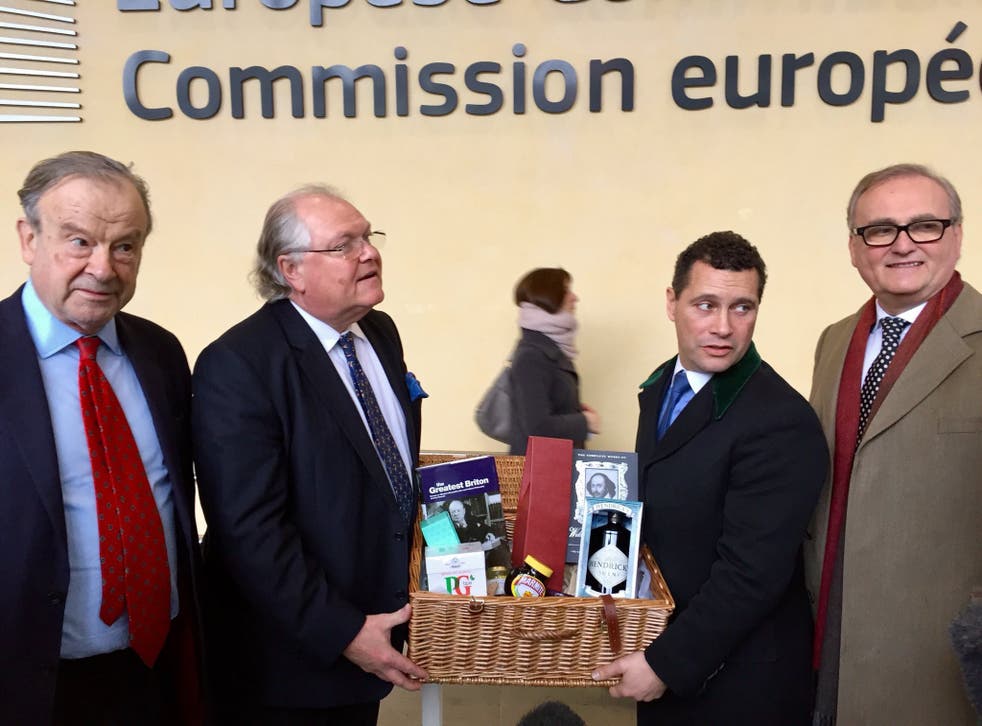 Brexit campaigners were accused of an embarrassing gaffe after delivering a hamper of British foods to Brussels – made by firms worried they will be hit hard by EU withdrawal.
The campaigners claimed the basket of tasty delights would help Michael Barnier, the chief EU negotiator, "fully grasp the powerful commercial position Britain occupies globally".
But it was quickly pointed out that two of the goods – Marmite and PG Tips tea – are made by Unilever, which is a giant Anglo-Dutch company.
Just two months ago, the firm warned it was delaying whether to consolidate its headquarters in the UK – rather than the Netherlands - because of the "political turbulence" unleashed by Brexit.
Similarly, Hendrick's Gin, another item in the hamper, is made by William Grant & Sons – which warned that sales had slumped in some markets because of "exchange rate changes since the referendum".
Vince Cable, the Liberal Democrat leader, said: "This is a wonderfully cack-handed attempt to hamper relations with the EU's chief negotiator.
"Marmite and PG Tips are symbolic of the close trading relationship we enjoy with our neighbours. They are wonderful examples of how an EU country and the UK can work so well together to produce great British favourites."
And Caroline Lucas, the Green Party co-leader and champion of the pro-EU Best for Britain group, said: "This is a blunder that only helps hamper the Brexiteers case.
"They have taken products to Barnier for a cheap stunt, but helped made his case that Brexit will damage businesses and more importantly jobs in the UK."
Brexit: the deciders

Show all 8
Meanwhile, the negotiator's adviser tweeted that the hamper also contained Dorset cheese, which was protected by EU rules, and marmalade, which carried an "EU organic logo".
The hamper, delivered by a group led by MEP Steven Woolfe, also contained English sparkling wine, Shakespeare plays and a and a biography of Winston Churchill.
The alcohol choice raised eyebrows after the EU was reportedly worried that British sparkling wine labelled as champagne will flood the market after Brexit, if rules on naming foodstuffs are scrapped.
Meanwhile, Environment Secretary Michael Gove has called for the UK to be "more patriotic" by buying in British cheese, amid concerns that Camembert and Brie will become more expensive after Brexit.
Francis Grove-White, deputy director of Open Britain, which campaigns against a hard Brexit, said: "We have reached peak Brexit. Self-important charlatans marching around Brussels with hampers of quintessentially British products, most of which are made by companies that have said they are deeply worried about the impact of Brexit, does nothing to further the national interest."
Mr Woolfe was joined by former CBI head Lord Digby Jones, Labour Leave chairman John Mills, and former British Chamber of Commerce chief John Longworth, as they discussed Brexit with Mr Barnier.
Last week the group vowed to channel the spirit of Churchill by underlining the UK's "iron will" to walk away from the talks if no favourable terms were reached.
The gifts would help Mr Barnier to "fully grasp the powerful commercial position Britain occupies globally and how a deal between Europe's third largest economy and the EU trading block is in both sides' interests," Mr Woolfe told The Daily Telegraph.
Join our new commenting forum
Join thought-provoking conversations, follow other Independent readers and see their replies