House of Lords will not be 'threatened' into writing Theresa May a Brexit blank cheque, peers say
The Prime Minister took the highly unusual step of attending the House of Lords debate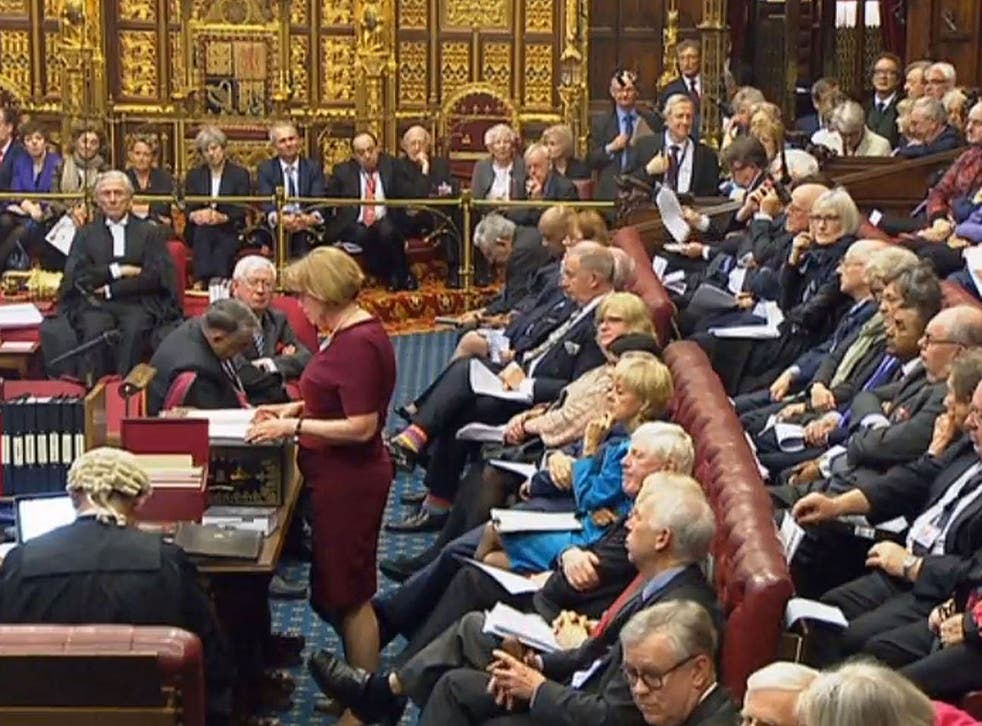 The House of Lords will not be bullied or "threatened" into writing the Prime Minister a "blank cheque" on Brexit, peers have said, as the upper house starts a long debate on the Government's Article 50 bill.
Theresa May this afternoon took the highly unusual step of attending the House of Lords session in person, watching intently from the steps of the Queen's golden throne.
The Prime Minister's spokesperson told journalists that Ms May was sitting on the steps "in recognition of the importance of this bill as it proceeds through the Lords". Asked whether Ms May was seeking to intimidate peers he said the Government "holds the House of Lords in the highest regard". Ms May is entitled to attend the chamber by virtue of her membership of the privy council.
Peers are again expected to debate late into the night on Tuesday. The twin late-night sittings follow similar episodes in the House of Commons earlier this month, with MPs queuing to speak on the subject. Lords are not expected to actually vote on the bill until next week at the earliest.
Labour's leader in the upper house, Baroness Angela Smith, told her colleagues that it would be "irresponsible" to "merrily wave the Government off to negotiate our future without parliamentary engagement or accountability".
She criticised MPs and an "anonymous government source" who had reportedly called for the Lords to either be abolished or stuffed with compliant peers to pass the bill without delay.
"My Lords, we will not be threatened into not fulfilling our normal constitutional role – and neither will we be goaded into acting irresponsibly. We have to have a serious and responsible debate," she said.
"And in doing so, if we ask the House of Commons to look again at an issue, it is not a constitutional outrage but a constitutional responsibility.
"And it is the House of Commons that will, as always, and quite rightly, have the final say. So, let's be very clear. As I have said so many times before, in your lordship's House, and publicly we will not block, wreck or sabotage the legislation before us.
"Whatever our personal views, disappointments and genuine concerns for the future that is not the role of this House.
"But, I've also said, neither should we provide the Government with a blank cheque. It would be irresponsible to, and merely ask them to return two years later with a deal.
"If sovereignty is to mean anything, it has to mean parliamentary responsibility."
Lord Cashman, a longtime campaigner on LGBT issues, pledged to vote against the bill if it was not amended, arguing that "you do not ditch your principles because they're unfashionable or unpopular".
"Worlds are changed for the better by people who have the courage to be unpopular and do what is right, and decent, and good, and just for the long term. Not to give into intimidation, threats, or bullying," he said.
Some Remain-supporting Conservative peers however warned against impeding the Article 50 process. Lord Hague, the former Conservative party leader and Foreign Secretary, said he was worried that amendments might turn out "not to be so well thought out in two years time" and that they might undermine Britain's negotiating position.
He described Tony Blair's intervention calling for people to "rise up" against Brexit last week as a "great mistake" – citing his own acceptance of defeat at the 2001 general election to Mr Blair as a case in point.
What experts have said about Brexit

Show all 11
Conservative peer Baroness Susan Williams opened the debate for the Government, saying that the long list of peers waiting to speak was "testament to the seriousness with which this House takes its constitutional duty to scrutinise legislation".
The Government's European Union (Notification of Withdrawal) Bill was drawn up after the Supreme Court ruled that Parliament had to give consent for the Government to trigger Article 50.
Ministers had previously argued that Theresa May had prerogative power to withdraw Britain from the European Union and that they did not need to consult MPs and peers.
MPs failed to amend the bill during its House of Commons stages despite minor rebellions by some Remain-supporting Conservative MPs. Though peers cannot block the legislation, they can delay it – throwing a spanner in the works of the Government's timetable.
Register for free to continue reading
Registration is a free and easy way to support our truly independent journalism
By registering, you will also enjoy limited access to Premium articles, exclusive newsletters, commenting, and virtual events with our leading journalists
Already have an account? sign in
Register for free to continue reading
Registration is a free and easy way to support our truly independent journalism
By registering, you will also enjoy limited access to Premium articles, exclusive newsletters, commenting, and virtual events with our leading journalists
Already have an account? sign in
Join our new commenting forum
Join thought-provoking conversations, follow other Independent readers and see their replies