Reduced immigration after Brexit will not mean higher wages, think tank warns
Any wage gains for British workers resulting from lower migration from EU countries will be dwarfed by the economic downside of Brexit, the Resolution Foundation says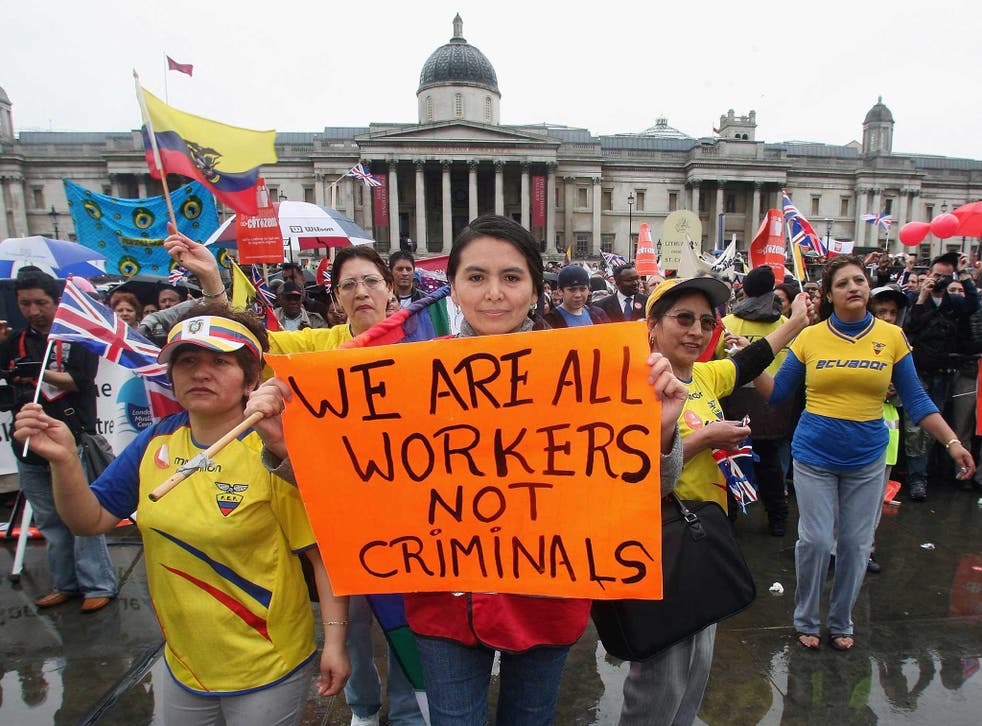 Brexit will not boost wage levels even if leaving the EU allows the Government to reduce immigration, according to a new study published.
The Resolution Foundation think tank found that any wage gains for British workers resulting from lower migration from EU countries will be dwarfed by the economic downside of Brexit – such as the fall in the value of sterling in the short term and lower growth in future years.
Even if the Government achieved its target to reduce net migration from 330,000 to under 100,000 a year, it would increase the wages of low-paid workers in the sectors most affected by only between 0.2 and 0.6 per cent. That would be more than wiped out by the 2 per cent downgrade to average wage growth expected after the Brexit vote.
During the referendum campaign, Leave campaigners raised the prospect of higher pay if Britain left the EU, claiming the current open door policy had cut wages by 10 per cent. A continuing pay squeeze would be seized on by those who campaigned for Remain as another "broken promise" by the Leave camp. Remainers have already accused Leavers of diluting their pledges to spend more on the NHS and to cut immigration.
A longer period of wage stagnation would be a setback for Theresa May, who has said one aim of her new pro-active industrial policy is "rewarding hard-working people with higher wages."
According to the study, while the large increase in migration over the last decade had no impact on the wages of British-born workers overall, it has dragged down earnings slightly in occupations such as skilled trades and basic cleaning, sales and security jobs. But Stephen Clarke, policy analyst at the foundation, said: "Those expecting a wage boost off the back of a post-Brexit fall in migration are likely to be disappointed. Any such gains will be dwarfed by the losses caused by the post-referendum slowdown in the economy."
6 ways Britain leaving the EU will affect you

Show all 6
The report, "A Brave New World," warned that Brexit will create big challenges for businesses, which the Government will need to address to avoid company closures and wider disruption.
Lower migration will hit sectors such as food manufacturing, clothing and domestic personnel services, where more than 30 per cent of the workforce are migrants. "The rights of these existing workers will need to be safeguarded to avoid short term and severe damage to these sectors," said the study. A short, sharp drop in the number of workers available could even threaten the viability of some businesses, it added.
The foundation argued that simply replacing migrant workers in such firms with British-born employees is not realistic given the large pay gap between the two groups. Eastern European workers typically earn almost £3 an hour less than British-born ones. It said these low-paying sectors, and not only hi-tech industries, should be a priority for the Government's industrial strategy to help them through the major labour market shake-up. In the medium term, firms will need to invest in skills and labour-saving technology to support more high-paid jobs or replace low-paid positions that can no longer be filled.
The foundation predicted a greater role for temporary workers after the ending of free movement from the EU. It warned that this would require Britain's "light-touch" labour market enforcement regime to be beefed up, because there is currently just one officer for every 20,000 working age migrants.
Theresa May says she has an 'open mind' over Brexit negotiations
The combined frontline staffing of the three existing agencies – HMRC's National Minimum Wage Enforcement Unit, the Gangmasters Licensing and Labour Abuse Authority and Employment Standards Agency Inspectorate – is less than 350. "At present the number of staff enforcing labour market policies like the minimum wage is scarcely enough, and a new immigration regime will throw up major new enforcement challenges," said the report.
John McDonnell, the shadow Chancellor, said the report showed that Britain's low-wage, low-investment economy is in no fit state to deal with the shock of Brexit.
He added: "It is no good Tory ministers trying to scapegoat migrants for the failures of their policy. We need an emergency programme of investment to create jobs and lay the foundations for high-skill, high-wage economy we deserve."
Join our new commenting forum
Join thought-provoking conversations, follow other Independent readers and see their replies