Brexit could be reversed if EU agrees to immigration deal, Tony Blair says
'We can curtail the things that people feel are damaging about European immigration, both by domestic policy change and by agreeing change within Europe,' Mr Blair says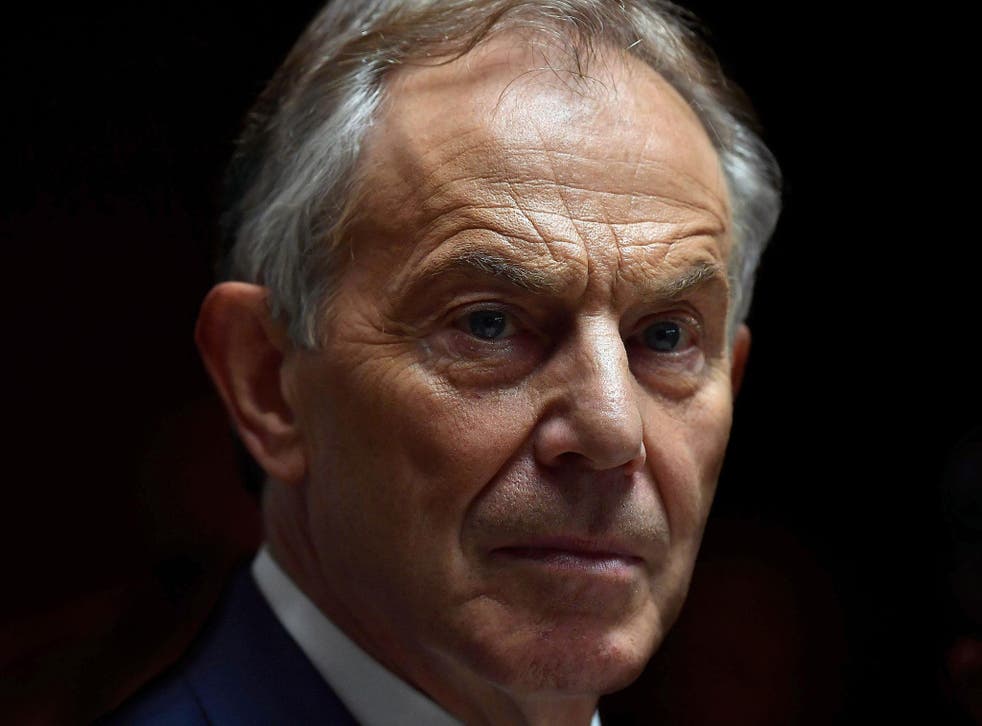 Tony Blair has called for tough new immigration rules which would allow Britain to exercise more control over who comes into the country without leaving the European Union.
The former prime minister admitted the open borders he presided over are no longer appropriate and put his name to a report calling for tighter domestic controls and the negotiation of modified free movement rules with the EU.
This would fulfil the will of the people expressed in last year's Brexit vote while allowing Britain to stay in the EU, and Jeremy Corbyn's Labour should back the approach, he said.
Mr Blair's intervention appears designed to provoke a fundamental shift in the Brexit debate and solve the seemingly intractable trade-off between the economy and immigration.
Prime Minister Theresa May has made controlling immigration her absolute Brexit priority but Brussels has stressed the UK will have to leave the single market if it wants to end the free movement of EU nationals.
But in an article for The Sunday Times Mr Blair said: "There is no diversion possible from Brexit without addressing the grievances which gave rise to it.
"Paradoxically, we have to respect the referendum vote to change it."
Brexit: the deciders

Show all 8
He went on: "We can curtail the things that people feel are damaging about European immigration, both by domestic policy change and by agreeing change within Europe.
"This is precisely the territory the Labour Party should camp upon."
Mr Blair has been blamed in many quarters for the rise in public concern about immigration which culminated in the Brexit vote, after failing to impose transitional controls on migrants from new EU member states in 2004.
But he said "back then the economy was strong, the -workers needed", adding: "The times were different; the sentiment was different; and intelligent politics takes account of such change."
Brexit voters' concerns about "pressure on services", "downward pressure on wages" and "cultural integration" now "cannot be ignored", he said.
Thousands join anti-Brexit march in Westminster
According to the newspaper, a report from the Tony Blair Institute, authored by former Downing Street policy expert Harvey Redgrave, urged the Government to force EU immigrants to register on arriving in the UK so authorities can check whether they go on to work or study, a measure already in place in Belgium and also make EU nationals show evidence of a job offer that is confirmed by their employer before they enter Britain.
It also called for the Government to ban those without permission from renting a home, opening a bank account, or accessing benefits and introduce "discriminatory" controls restricting EU immigrants' access to free NHS care if they are "economically inactive".
It asks the Government to tet universities charge EU nationals higher tuition fees than British students and calls on the Government to try and negotiate a change in free movement rules to introduce an "emergency brake" on people coming into Britain when public services are overstretched, which David Cameron attempted but failed to secure when renegotiating the UK's EU membership ahead of the referendum.
Mr Blair added: "If we go ahead with Brexit, we will have taken the unprecedented decision for a major country to relegate ourselves, like a top-six Premiership side deciding to play exclusively in the Championship.
"Other than President (Donald) Trump, I can't think of a single leader of any of our major allies or partners who thinks this decision is anything other than self-harming."
Tory grandee Lord Heseltine also suggested the EU could be open to reform of free movement after the German election this month, while criticising "damaging" proposals revealed in a leaked Home Office document this week.
The peer said immigration as an issue was a "low hanging fruit" for politicians, who blame it for pressure on public services despite its contribution to the economy in an effort to win over voters.
Addressing the Home Office plans in the Mail on Sunday, he wrote: "Free movement of labour would end immediately and all but the most highly skilled EU workers deterred from coming to this country.
"I fear the very social fabric of our caring society, health services and swathes of the public sector which depend on immigrant support could be destroyed if this happens.
"There have to be controls on immigration across Europe.
"Free movement is under question and we should join a discussion that could follow on from the German elections."
Press Association
Register for free to continue reading
Registration is a free and easy way to support our truly independent journalism
By registering, you will also enjoy limited access to Premium articles, exclusive newsletters, commenting, and virtual events with our leading journalists
Already have an account? sign in
Join our new commenting forum
Join thought-provoking conversations, follow other Independent readers and see their replies