Theresa May will push back the toughest fight over her Brexit legislation until after the Budget
Exclusive: The move allows more time for the Prime Minister to settle issues with Conservative rebels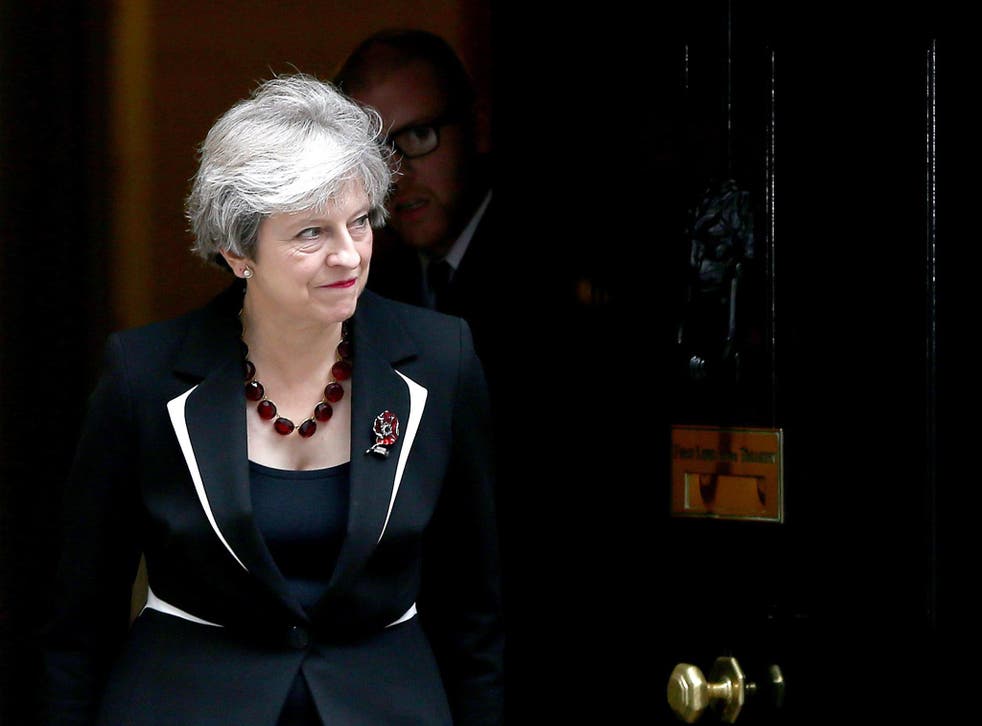 Theresa May is set to push back the toughest fight over her Brexit legislation until after this month's Budget, The Independent understands.
The move allows her time to talk with Tory rebels who want her to fundamentally change how Parliament approves the final Brexit deal so MPs have more control.
Ms May is currently understood to be unwilling to consider changing her plans, but knows she needs to make some compromises to win their support or her Brexit legislation will not get through unamended.
To that end she made an early minor concession last week to show rebels that she is in "listening mode", one Government insider told The Independent.
It comes as Ms May's administration takes her EU withdrawal Bill into the critical "committee stage" of the legislative process on Tuesday.
If passed, the Bill will mean that on Brexit day, all laws affecting the UK currently enshrined in Brussels will be transferred on to the British statute book – with "Henry VIII" powers then granted to ministers to tweak the laws without full parliamentary scrutiny.
Brexit: the deciders

Show all 8
The committee stage has been allocated eight days of parliamentary debate. But The Independent understands only three of the days will occur before the Budget on 22 November.
It means the Government can try to gain some momentum, make friendly overtures to rebels and have more time to discuss with them how the final Brexit deal is approved, before the later days of the committee stage that must deal with that issue – which The Independent understands will now not be scheduled until December.
In an opening minor concession earlier this week, ministers revealed they would write the exact "exit date" on to the face of the EU withdrawal Bill.
Its absence up to now had led to fears among some Tory and Labour MPs that ministers might mischievously name a date later than March 2019, as that which applies to the expiry of the Henry VIII powers – so called because they let the despotic king rule by dictat – allowing Ms May's Government to hang on to them longer than they should.
One minister told The Independent: "What this change shows is that not only are we in listening mode, but actually that we are prepared to clarify and adapt where necessary.
"The exit day change should give people peace of mind about the sunsetting clauses that are in the Bill [relating to the Henry VIII powers], showing that they operate around a date and will definitely expire around March 2021."
Brexit: Article 50 author says Theresa May is misleading the public on reversing result
The frontbencher went on: "I really hope that colleagues observe this and come to the conclusion that this Bill is not a 'power grab', but will do the job it's supposed to, deliver a smooth Brexit."
But the concession does not deal with the far more substantial and contentious issue of how Parliament gets to exercise its final say over Brexit.
Up to now Ms May has offered Parliament a straight vote on the deal, but with the motion being a choice between her deal and crashing out of the EU with no deal – something which even many Tories fear would be catastrophic for the economy.
Ex-Conservative attorney general Dominic Grieve is instead proposing a whole new piece of "wrap" legislation, that if passed would enshrine Ms May's deal in law and tie together all the other smaller pieces of Brexit legislation into a more comprehensive legally sound footing.
It would also give MPs far greater powers of scrutiny over the deal and the process of Brexit.
He is proposing his change in an amendment to the EU (Withdrawal) Bill that has considerable support on the Tory backbenches and is likely to be supported by Labour as well.
Shadow Brexit Secretary Sir Keir Starmer said Ms May would have to give more ground before her legislation passed through Parliament smoothly.
He said: "Theresa May cannot keep ignoring the serious concerns Labour and her own MPs have about the withdrawal bill.
Gordon Brown on Brexit: Britain will hit a 'crisis point' next Summer
"The Prime Minister could have used the bill's delay [from earlier in the year] to rethink her approach and accept Labour's reasonable and considered demands on what needs to change – in particular the wide use of Henry VIII powers, protections for workers' rights and environmental standards, and ensuring strong transitional arrangements are in place when we leave the EU.
"Instead, she has sought to marginalise Parliament and come forward with amendments that are more about keeping her in powers than ensuring Britain can negotiate a strong Brexit deal."
Join our new commenting forum
Join thought-provoking conversations, follow other Independent readers and see their replies