Tom Watson says it would be 'difficult' for his party to pass a Brexit deal without another referendum
Brexit: Any deal unlikely to pass without second referendum promise, Starmer says
'Without [a vote], it is impossible to see how the numbers would stack up'
Two Labour frontbenchers have warned that a cross-party Brexit deal will be "impossible" to get through the Commons without a fresh public vote.
In an escalation of pressure on Labour leader Jeremy Corbyn, shadow Brexit secretary Sir Keir Starmer ​said up to 150 of the party's MPs could oppose any deal without a Final Say vote attached.
Deputy leader Tom Watson rowed in behind his colleague, saying it would be "difficult" for Labour MPs to support any deal without a confirmatory vote.
He also claimed the party's position was "remain and reform" - a direct contradiction of his shadow cabinet colleague Barry Gardiner, who recently insisted it was "not a party of remain".
Ahead of the continuation of cross-party talks on Monday, Sir Keir said: "A significant number of Labour MPs, probably 120 if not 150, would not back a deal if it hasn't got a confirmatory vote.
Cliffs of Dover lit up in Brexit protest

Show all 5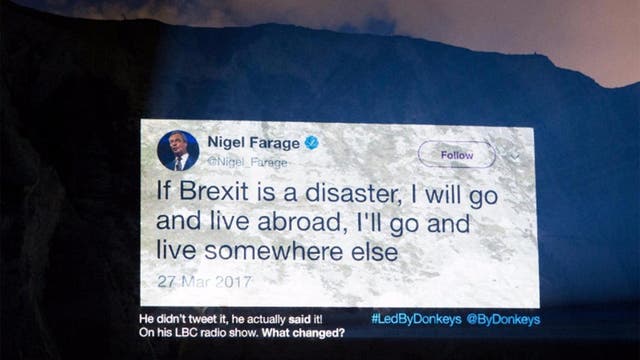 "If the point of the exercise is to get a sustainable majority, over several weeks or months of delivering on the implementation, you can't leave a confirmatory vote out of the package," he told The Guardian.
Theresa May has repeatedly ruled out holding a second vote on an agreement but she is facing increasing pressure to break the Brexit deadlock after failing to get her deal through the Commons.
Sir Keir said there was still a "considerable distance" between Labour and the government in the Brexit talks, and any deal had to be "something truly deliverable".
He said: "For many of my colleagues, they have made it clear that they will not vote for a deal without a confirmatory vote attached to it.
"So if you want that stable majority, that has to be taken into account. And without it, it is impossible to see how the numbers would stack up."
Support free-thinking journalism and attend Independent events
The Independent has been campaigning for a Final Say vote on any Brexit deal – a position that has been supported by more than a million people.
Mr Watson told the Today programme: "If a deal could be found that inspires enough votes in Westminster then fine, but it seemed to me that that's very, very difficult.
"And so my idea of a confirmatory ballot is not a religious point or a point of ideology, it's just how do you get an outcome, how do you sort this out?
"And one way to do it are these two minority positions - the prime minister's deal and those that think the people should have a say on the deal - plug them together and you build a majority."
Mr Watson also described Labour's position in relation to the European elections as a "remain and reform" party.
It comes after Theresa May's de facto deputy David Lidington gave fresh hope to second referendum campaigners earlier this week by saying another vote was "perfectly practical".
"It was very clear they are thinking about it, and they are doing a lot of practical planning in case it happens," Vince Cable, leader of the Liberal Democrats, told The Sun.
The continuing Brexit deadlock means the UK will hold European parliamentary elections on 23 May, Mr Lidington confirmed last week.
Join our new commenting forum
Join thought-provoking conversations, follow other Independent readers and see their replies