New infrastructure to absorb Channel port disruption will not be ready in time for no-deal Brexit
The prospect of 30-mile tailbacks at Dover rears its head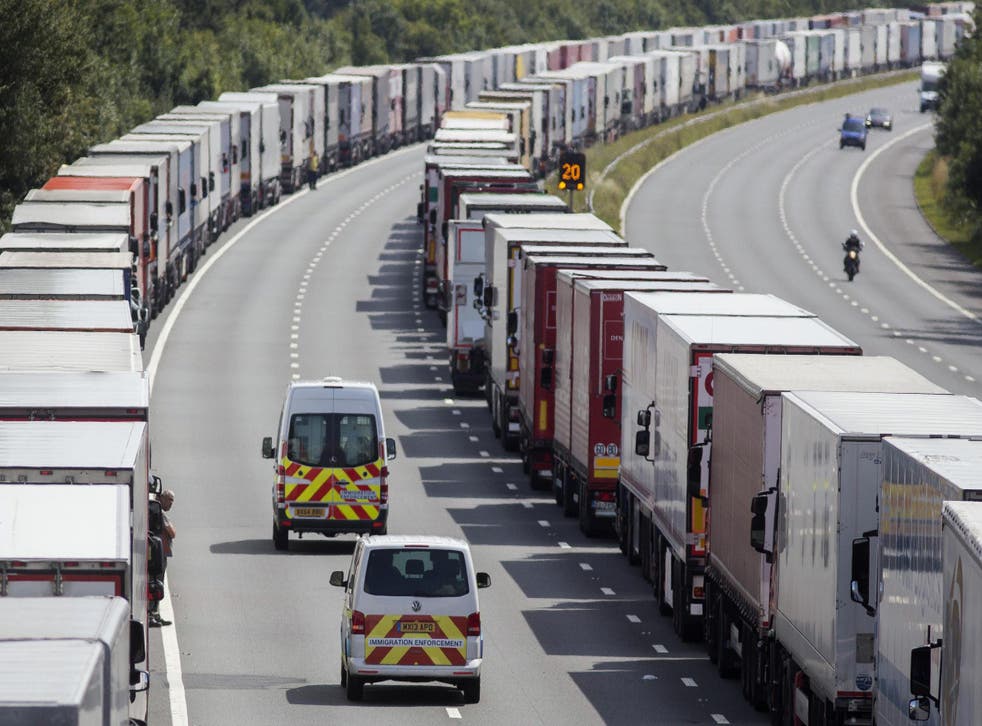 New infrastructure planned by the government to absorb disruption at the Channel ports will not be ready in time for a no-deal Brexit, because of delays in planning the project.
Highways Agency officials have told The Independent planned lorry parks will definitely not be available by March 2019 – too late to help tackle the estimated 30-mile lorry queues Dover is expected to face in the event of no deal being agreed upon.
The slow progress on constructing the off-road holding areas puts Britain in a weaker position to withstand a no-deal Brexit, undermining Theresa May's "no deal is better than a bad deal" brinkmanship with Brussels.
Authorities have not even got as far as selecting the locations for the overflow lorry parks, with detailed proposals only set to be made public for consultation at the start of next year, 2019.
The delays to the project comes after the government scrapped advanced plans for an overflow lorry park at Stanford West, near Folkestone, in November last year, after being challenged over it in the courts. At the time, it was reported that a new solution would be ready by March 2019, but the timetable appears to have slipped again, with no date now set for completion.
Former transport secretary Lord Adonis said the government's planning had been "ostrich-like", while a spokesperson for Highways England said they would attempt to avoid disruption.
If Britain cannot reach a deal with the European Union it will crash out in March 2019 with no transition period and will immediately face customs checks and paperwork for the millions of trucks that pour off ferries and Channel Tunnel shuttles every year.
In recent weeks the Department for Transport unveiled contingency plans to convert part of the M20 motorway carriageway into a lorry park as a temporary stopgap – causing huge disruption to motorists and freight.
The threat of a no deal is looming larger than ever in Brussels, with no significant progress for months, issues thought to be settled in December rearing their heads again, and EU officials describing the UK's approach as "fantasy".
Lord Adonis, a supporter for the Best For Britain anti-Brexit campaign, told The Independent that Britain was being left "dangerously vulnerable" by the government's lack of preparations.
"This failure to invest in – or prepare for – Brexit is emblematic of a government that seems incapable of taking its own policies seriously," he said.
"These delays may well end up causing queues of lorries for miles and miles, clogging up Kent and beyond and causing shortages of goods in our supermarkets.
"This is just one of a number of areas where the government's ostrich-like behaviour is leaving Britain dangerously vulnerable. I have just visited Rotterdam to see for myself the chaos that Brexit will cause our international trade."
Though Brexiteers have been keen to stress that they are leaving the EU rather than Europe, there are a number of major physical changes that will be need to be made in time for the UK's departure whether or not a deal is reached.
Theresa May has ruled out membership of the single market and customs union, meaning traders will face customs and regulatory checks upon entering the UK from Europe. This will require the expansion of physical infrastructure at ports and airports. Though the government wants a two-year transition period to give it time to prepare for Brexit, there will be none in the event of a "no deal".
As part of the preparations, the Highways Agency says it wants to "develop one or more lorry-holding areas to reduce the congestion in Kent caused by cross-Channel disruption", with the M20 and M2 motorways into Dover the focus of expansion. The new infrastructure is at the very early planning stage, however.
The Highways Agency does not mention Brexit in its consultation document on the new lorry parks, referring euphemistically instead to "disruptive events" that could cause them to be needed.
Road infrastructure in the region already regularly goes over capacity in the event of poor weather or industrial action, and Kent Police have developed an approach called Operation Stack where part of the M20 motorway is converted into a temporary lorry park. The procedure has been implemented dozens of times in the last few decades.
As well as the planned construction work on the south coast, the Home Office also revealed at the end of March that it was facing the task of recruiting an extra 1,000 border staff for Brexit.
Other countries that see a lot of trade with Britain are also making similar preparations. The Netherlands is recruiting over 700 customs officers for the port of Rotterdam and Schipol airport, major hubs that connect the UK to world markets. The port of Rotterdam itself predicts 9km of traffic jams on its side of the channel in the event of a "no deal" scenario.
A consultation document drawn up by the Highways Agency says: "Forecasts tell us that traffic is expected to increase on the M20/A20 and M2/A2. The number of lorries travelling to and from the Kent ports is also expected to increase significantly.
Brexit so far: in pictures

Show all 53
"Since severe weather, equipment failure and other disruptive events can never be completely avoided, the risk is that Operation Stack will be implemented more frequently if action is not taken. Without action, the safety and journey time reliability of everybody using the motorways, major and local roads in Kent is likely to be affected."
A Highways England spokesperson said: "We are clear that the disruption that people in Kent suffered in summer 2015 should never happen again.
"We are starting a public information exercise soon which will take a completely fresh look at long term solutions for Operation Stack and will ask people living, travelling and working in Kent for their views on what they'd like to see. The date these measures will be in place will depend on what option is chosen.
"In the meantime, we are taking steps to increase the resilience of the road network, including a contraflow on the M20 which will be available for use early next year. This will increase the options available if there is the need to deal with any potential disruption."
Join our new commenting forum
Join thought-provoking conversations, follow other Independent readers and see their replies