Brexit: Corbyn under pressure as Momentum members back referendum on Theresa May's deal
Majority of members of influential left-wing group back calls for Final Say vote
Benjamin Kentish
Political Correspondent
Tuesday 06 November 2018 20:08 Comments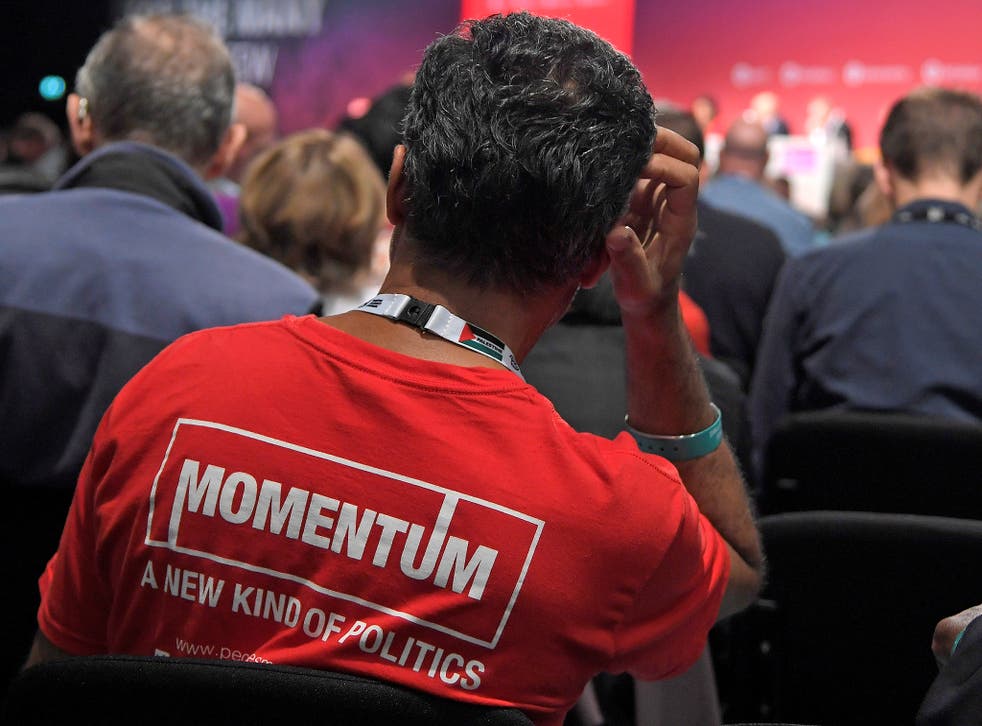 The majority of members of the left-wing Momentum group back a fresh referendum on Brexit, a new survey has found.
53 per cent of people who responded to a major consultation by the organisation said they wanted Labour to commit to holding a fresh vote, either as a top priority or if the party cannot force a general election.
Forty-one per cent said they wanted a public vote "in all circumstances", while a further 12 per cent said they wanted another referendum "but only if there is no general election".
A further 28 per cent said they supported a vote "remaining on the table as an option if there is no general election".
Just 17 per cent did not support a fresh referendum at all.
The survey is likely to pile fresh pressure on Jeremy Corbyn to back calls for a Final Say vote.
Campaigners seized on the findings and reiterated calls for Labour to shift its policy towards giving the public a say on the terms of Brexit.
Michael Chessum, national organiser of left-wing group Another Europe is Possible, which is campaigning for another referendum, said: "The evidence can no longer be ignored – the activist base of the Labour left is overwhelmingly in favour of a fresh referendum if no general election can happen.
"The most popular option on the survey was for a referendum 'in all circumstances', which is an incredibly strongly worded option.
"Brexit means deregulation, attacks on workers' rights and the end of free movement. There is simply no excuse – either for Labour as a whole, or for individual Labour MPs – not to oppose this agenda and give the people a final say."
A historic moment: thousands march to demand Final Say on Brexit

Show all 65
Current Labour policy says the party will seek a general election if Ms May secures a deal, and only if it fails to secure one will it consider supporting a fresh referendum.
The Momentum consultation, which was completed by more than 6,500 people, found that 92 per cent of the group's members want Labour MPs to vote against whatever deal Ms May brings back from Brussels.
That will add to pressure on the 15 or so Labour MPs who, as revealed by The Independent last month, are considering backing the government.
According to the survey, 82 per cent of Momentum members think Brexit will make things worse for their friends, family and community, while 89 per cent believe MPs should not consider a no-deal outcome to be a viable option.
Raising the prospect of deselections, Momentum said MPs who defy the Labour whip to support Ms May would "have a hard time explaining themselves back in their constituencies".
A Momentum spokesperson said: "The view of members is clear: Theresa May's Brexit deal will be a disaster for this country and all Labour MPs must vote it down if it fails Labour's six tests.
"It is not in the national interest to slip through the back door a Tory Brexit that will destroy our communities and crash the economy.
"Propping up a destructive Tory deal will be kryptonite to Labour members, and any Labour MP who votes with the government will have a hard time explaining themselves back in their constituencies."
Register for free to continue reading
Registration is a free and easy way to support our truly independent journalism
By registering, you will also enjoy limited access to Premium articles, exclusive newsletters, commenting, and virtual events with our leading journalists
Already have an account? sign in
Join our new commenting forum
Join thought-provoking conversations, follow other Independent readers and see their replies