Brexit: Tory Cabinet 'accepts free movement will continue for years after Britain leaves EU'
Chancellor confident he has won support for transitional deal to prevent disruption to business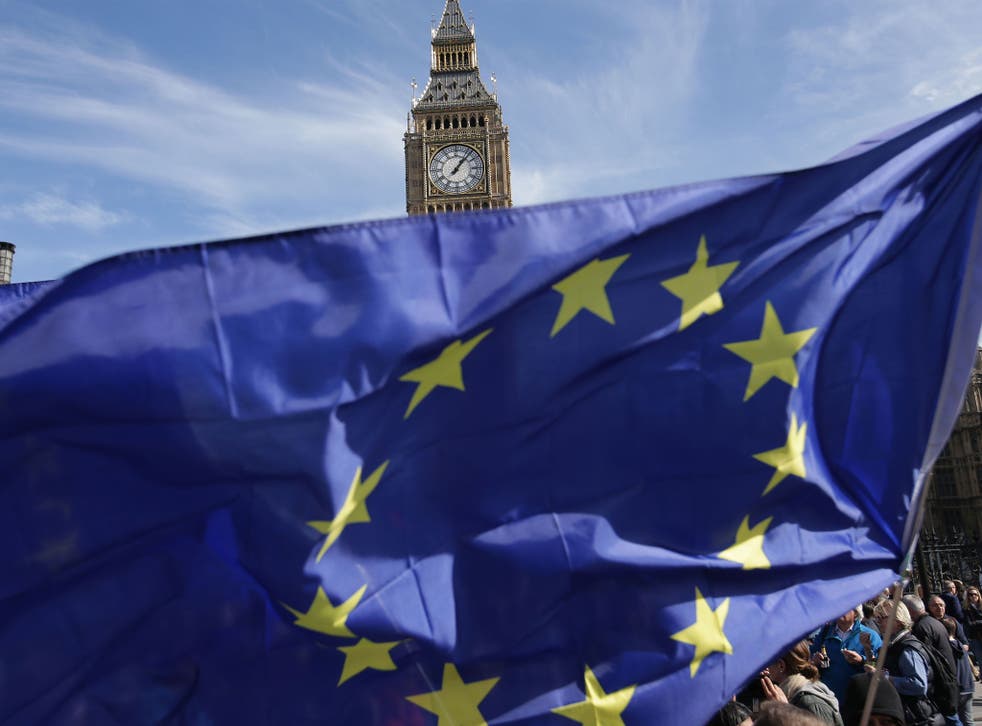 The UK is prepared to maintain free movement for EU citizens for up to four years after Brexit, reports have suggested.
Theresa May is ready to offer free movement for two years, according to The Times, while The Guardian quoted "a senior Cabinet source" as saying the period could last for three or even four years.
Philip Hammond was said to be confident he has won support within the Cabinet for a transition to prevent disruption to business caused by a sudden "cliff-edge" move to new arrangements on 29 March 2019, when Britain is set to leave the EU.
Mr Hammond has been pushing for a Brexit deal that prioritises "economic logic", but has been targeted in leaks by senior Conservative colleagues in an apparent bid to undermine him.
There was no immediate response from Downing Street to reports Ms May is ready to see free movement continue beyond the due date for withdrawal from the EU.
But she stressed her backing for an implementation period when speaking with business leaders who attended the first of a series of quarterly Downing Street forums on Brexit.
"The Prime Minister reiterated that the Government's overarching goal is for a smooth, orderly exit culminating in a comprehensive free trade deal with the EU, with a period of implementation in order to avoid any cliff-edges," a Downing Street spokesman said.
One of the attendees at the Number 10 summit, Francis Martin of the British Chambers of Commerce, made clear that a transition period is a priority for business.
"Our research shows clear support among the business community for the UK to reach a comprehensive agreement with the EU, and for a transition period which will prevent firms facing a cliff-edge," Mr Martin said.
"The prospect of multiple, costly, adjustments to trading conditions is a concern for many, so starting discussions on transition arrangements as soon as possible would go a long way to boost business confidence."
Michel Barnier seeks clarification over key issues in Brexit talks
Labour MP Wes Streeting, a leading supporter of the Open Britain campaign, said: "If it is true that the Cabinet now accept the need for a transitional period to avoid a cliff-edge Brexit, it is a welcome U-turn from ministers and a big victory for the Chancellor."
But leading Brexit-backing Conservative MP Jacob Rees-Mogg said calls for a transition period were being used as a mask for attempts to overturn the result of last year's referendum.
"If we are subject to the rules of the single market and the regulations of the single market, and subject to the fiat of the European Court of Justice, we are paying for the privilege and we can't do free trade deals with the rest of the world, then we are in the EU," Mr Rees-Mogg told BBC2's Newsnight.
"In the old and tired phrase, if it looks like a duck, walks like a duck and quacks like a duck, it's a duck."
Ukip deputy chairman Suzanne Evans told the programme: "The people of Britain know exactly what they voted for. They voted to take back control of our money, our laws and our borders. If we have a transition period, we are not going to be able to take back any of those for goodness knows how long.
"We either leave on March 29, 2019 or we are held hostage to the EU for an indefinite period of time. We can't allow that to happen."
The row blew up after the completion of the second round of official Brexit negotiations ended in Brussels with "fundamental" disagreements remaining between Britain and the EU on citizens' rights and a stand-off over the so-called "divorce bill".
The EU's chief negotiator Michel Barnier demanded clarification on Britain's position on the financial settlement by the next round of talks in August but UK officials, who are understood to be frustrated at Brussels' own ambiguity on the bill, indicated they would not publish a position before the autumn.
After four days of talks, the Brexit Secretary, David Davis, urged Brussels to show "flexibility" amid what is seen by the UK as "unprecedented" demands for the European Court of Justice to enforce EU nationals rights in the UK that amount to "judicial imperialism".
Additional reporting by PA
Join our new commenting forum
Join thought-provoking conversations, follow other Independent readers and see their replies