Brexit: Chlorine-soaked chickens will be on sale in UK if US gets its own way in trade deal, Nick Clegg warns
'We are not going to sign anything that the chicken farmers of Delaware don't like!', the US Vice-President told the former deputy minister
Rob Merrick
Deputy Political Editor
Monday 16 January 2017 15:42 Comments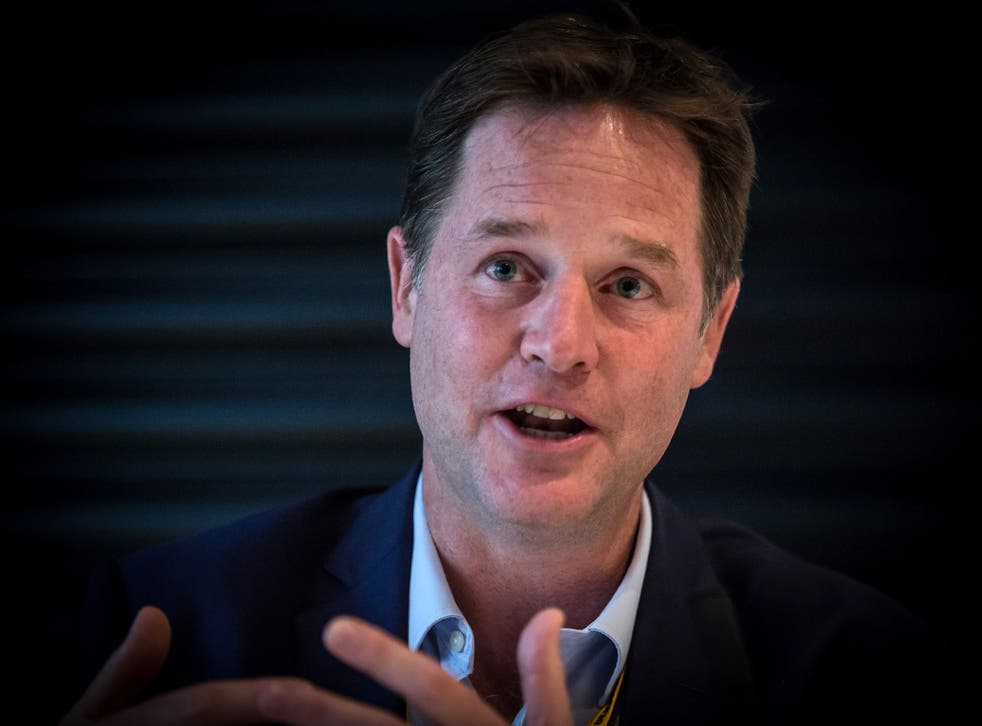 Chlorine-soaked chickens will be on sale in British supermarkets if the US gets its way in a post-Brexit trade deal, Nick Clegg has warned.
The former deputy prime minister used the prospect of eating chicken washed with chemicals to illustrate the difficulties – and dangers – of freer transatlantic trade.
Brexit supporters have hailed Donald Trump's enthusiasm to achieve a rapid trade agreement with Britain as a big boost, ahead of EU withdrawal.
But Mr Clegg accused Brexit supporters of believing in a "fantasy world" of trade deals with far-flung countries, which could never replace the EU's single market.
And he recounted a conversation with Joe Biden, the outgoing US Vice-President, to underline what the US will demand as the price of an agreement with Britain.
The former Liberal Democrat leader said: "He said to me very unsentimentally – in that folksy way he does – 'We are not going to sign anything that the chicken farmers of Delaware don't like!'.
"Now, the chicken farmers of Delaware wash their chicken flesh with some sort of chlorine.
"It's bleached – bloody horrible stuff – which is not allowed in the EU, the EU has decided, through various laws.
"You tell me, but I suspect the good shoppers of Waitrose and Sainsbury's and others might be a little bit shocked if, suddenly, they are having to eat this slightly white, chlorine-washed American chicken flesh."
Mr Clegg added, sarcastically: "And that's the great triumph of the new US-UK trade agreement."
However, Theresa May's official spokeswoman said, speaking of the President-elect's comments to The Times about a quick deal, "That highlights one of the opportunities of the UK leaving the EU."
The danger of chemically treated chicken meat reaching British shops first reared its head during negotiations on an aborted trade deal between Europe and the US.
The mooted Transatlantic Trade and Investment Partnership (TTIP) deal now appears dead – with Mr Trump keener to try to reach agreement with post-Brexit Britain.
Mr Clegg said the same obstacles stood in the way, including long-standing criticisms that US farmers use chemical washes to make up for inadequate hygiene on farms and abattoirs.
In contrast, the EU uses a so-called "farm-to-fork" approach, requiring steps all along the production chain to ensure the food ultimately sold is safe.
Any deal to allow US meat to be sold in Britain after inferior safety measures would be likely to provoke uproar from farmers and consumers.
Mr Clegg spoke as he urged Ms May to return the UK to the same 1960s trading arrangements it had with Europe before it joined the EU, if she decides there is no alternative to a "hard Brexit".
The most sensible fall-back option – to avoid crashing out of the EU with no fresh trade deal ­– would be to re-enter the European Free Trade Association (Efta), which it co-founded in 1960.
That would involve teaming up with its four current members – Norway, Iceland, Liechtenstein and Switzerland – in a body meant to provide a free trade alternative to European integration.
Mr Clegg acknowledged the Prime Minister would never make it her declared aim, but argued she could be forced to embrace the "off-the-shelf" model if and when the Brexit talks falter, next year.
Register for free to continue reading
Registration is a free and easy way to support our truly independent journalism
By registering, you will also enjoy limited access to Premium articles, exclusive newsletters, commenting, and virtual events with our leading journalists
Already have an account? sign in
Join our new commenting forum
Join thought-provoking conversations, follow other Independent readers and see their replies