'My family is being broken': EU migrant parents of British children demand clarity on right to stay after Brexit
'We are very worried and we're waiting for the Government to do something about it'
Siobhan Fenton
Social Affairs Correspondent
Monday 20 February 2017 17:00 Comments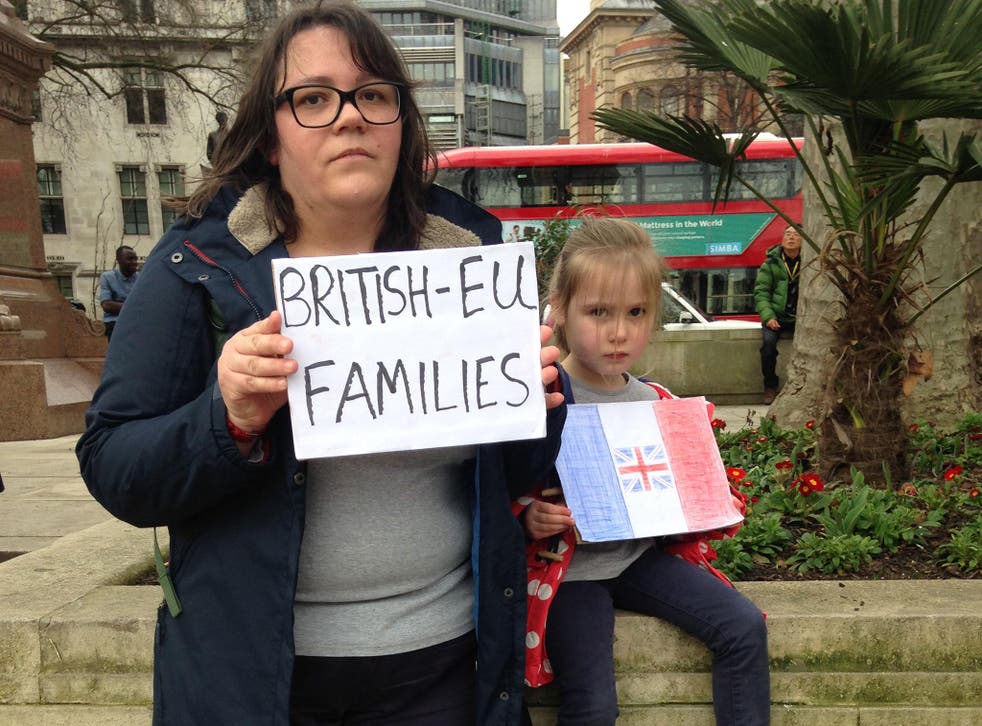 European migrants with British children are terrified their families will be torn apart by Brexit if they lose their right to remain in the UK, protesters have warned.
Hundreds of immigrants to the UK from European Union countries held a rally outside the Houses of Parliament to call for politicians to guarantee their right to remain after EU withdrawal. Draped in flags from their home countries, protesters expressed their fears for their future in the UK, as the British government prepares to enter formal negotiations for Brexit.
It is not yet known if EU citizens' right to remain in the UK will be undermined by the move.
The House of Lords is currently considering the 'Article 50 Bill' which would empower Prime Minister Theresa May to trigger Article 50, the formal mechanism through which negotiations to leave the European Union can begin. MPs in the House of Commons have given the bill approval but the upper chamber must all back it before it can be given full assent.
However, critics say Ms May's proposal to enact a 'Hard Brexit', does not represent majority public opinion and could leave EU citizens in the UK with fewer rights, as well as British people currently living abroad.
Isabel, a French woman living her York with her English husband and three young children, attended the rally carried placards depicting the French and British flags. She told The Independent she fears they could be ripped apart by a hard Brexit deal.
She said: "We fear being apart, my husband having no right to live in France and me having no right to live here. We are very worried and we're waiting for the government to do something about it.
"My family is being broken. We need guarantees now- that marriage does stand for something, families stand for something."
Ilaria Miarible, a 35-year-old researcher from Italy, said she came to the UK ten years ago to complete a PHD. She left the UK for several years, meaning she is now unsure if she qualifies for permanent residency. She said: "I've been in the UK for ten years. I've made my life here. I think it's completely unfair. I have no rights here.
"I think it's unfair that there's such uncertainty at the moment, we don't know where we stand. I think how we migrants have been treated, across the board, is appalling. I came here with nothing and I decided to graft. I would like to stay here and pay back all the good things I have received."
Brexit Concerns

Show all 26
Protest organiser Matthieu Challot, 42, told The Independent he moved to London from France 18 years ago and now lives with his British partner and their child. He says he does not fear losing his right to remain in the UK, but is more worried about social attitudes due to what he perceives to be growing bitterness from British nationals towards immigrants.
He said: "I don't think the UK is going to expel us, they need us as taxpayers and also I'm not sure they would want all their pensioners coming back in exchange."
Mr Challot explained: "I fear we will become second class citizens. People have started to be much more vocal about their prejudices. As a foreigner looking at the Brexit campaign it was horrendous. There was just lies and they have unleashed a new wave of populism."
He said that immediately after the referendum he found bins had been turned over on top of his car, which he fears may be due to his car having French number plates.
He said: "I've been told lots that the UK is a very tolerant country, but I don't want to be tolerated, I want to be accepted and integrated. I don't need to be tolerated."
Register for free to continue reading
Registration is a free and easy way to support our truly independent journalism
By registering, you will also enjoy limited access to Premium articles, exclusive newsletters, commenting, and virtual events with our leading journalists
Already have an account? sign in
Join our new commenting forum
Join thought-provoking conversations, follow other Independent readers and see their replies