EU and UK have 'significant differences' over Brexit divorce bill, admits David Davis
Two sides have 'very different legal stances' on the amount owed, says Brexit Secretary
Rachael Revesz
Tuesday 05 September 2017 20:48 Comments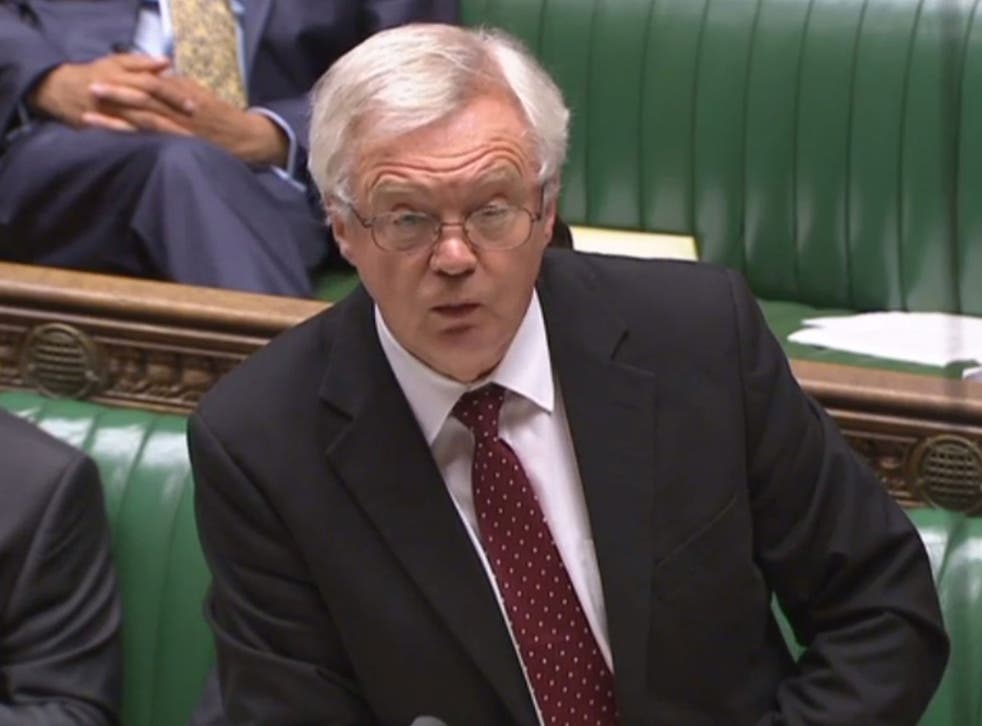 The UK and EU continue to have "significant differences" over the Brexit divorce bill, David Davis has said.
The Brexit Secretary said the two sides had "very different legal stances" on the amount owed, and that some points of the general negotiations would be "very stormy".
"It is clear that the two sides have very different legal stances," he said.
"[EU chief negotiator] Michel Barnier and I agreed that we do not anticipate making incremental progress on the final shape of the financial deal in every round […] it is also clear there are significant differences to be bridged in this sector."
He added that the UK would not be bounced into an agreement.
"Does Labour want to pay £100bn to get progress in the next month?" he told MPs. "I hope not. We will do this the proper way."
Brexit: the deciders

Show all 8
When pressed to decide the final bill via an independent audit, Mr Davis replied that both sides were working their way to a number via a legal basis, and that "Frankly, we will not agree on the outcome".
European Commission President Jean-Claude Juncker has said the final divorce bill could be around £55bn. Mr Davis has dismissed reports the UK secretly agreed a bill of up to £50bn. Others suggested the divorce bill could reach £92bn.
In his question and answer session with MPs, Mr Davis said the Government was carrying out "technical work" on the matter of the Irish border and that "concrete progress" was being made on trade, health care and protecting the rights of British expats in the EU.
His comments came days before MPs will vote on the EU withdrawal bill, which allows the Government to adopt or abandon thousands of EU laws.
Labour and the SNP said they would vote against the bill due to fears the Government will take the chance to reduce worker and environmental protections. Late last month Labour changed its position to back the single market and customs union for a four-year transition period.
Mr Davis recently said the UK was ready to "intensify" the pace of talks, in response to EU officials saying progress in negotiations was falling short of what was needed, rather than stick to the original one-week-per-month schedule. He blamed some delay on the German elections and the formation of its new government.
The so-called divorce bill has caused controversy for months. Foreign Secretary Boris Johnson faced criticism in July for suggesting the EU could "go whistle" if they expected the UK to pay any money to leave.
Register for free to continue reading
Registration is a free and easy way to support our truly independent journalism
By registering, you will also enjoy limited access to Premium articles, exclusive newsletters, commenting, and virtual events with our leading journalists
Already have an account? sign in
Join our new commenting forum
Join thought-provoking conversations, follow other Independent readers and see their replies