Sir Ivan Rogers quits: Britain's EU ambassador attacks 'muddled' Brexit thinking in scathing resignation letter
The email to staff reveals tensions with Downing Street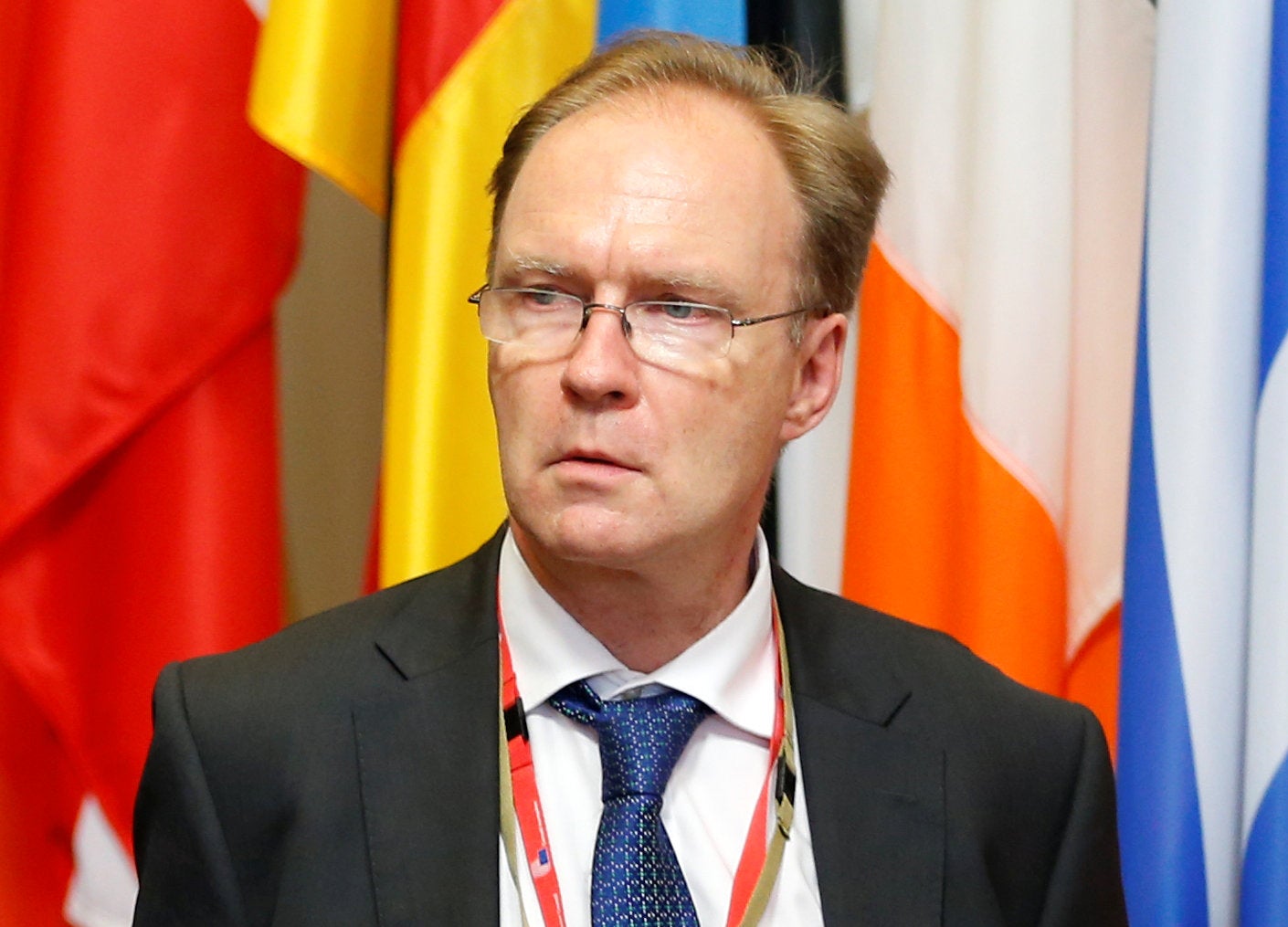 The UK's top diplomat in the EU has made a veiled attack on Britain's Brexit negotiations in a lengthy resignation email to staff.
Sir Ivan Rogers urged his colleagues in Brussels to challenge "muddled thinking and...speak truth to power" as he quit just weeks before Theresa May is due to trigger the process of leaving the union.
Sir Ivan called on his staff to challenge "ill-founded arguments" and said that "serious multilateral negotiating experience is in short supply in Whitehall".
Farage calls for more resignations after Sir Ivan Rogers quits
The ambassador also said that ministers needed to hear "unvarnished" and "uncomfortable" views from Europe.
In what many will interpret as implicit criticism of Ms May, he went on to say in the final paragraphs of his email: "I hope you will continue to challenge ill-founded arguments and muddled thinking and that you will never be afraid to speak the truth to those in power. I hope that you will support each other in those difficult moments where you have to deliver messages that are disagreeable to those who need to hear them."
His resignation has been branded a "wilful and total destruction" of expertise, amid fears he has been "hounded out" by hostile pro-Brexiteers. Politicians warned his expertise in Brussels would be very difficult to replace at such short notice.
Nicholas Macpherson, the former Treasury permanent secretary, led the warnings, saying Sir Ivan was the latest in a worrying line of experienced figures to walk away.
Writing on Twitter, he said: "Ivan Rogers huge loss. Can't understand wilful and total destruction of EU expertise."
Sir Ivan had been expected to stay in his post until at least the end of 2017, however, clear tensions with No 10 were laid bare in mid-December when it was reported that he had warned the Government it could take 10 years to complete a post-Brexit trade deal with the EU. He was afterwards lambasted by the pro-Brexit Tory MP Dominic Raab, who accused the diplomat of being "pessimistic".
The Daily Mail at the time reported that the knives were out for Sir Ivan, and that Eurosceptics were demanding for him to be replaced with a "diplomat who is energetically pro-Brexit". There was even speculation that his comments were deliberately leaked to the BBC, last month, to undermine his position.
Nick Clegg said he had first worked alongside the ambassador 20 years ago and suggested he had been "hounded out by hostile Brexiteers in government".
The former Deputy Prime Minister said: "The resignation of somebody as experienced as Sir Ivan Rogers is a body blow to the Government's Brexit plans.
"If the reports are true that he has been hounded out by hostile Brexiteers in government, it counts as a spectacular own goal.
What experts have said about Brexit
Show all 11
"The Government needs all the help it can get from good civil servants to deliver a workable Brexit."
The former Chancellor George Osborne defended Sir Ivan, calling him "a perceptive, pragmatic and patriotic public servant".
And the Labour MP Stephen Kinnock said Ms May was "recklessly sailing our country into uncharted waters".
Sir Ivan had been playing an "absolutely pivotal role in the Brexit process" and his departure was a major blow, Mr Kinnock said.
He said: "And with Boris [Johnson] and the Brexiteers blundering around like bulls in a china shop, we know that the work of our diplomatic corps has never been more important.
"Sir Ivan's resignation, seemingly out of the blue, raises serious concerns about the Government's shambolic approach.
"Theresa May is recklessly sailing our country into uncharted waters, without a map or a compass."
Lord Mandelson, a former European trade commissioner, warned top civil servants were increasingly nervous about giving "objective opinion and advice".
The Labour peer said: "In terms of knowledge and experience of the EU, Sir Ivan Rogers is second to none in Whitehall. His resignation is a serious loss for us in Brussels.
"I would not expect him to comment further but everyone knows that civil servants are being increasingly inhibited in offering objective opinion and advice to ministers.
"Our negotiation as a whole will go nowhere if ministers are going to delude themselves about the immense difficulty and challenges Britain faces in implementing the referendum decision."
Charles Grant, the director of the Centre for European Reform think-tank, tweeted that the UK had lost one of its most experienced EU negotiators at a crucial moment.
He said: "Ivan Rogers' resignation makes a good deal on Brexit less likely. One of the v few people at top of Brit govt who understand EU.
"The [EU] 27 will take Rogers' resignation as a sign that May's government prefers to placate hardline sceptics than keep its top EU expert."
Some observers were struck by how the resignation appeared to have come as a complete surprise to the Government.
The Foreign Office took two hours to release a brief statement suggesting he had gone "a few months early" – although it is believed Sir Ivan had intended to stay until November.
But a gleeful Nigel Farage, suggested "a lot more" British diplomats should follow Sir Ivan Rogers and resign.
The former Ukip leader said: "The world has changed. The political establishment in this country and the diplomatic service just doesn't accept the vote.
Mr Farage also said Theresa May should "welcome it with open arms and put a firm Brexiteer in the position".
"Somebody who recognises that the world has changed, somebody tough, so we can get on with Brexit," he added.
A Government spokesman said: "Sir Ivan Rogers has resigned a few months early as UK permanent representative to the European Union.
"Sir Ivan has taken this decision now to enable a successor to be appointed before the UK invokes Article 50 by the end of March. We are grateful for his work and commitment over the last three years."
Nevertheless, the loss of Sir Ivan will be seen as a blow to the Treasury and the rest of the Government as it wrestles with what Theresa May has promised will be a "smooth" Brexit.
Sir Ivan represented the UK at weekly meetings in the EU Council, dealing largely with political, financial, justice, policing and foreign policy issues.
But, last month, he infuriated Eurosceptics with his warnings to the Government over the timetable for a free-trade deal with the EU. Publicly, Downing Street insisted the ambassador had simply been communicating the views of some European leaders, rather than giving his own assessment.
A recent book about the EU referendum campaign revealed how some Conservatives blamed Sir Ivan for preventing David Cameron from demanding more from his EU renegotiation.
In All Out War, The Sunday Times political editor Tim Shipman quoted one Cameron adviser saying he had been "beholden" to Sir Ivan and his own EU adviser, Tom Scholar.
The extract read: "They were status quo. They were happy to take 'No' for an answer, happy to believe things weren't possible when they could be possible.
"I've lost count of the number of times Ivan threatened to resign."
The ambassador was said to have gone over advisers' heads directly to Mr Cameron, after dismissing their arguments.
"He would send emails that were the stuff of legend, saying why didn't we know anything? We were just politicos, we didn't understand," the aide added.
Join our commenting forum
Join thought-provoking conversations, follow other Independent readers and see their replies