Nigel Farage expects Article 50 to be triggered in January to start Brexit negotiations
Theresa May has not set a date but said formal negotiations would not begin until next year
Lizzie Dearden
Wednesday 14 September 2016 10:42 Comments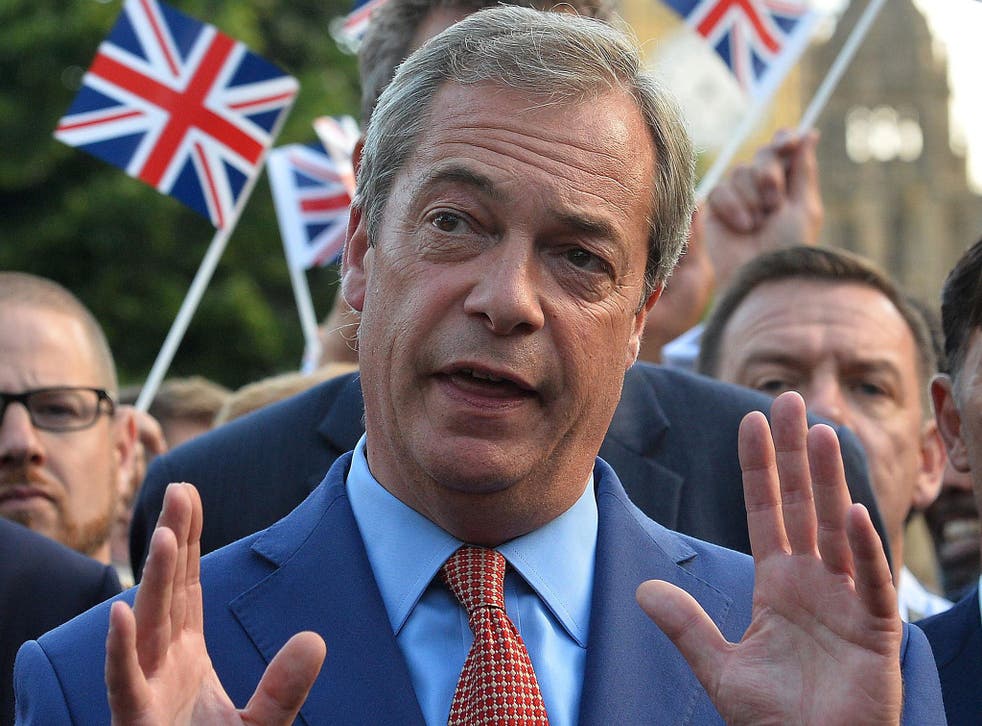 Nigel Farage expects Article 50 to be triggered within months to start the formal process for Britain to leave the European Union, although the Government has not set a date.
The former Ukip leader, who prominently campaigned for Brexit before stepping down, said the move could be taken as soon as January.
"There is no reason why it should [take several years]," Mr Farage told Bloomberg. "I hope you'll see Article 50 triggered, probably in January, and we'll be out of this in two years."
No deadline has been set by Theresa May's Government but the Prime Minister previously said negotiations would not be started in 2016.
When challenged over failed promises including a Vote Leave campaign poster that promised to give £350m of EU funding to the NHS next week, Mr Farage conceded that some pledges were "mildly irresponsible".
"There were lots of promises – lots of ideas get discussed in any election," he added.
Speaking in Berlin in July, Ms May said the UK would allow time to secure a "sensible and orderly departure" from the EU, while retaining economic links.
Brexit protest: Thousands march in London

Show all 12
"This will take time and it will require serious and detailed work," she added. "All of us will need time to prepare for these negotiations and the United Kingdom will not invoke Article 50 until our objectives are clear, and that is why I have said already this will not happen before the end of this year."
The president of the European Commission, Jean-Claude Juncker, today called for greater cohesion within the EU in the wake of the Brexit vote.
"We respect and at the same time regret the UK decision but the European Union as such is not at risk," he told the European Parliament in Strasbourg.
"We would be happy if the request for Brexit could happen as quickly as possible so that we can take the specific steps that need to be taken and so that relations with the UK, which must remain on a friendly basis, can take a new shape.
"That means that only those can have unlimited access to the internal market who accept that there will be free access for persons and goods. There can be no a la carte access to the single market."
Register for free to continue reading
Registration is a free and easy way to support our truly independent journalism
By registering, you will also enjoy limited access to Premium articles, exclusive newsletters, commenting, and virtual events with our leading journalists
Already have an account? sign in
Join our new commenting forum
Join thought-provoking conversations, follow other Independent readers and see their replies