Brexit: Tories round on Theresa May over resignation of top diplomat in Brussels
Critics are demanding ministers make a statement in the House of Commons on Monday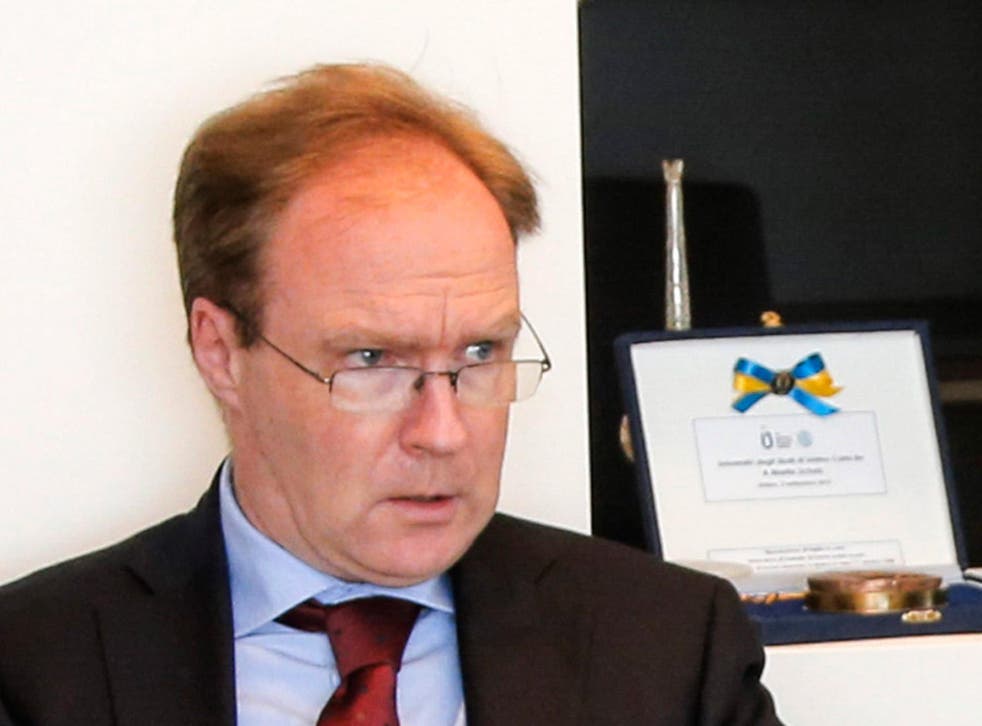 Theresa May faces a growing Brexit backlash from Conservative MPs over the extraordinary resignation of Britain's top diplomat in Brussels.
Ex-Tory ministers lined up to sound the alarm over respected ambassador Sir Ivan Rogers' departure, which they claimed casts doubt over the Government's approach to Brexit and risks the UK's chances of securing the right deal.
One former Conservative secretary of state told The Independent Sir Ivan's resignation is "bad news for the Brexit process", while another ex-minister claimed it is "a very public warning" about the Government's approach to EU talks.
Any hopes in Downing Street that Sir Ivan's rapid replacement might counter criticism of Ms May, faded fast as critics from both her own party and others demanded her administration explain its handling of the incident at a Commons showdown on Monday.
The row over Sir Ivan's shock resignation not only threatened to lever open Tory divisions on Europe, with Brexit backers and their opponents scrapping over its implications, but also strained tensions between the Government and Whitehall, as the civil servants' union attacked politicians for wanting "yes men and women" as advisers.
Sir Ivan's departure was accompanied by a letter urging his diplomatic colleagues to call out "muddled thinking" on Brexit and to "speak truth to power". It was claimed he left after losing the confidence of Downing Street, with a leaked memo in which he suggested securing a Brexit deal may take a decade weighing heavily.
But even as Number 10 moved quickly to appoint experienced Foreign Office veteran Sir Tim Barrow to replace Sir Ivan, ex-cabinet minister Nicky Morgan said the diplomat's departure was a major loss.
Theresa May refuses to comment on suggestions Brexit deal will take 10 years
She told The Independent how she had worked with Sir Ivan, adding: "He had extensive contacts in Brussels and obviously extensive corporate knowledge. The resignation is bad news for the Brexit process, regardless of whatever side of the debate you were on last year.
"If you wanted to leave, we still need to do it in a way that is positive for the country and is done properly. Ivan Rogers is one of the people who would have got that done."
Meanwhile ex-Tory minister Alistair Burt wrote an article that echoed the words of Sir Ivan's resignation letter, saying civil servants should be able to deliver uncomfortable news to ministers in the certainty they will be listened to.
Mr Burt said: "The manner of departure and the clarity of Rogers's concerns over speaking the 'unvarnished truth', challenging 'ill-founded arguments', and ensuring that there are in place those harnessing the 'best experience', shouts a very public warning about what is currently occurring on our nation's behalf as we enter the most important negotiations of our peacetime life.
"If such warnings from a public servant who has devoted his working life to his country are dismissed simply as coming from a 'Europhile, who deserves clearing out with the others' or similar nonsense, then we will all be the losers."
Mr Burt's call for a Commons statement on Monday was also backed by senior MP Neil Carmichael, who urged people to read the Bedfordshire MP's article, and fellow former minister Anna Soubry who posted a link to it on Twitter.
Brexit Concerns

Show all 26
Meanwhile, the party's Brexiteers wasted no time in going on the offensive against Sir Ivan, with Tory former Trade Secretary Peter Lilley accusing him of "sour grapes".
He said: "Why did he put out this long, 1,400-word letter, half of which reads like a sort of CV – 'this is my job, I'm a very clever person, anyone who is looking for someone to employ, I'm available' – and the other half looks like some degree of sour grapes, and possibly some genuine degree of misunderstanding between him and ministers, or concern about what ministers are doing?"
Tory MP Dominic Raab claimed the diplomat's "heart hasn't really been in Brexit" and his resignation will be "quietly, cautiously and respectfully welcomed at the top of Government".
But Ms Morgan hit back, telling detractors their criticism of the diplomat is "unhelpful".
She added: "It's another symptom of those who want to leave the EU, having won the referendum, being unable to stop campaign mode and start delivery mode.
"That means not undermining civil servants whose job is to give ministers unvarnished advice."
Farage calls for more resignations after Sir Ivan Rogers quits
Amid a sign of growing strain in Whitehall over the Government's Brexit approach, former Foreign Office permanent secretary Lord Ricketts attacked the "denigration" of Sir Ivan.
He said: "I don't think it's sour grapes, I think it's a sense that there is a huge task out here. I am really concerned about this undertone of denigration of Ivan as a person, and this feeling that it has got to be 'one of us' next time. That's a complete misunderstanding of what civil servants are for."
Dave Penman, leader of senior civil servants union the FDA, said: "If the civil service is to deliver a successful Brexit negotiation, the recipe for that success is unlikely to be to starve it of resources, lack clarity of objective and be surrounded with yes men and women who will not speak truth unto power."
Labour's shadow Brexit Secretary and Liberal Democrat Leader Tim Farron also weighed in to demand a Commons statement on Monday and a chance to question ministers over Sir Ivan's departure.
Announcing his replacement, Downing Street said Sir Tim would be "a seasoned and tough negotiator, with extensive experience of securing UK objectives in Brussels".
But the former Russian ambassador's appointment, and his long history at the Foreign Office, was unlikely to please Leavers who believe the Whitehall department to be institutionally pro-EU.
Join our new commenting forum
Join thought-provoking conversations, follow other Independent readers and see their replies