Brexit latest: Theresa May slaps down Philip Hammond over payment of £45bn divorce bill in fresh cabinet split
Chancellor's insistence that Britain will pay up with no trade guarantees would spark fury among Tory Brexiteers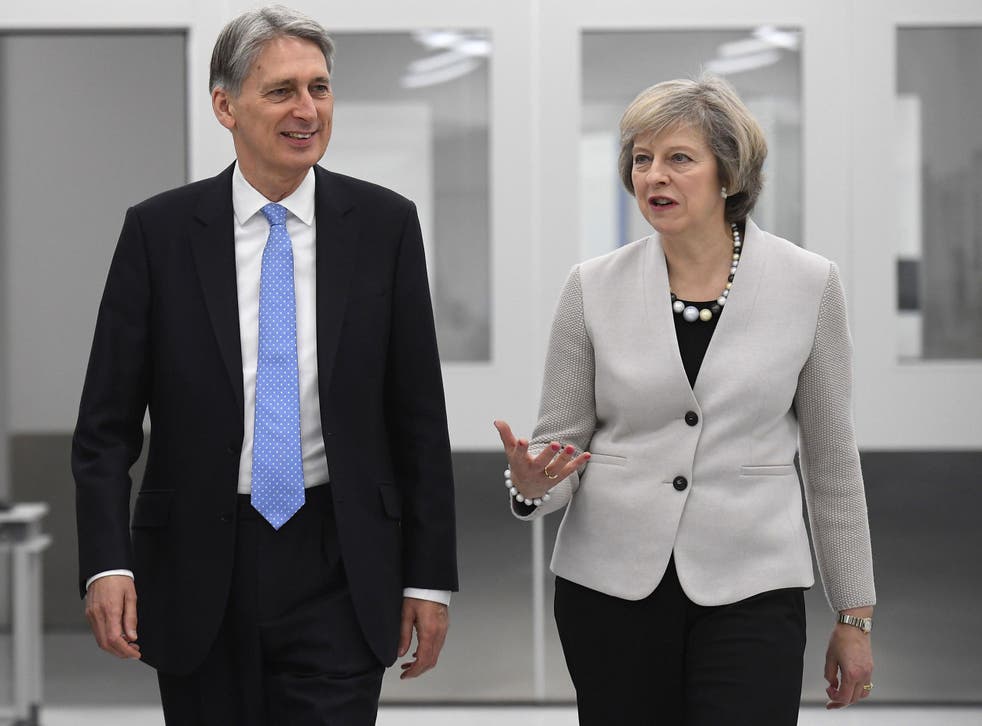 Theresa May has been forced to slap down her Chancellor after he claimed the £45bn Brexit divorce bill will be paid even if no EU trade deal is struck, opening up a fresh cabinet split.
The Prime Minister sided with Boris Johnson and Michael Gove, who only signed up to handing over the huge sum if Brussels delivers a favourable trade agreement in return.
"Nothing is agreed until everything is agreed and that applies to the financial settlement," her spokesman insisted – just an hour after Philip Hammond described not paying as "inconceivable".
Britain set to agree divorce bill with EU that could cost up to £45bn
Any suggestion that Britain will pay up with no trade guarantees would spark fury among Tory Brexiteers who are piling pressure on Ms May to walk away from the talks if the EU refuses to bend.
The clash exposed the tensions on another difficult day for the Prime Minister over Brexit, as:
* Mr Hammond admitted the Cabinet had not agreed – or even discussed - the "end state position" it hopes to achieve when trade talks finally begin.
* David Davis faced calls to resign after admitting no impact assessments of the effect of EU withdrawal on sectors of the UK economy have been carried out – despite previously boasting they had been.
* Ms May failed to reach agreement with the Democratic Unionist Party to allow her to go back to Brussels to try to kick-start the stalled exit negotiations.
* The Irish Prime Minister, Leo Varadkar, said he would prefer talks to drag on into 2018 than to soften his stance on the border, telling Ms May in a phone call that the "firm Irish position" would not shift.
* Tory MPs on opposing sides of the Brexit divide flexed their muscles – with a pro-EU group urging Ms May to stand up to "highly irresponsible" Brexiteer colleagues urging her to walk out of the negotiations.
* Brussels toughened its position on EU citizens' rights after Brexit, requesting a 15-year oversight role for the European Court of Justice – another move opposed by London.
After months of prevarication, the Government agreed, last week, to pay the EU around £45bn to settle its financial obligations to the EU.
To calm Tory anger, Liz Truss, the Treasury Chief Secretary, pledged that the payment was "contingent on getting a suitable outcome from those negotiations".
But, giving evidence to the Treasury Select Committee, Mr Hammond said: "I find it inconceivable that we as a nation would be walking away from an obligation that we recognised as an obligation."
He added: "That's not the kind of country we are and frankly it would not make us a credible partner in future international agreements."
No 10 moved quickly to dismiss Mr Hammond's view, keen to avoid antagonising the likes of Mr Johnson and Mr Gove and to preserve the Cabinet's delicate agreed position.
The Foreign Secretary and the Environment Secretary are also the loudest cabinet voices arguing for a clean break from the EU's economic structures.
The likes of Mr Hammond want much deeper access, even at the price of adopting more EU rules and regulations – a crucial decision Ms May has postponed until now.
The Chancellor told the committee: "The Cabinet has had general discussions about our Brexit negotiations, but we haven't had a specific mandating of an end-state position."
But he defended the delay until the talks moved on to trade in phase two, adding: "It would have been premature to have that discussion before we reach that stage."
The admission was quickly condemned as "beyond parody" by Labour MP Alison McGovern, a supporter of the pro-EU Open Britain group.
"The Government is flailing around trying to get agreement to move on to talks on the future UK-EU relationship," she said.
"Yet they don't even know what they want that relationship to be once they make that progress. They are breathtakingly dysfunctional."
No 10 said the cabinet discussion – inflamed by a dispute over the extent of "regulatory alignment" needed to satisfy fears over the Irish border – would take place later this month.
Earlier, Mr Davis sparked uproar when he was hauled before the Brexit Select Committee to explain his failure to hand over 58 sectoral assessments, as required by Parliament.
In June, he had claimed they had been completed, later saying the Prime Minister had read "summary outcomes" of assessments that went into "excruciating detail".
But he told the committee that no such documents had been produced as their usefulness was thought to be "near zero".
Mr Davis will not face contempt proceedings, but the result could be close if, as threatened, opposition MPs force a vote on whether he has misled Parliament.
Ms May finally held her delayed telephone conversation with Arlene Foster, but the DUP leader has not yet travelled to London for face-to-face talks on how to avoid a hard Irish border.
Join our new commenting forum
Join thought-provoking conversations, follow other Independent readers and see their replies