Brexit: UK Government 'prioritising trade over human rights' in pursuit of Middle East deals
International Trade Secretary Liam Fox has paid visits to Oman, Bahrain and Kuwait in the last three months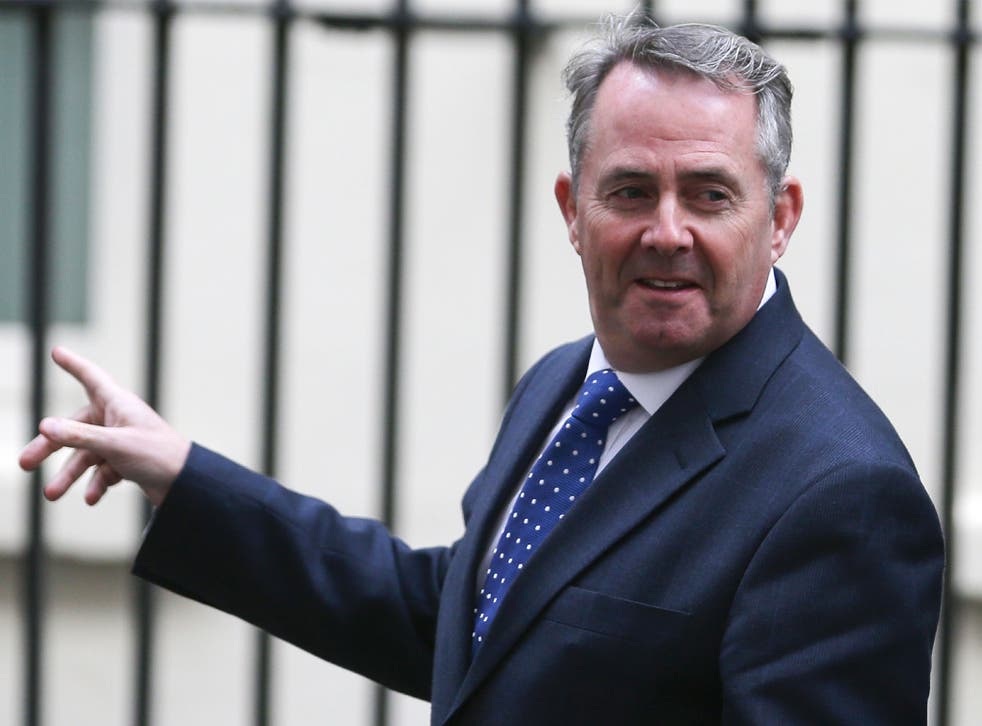 International Trade Secretary Liam Fox has been accused of prioritising business deals over human rights after he organised a string of trade trips to the Middle East.
Liberal Democrat leader Tim Farron said the Tory Cabinet minister was working on post-Brexit trade arrangements with authoritarian regimes in a "desperate" bid to secure deals after Theresa May announced the UK would withdraw from the EU Single Market.
Criticism of the Government's trade policy followed a recent visit by the Tory minister to the Gulf state of Kuwait.
Dr Fox is also understood to be lining up trade meetings with the Gulf Cooperation Council (GCC), which includes Saudi Arabia, the United Arab Emirates and Bahrain among its members.
Places Liam Fox has visited since becoming International Trade Secretary
Of the International Trade Secretary's eight overseas visits since November, three have been to Gulf states, including Oman and Bahrain.
Mr Farron said the former defence secretary was making deals with countries that have a "questionable record on human rights".
Dr Fox met the Prime Minister of Kuwait Sheikh Jaber Al Mubarak on Sunday and declared the country would remain a commercial hub for the UK.
According to Human Rights Watch (HRW), the Gulf state has launched an "aggressive crack down on free speech" and sweeping new DNA laws that "violate" Kuwaiti citizens' right to privacy.
Dr Fox used an article in the Daily Telegraph last week to say that the UK was hoping to remove trade barriers with countries around the world.
The Government should "never compromise on the prosperity of the United Kingdom", he said.
However, Mr Farron said Britain's top trade negotiator was instead compromising on human rights.
"Another day, another desperate visit by Liam Fox to secure a trade deal with a country that has a questionable record on human rights," the Lib Dem leader told the Independent.
"All because the Conservative Brexit government is hell bent on taking us out of the single market without even putting the final deal to the British people.
"This follows his attempts to strike trade deals with Saudi Arabia and Oman among others. If only he were so keen to ensure Britain was able to continue trading in the world's largest market, the single market. Then he wouldn't need to put trade above human rights."
Dr Fox's visit to Kuwait is expected to be followed by trips to other states in the Middle East, including Saudi Arabia.
HRW says the Saudi government "systematically discriminates" against women and minority groups and has a well-documented capital punishment programme that grants dozens of executions each year.
His visits to the Middle East – both recent and upcoming – follow scrutiny of the UK Government's arms deals with the Saudis, who are engaged in a war with Houthi rebels in Yemen.
Labour's shadow international trade secretary, Barry Gardiner, said: "In Kuwait we trust that Liam Fox will use this opportunity to set out how any future trade agreement must respect human rights, and raise social and environmental standards to the highest level in both our countries.
"Trade agreements must not be used as a means of undermining labour rights and public policy protections in the way suggested by the Prime Minister last week when she held out the vision of the UK as a deregulated tax haven off the coast of Europe."
A spokesperson for the Department for International Trade said Gulf states are "important partners" for the UK and the "strength of our relationship allows us to work together on a wide range of areas such as trade and security, including through the recently established UK-GCC trade working group.
"This is one of seven such groups we have established around the world. The International Trade Secretary and his Ministerial team are banging the drum for Britain and pulling out all the stops to boost trade across the globe.
"Since July last year, DIT ministers have visited 35 different markets, including 13 European countries, promoting the UK as a place to do business and trade with."
They stressed Dr Fox has also conducted visits to Germany, Brazil, Hong Kong plus three separate trips to Switzerland in the last three months.
Register for free to continue reading
Registration is a free and easy way to support our truly independent journalism
By registering, you will also enjoy limited access to Premium articles, exclusive newsletters, commenting, and virtual events with our leading journalists
Already have an account? sign in
Register for free to continue reading
Registration is a free and easy way to support our truly independent journalism
By registering, you will also enjoy limited access to Premium articles, exclusive newsletters, commenting, and virtual events with our leading journalists
Already have an account? sign in
Join our new commenting forum
Join thought-provoking conversations, follow other Independent readers and see their replies