Brexit: Theresa May wants to strike single market deal with EU but Tory MPs won't let her, says Nick Clegg
 'She is sitting on a ticking time bomb which will, at the very least, paralyse this Government when it comes to making these vital choices about Brexit,' says former Deputy Prime Minister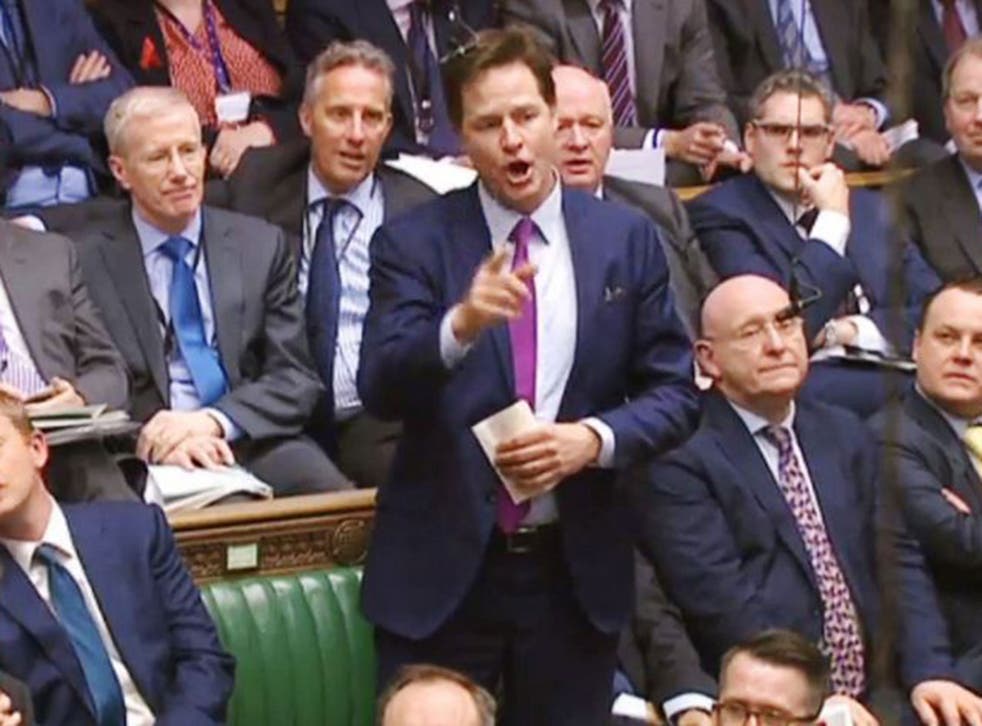 Theresa May could strike a deal to both keep the UK in the Single Market and control immigration if her party would let her, Nick Clegg has claimed.
The former deputy prime minister said he was convinced the rest of the EU would accept some form of "emergency brake" on migrants if Britain agreed to "play by the rules" of that market.
But, he said, pro-Brexit Tory MPs were more obsessed by restoring sovereignty than they were about immigration – which left the prime minister in an "impossible position".
Mr Clegg said: "She is sitting on a ticking time bomb which will, at the very least, paralyse this Government when it comes to making these vital choices about Brexit."
Speaking to Westminster journalists, the ex-Liberal Democrat leader also predicted a bust-up would see Trade Secretary Liam Fox quit the Cabinet "in the next 18 months", to side with fellow Brexit hardliners on the backbenches.
Dr Fox would realise "he doesn't have a job" as the mirage of free-trade deals with non-EU countries evaporated – with even Australia only offering "informal consultations twice a year".
And Mr Clegg suggested a "Government of national unity" would be needed in five years' time – after the Conservative party was "broken on the rocks of this Brexit negotiation".
Highlighting the further impact of a likely economic slump, he said: "There might be quite a lot of people out there saying 'please put the country first'.
"We have seen stuff happen, over the past few months - in a day, in an hour, in a week - that people had, portentously, predicted would never happen."
Nick Clegg on election defeat: 'The first thing I do is reach for a cigarette'
On Brexit, Mr Clegg dismissed the consensus that the rows in Government centred on trying to stay in the Single Market, while controlling freedom of movement across the EU.
Instead, it was between the Tory belief in open markets, while "they say, in the next breath, we must return control to parliament and parliament must be completely sovereign".
If, he argued, the dispute was over immigration, then "it would be perfectly possible with a bit of ingenuity, with a bit of diplomatic footwork, with political goodwill across Europe, to paper over that tension".
EU members would agree "some style of emergency brake" on migration and "in return, the UK would seek to play by the rules of the Single Market".
Theresa May questioned on single market
However, he said Brexit Tories wanted full sovereignty, which was impossible while staying in the Single Market. Mr Clegg said: "Those two things are mutually incompatible – it is impossible to resolve. You cannot paper over that tension."
Therefore, while Mrs May appeared to be in an impregnable position – with Labour in disarray - the "major fireworks" would be in the Tory party over the next few years.
Mr Clegg also said the Article 50 process would only cover Britain's exit from the EU, with suggestions that our future trading arrangements could be decided in that two-year period a "total pipe dream".
Join our new commenting forum
Join thought-provoking conversations, follow other Independent readers and see their replies