Liam Fox warns EU it will 'harm its own people' by failing to start post-Brexit trade talks
Trade Secretary also rejects damage to UK-US trade deal hopes from the Bombardier dispute - 'I don't think you can draw parallels'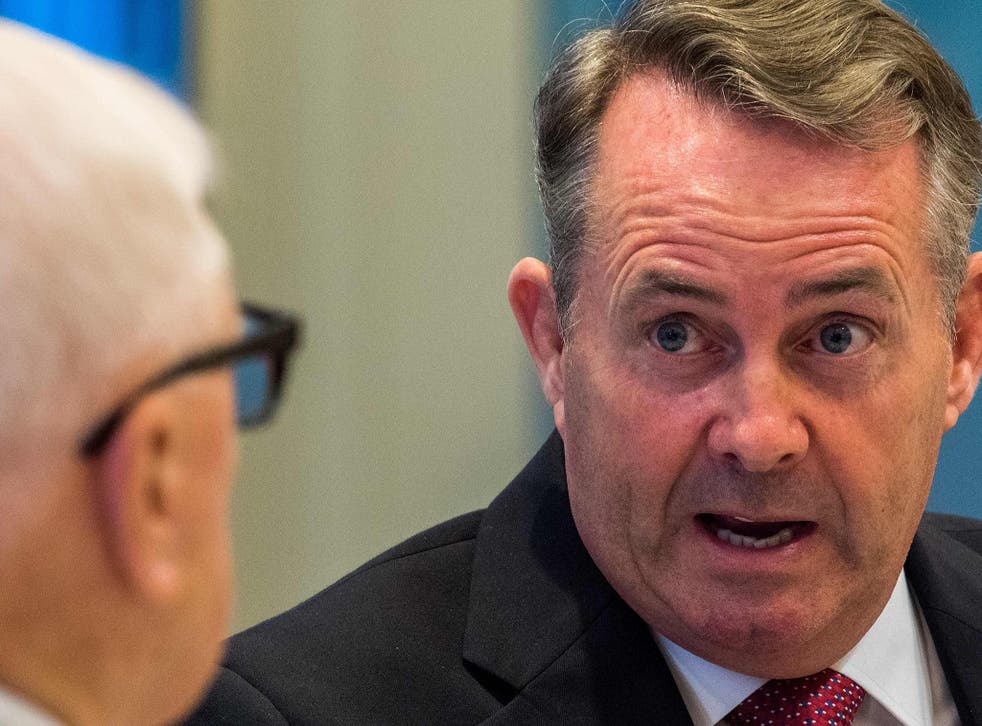 Liam Fox has launched an outspoken attack on the EU, saying it will risk harming its own people if it refuses to enter talks on a post-Brexit trade deal within weeks.
The International Trade Secretary also dismissed warnings that the huge tariffs slapped on Bombardier planes part-made in Belfast had harmed the chances of a UK-US trade deal – insisting there were no "parallels".
And he again called for Britain to crash out of the EU with "no deal" if Brussels cuts up rough, saying: "We don't need one and we could make a very good success if we didn't."
The comments came at a fringe meeting at the Conservative conference, where Dr Fox tore into media organisations that were "pessimistic" about Brexit.
Much of the focus is on the deadlocked negotiations, which have dashed British hopes of getting the go-ahead to move onto trade talks at an EU summit later this month.
Michel Barnier, the EU's chief negotiator warned it could take "months" for the talks to progress – while Jean-Claude Juncker, the Commission's President, said a go-ahead this month would need "miracles".
But, asked if he agreed, Dr Fox said: "I don't think it's a question of miracles.
"It's a question of putting the economic wellbeing of European citizens before the concept of ever-closer union – that's what it boils down to."
The Trade Secretary also attacked Mr Juncker's recent speech – calling for an elected president, an EU army and for all countries to adopt the euro – as an "entire validation" of the case for Brexit.
"Lots of people are saying "absolutely, that's the danger we feared"," he added.
In her recent Florence speech – her attempt to break the impasse in the talks – Theresa May did not repeat her earlier threat that "no deal is better than a bad deal".
But Dr Fox insisted Britain had nothing to fear from leaving with no agreement, saying: "People talk about this as if there is some sort of horror about this."
He said Britain traded with the rest of the world on World Trade Organisation terms – including with the US, with which this country has a large surplus.
Dr Fox also rejected warnings that his hopes of an early free trade agreement with Donald Trump had been badly damaged by the Bombardier dispute.
Theresa May responded to the 219 per cent import duty imposed, after Boeing complained that the Canadian form Bombardier had received unfair state aid, by threatening a trade war with the US.
At stake is much more than 4,000 jobs at Bombardier's Belfast factories, given the high hopes of an early post-Brexit trade deal with Washington.
But Dr Fox denied any connection, saying: "This is basically a US-Canada dispute, between Boeing and Bombardier.
Arguing Britain had been "caught in the crossfire of a much larger dispute", he added: "I don't think you can draw parallels with the UK case [for a trade deal]."
Dr Fox described the US action as "disproportionate and unacceptable", but stopped short of echoing the Prime Minister's warning of retaliatory action against Boeing.
Register for free to continue reading
Registration is a free and easy way to support our truly independent journalism
By registering, you will also enjoy limited access to Premium articles, exclusive newsletters, commenting, and virtual events with our leading journalists
Already have an account? sign in
Register for free to continue reading
Registration is a free and easy way to support our truly independent journalism
By registering, you will also enjoy limited access to Premium articles, exclusive newsletters, commenting, and virtual events with our leading journalists
Already have an account? sign in
Join our new commenting forum
Join thought-provoking conversations, follow other Independent readers and see their replies