Brexit: Theresa May's plans for EU withdrawal 'hugely damaging to Northern Irish peace process'
Exclusive: SDLP leader tells The Independent Theresa May's plans for 'hard Brexit' undermine the Good Friday Agreement 'at her peril'
Siobhan Fenton
Social Affairs Correspondent
Monday 16 January 2017 21:12 Comments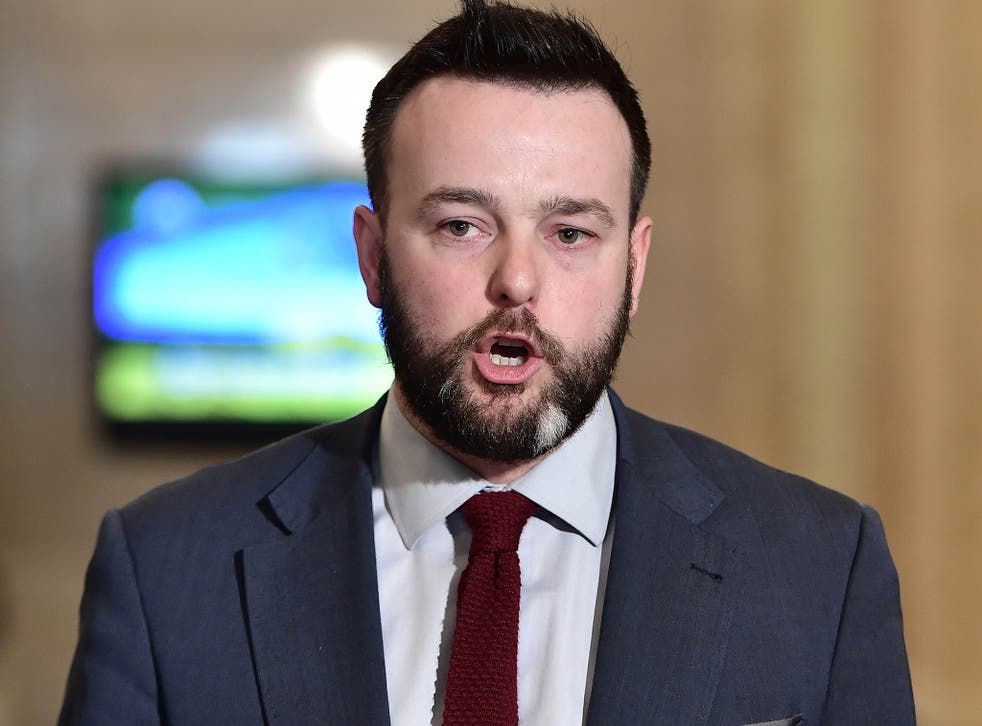 The Good Friday Agreement is under threat because of Theresa May's plans to enact a Hard Brexit, a leading Northern Irish politician has warned.
Colum Eastwood, leader of Stormont's main nationalist opposition group, the Social Democratic and Labour Party, says the British government is blindly ignoring the interests of Northern Ireland in order to pursue the Prime Minister's pledge to leave the European Union.
His warning comes as power-sharing in Northern Ireland collapsed after Sinn Fein withdrew from joint rule at Stormont. The parliament will now be dissolved, with an election scheduled for 2 March to elect a new government.
Speaking to The Independent, Mr Eastwood said: "Our institutions and our Good Friday Agreement are under threat because of Brexit... we think it will be hugely damaging to the peace process in Northern Ireland. I'm not convinced that the British Government are all too concerned about that."
He added: "The European context and the European Union and our joint membership of that with our colleagues across the border is fundamental to the peace process, fundamental to the Good Friday Agreement, fundamental to nationalism's ability to democratically advance our wishes, so the idea that we can just rip all that apart and it won't be destabilising – I think that's fairly naive of the British government to think that's possible."
He added: "The British government have taken its eye off the ball here. They've done that at their peril."
Northern Ireland is expected to be particularly affected by Brexit as it shares a land border with another EU country, in the form of the Republic of Ireland. It is unknown if the border will be affected by EU withdrawal, such as a physical barrier or check point being erected.
In addition, Northern Ireland receives a number of EU subsidies for peace process projects as part of cross community relations to repair social discord from the Troubles conflict.
Northern Ireland voted to remain in the EU, by a margin of 56 per cent.
Brexit Concerns

Show all 26
Announcing Stormont's collapse and imminent dissolution, Secretary of State James Brokenshire said the Northern Irish political crisis would not delay Brexit and re-affirmed that Ms May remains committed to triggering Article 50 by the end of March, the formal processes by which EU withdrawal occurs.
Sinn Fein withdrew from power-sharing at Stormont last week, citing concerns about the Democratic Unionist Party's "arrogant" response to allegations their leader had misspent more than £490m of public funds. On Monday, the term period for them to return to government elapsed, meaning power-sharing has officially collapsed after more than a decade of joint rule between unionists and nationalists.
Register for free to continue reading
Registration is a free and easy way to support our truly independent journalism
By registering, you will also enjoy limited access to Premium articles, exclusive newsletters, commenting, and virtual events with our leading journalists
Already have an account? sign in
Join our new commenting forum
Join thought-provoking conversations, follow other Independent readers and see their replies