Brexit: Leaked memo confirms David Davis will go into talks with 'have our cake and eat it' plan
Liberal Democrats call the Brexit Secretary 'completely deluded' after he is recorded suggesting Britain will leave the single market yet retain full access to it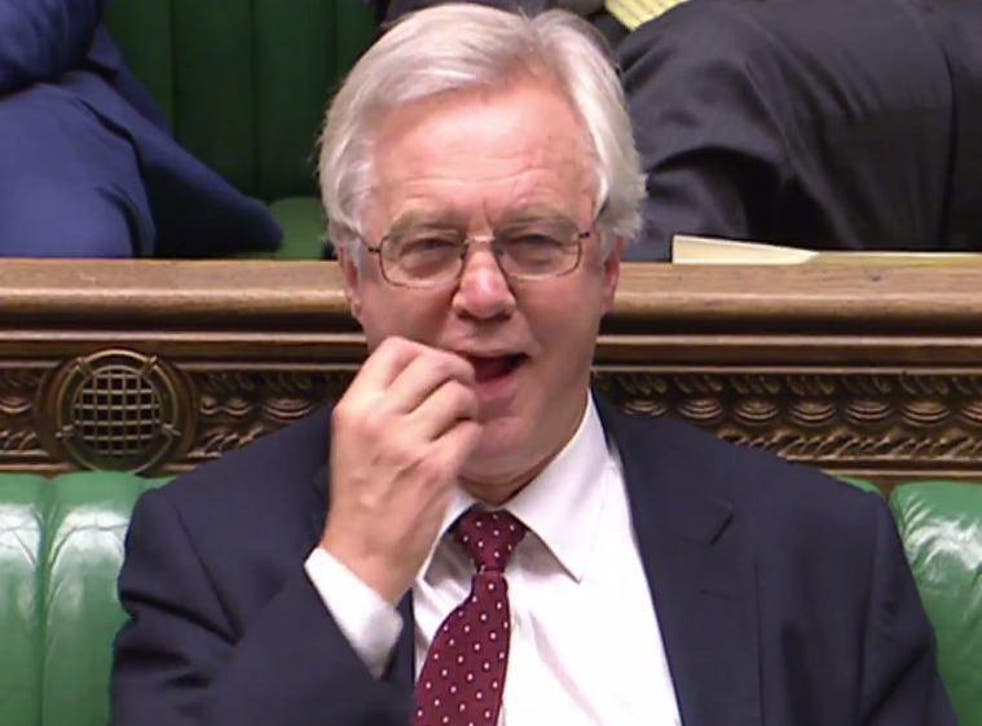 A leaked memo has confirmed that Britain will enter the Brexit talks with what has been dubbed the "have our cake and eat it" game plan.
David Davis, the Brexit Secretary, also told a private meeting in the City of London that it would be "kind" to the EU if Britain agreed to strike a transitional exit deal.
The document records Mr Davis predicting that the Article 50 exit clause will be triggered "in very late March" – and that opponents in Parliament will "run out of speakers".
And it underlines earlier hints that, if the EU proves "hostile" in the negotiations, Britain will cut taxes and regulations to lure overseas investors.
It has previously been suggested that corporation tax will be cut to 10 per cent – despite warnings that the EU will inevitably respond by slapping fresh restrictions on trade.
The memo – of a meeting with the City of London Corporation – lays bare how Britain's opening gambit will be the "have our cake and eat it" approach, in Boris Johnson's much-mocked phrase.
On the single market, it says Mr Davis told the gathering it is "unlikely that the UK will achieve access" because of Theresa May's "red line" that free movement of people must be curbed.
Theresa May unveils latest Brexit soundbite
However, if Britain struck a Canada-style trade deal with the EU after Brexit, that would be "unlikely to pose a significant problem as 'most advantages' would be gained".
Supreme Court Brexit Challenge

Show all 13
Crucially, the memo states: "Will trigger Article 50 with an opening approach of open access on all services and goods without tariffs in the UK."
Tim Farron, the Liberal Democrat leader, said: "David Davis is completely deluded to think you can leave the single market while maintaining full access to it.
"He should be listening to the concerns of businesses that trade with Europe every day instead of sticking his head in the sand.
"The reality is that a hard Brexit would hit jobs and mean less tax revenue for our schools and NHS."
On Article 50, the memo says Mr Davis "liked the fact it acts as a deadline and requires a resolution to be found".
It admits likely defeat in the Supreme Court appeal, saying: "Court case means it will likely now be triggered in very late March.
"Will use an expedited process and allow five days for the Bill to pass. Hinted that he would allow longer than necessary to proceed through Parliament, as they would run out of speakers to oppose the Bill and the Lords would start to tie itself up and not make a coherent argument."
David Davis says UK Government could pay money to EU for single market access
Speaking in mid-November, Mr Davis is recorded saying he is "not really interested" in a transitional deal to cushion the Brexit effect, as championed recently by Mark Carney, the Bank of England Governor.
However, he accepted Britain's "sudden" departure could compromise the EU's financial stability and would be "more in favour" if the EU asked Britain for a transition, saying: "I will be kind."
Ms May's official spokeswoman refused to discuss the contents of the memo, but said that it represented "one interpretation of the discussion".
Register for free to continue reading
Registration is a free and easy way to support our truly independent journalism
By registering, you will also enjoy limited access to Premium articles, exclusive newsletters, commenting, and virtual events with our leading journalists
Already have an account? sign in
Register for free to continue reading
Registration is a free and easy way to support our truly independent journalism
By registering, you will also enjoy limited access to Premium articles, exclusive newsletters, commenting, and virtual events with our leading journalists
Already have an account? sign in
Join our new commenting forum
Join thought-provoking conversations, follow other Independent readers and see their replies