Brexit legal challenge wins: High Court ruling is 'resounding defence' of democracy, leading lawyer says
'The Government won't be able to move as swiftly as they might have liked [in triggering Article 50]. It will have to move in a democratic manner'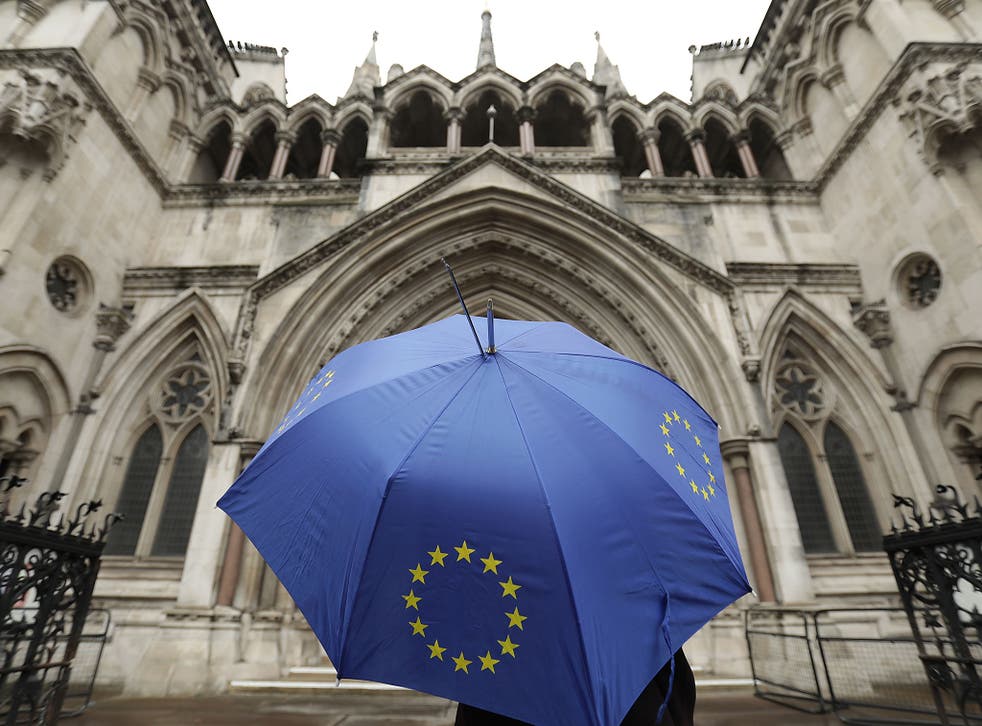 The High Court's decision to rule against the Government's Brexit plans and require Parliament's approval before Article 50 is triggered is "a resounding defence of parliamentary democracy", a leading lawyer in the case has told The Independent.
In a surprise verdict that represents a major blow for the Government's Brexit plans, the Lord Chief Justice backed a legal challenge brought by a coalition of anti-Brexit challengers.
Speaking in court to The Independent following the verdict, John Halford from Bindmans LLP, who represents the People's Challenge that took the case against the Government, said: "This is a resounding defence of our parliamentary democracy from our unanimous court.
"It certainly means the Government will need to prepare proper proposals, put those to Parliament and have them debated.
"They won't be able to move as swiftly as they might have liked [in triggering Article 50]. It will have to move in a democratic manner."
He added that he expected the Government to appeal the decision by taking the case to the Supreme Court. Sources have indicated the Supreme Court anticipates such an appeal and has set aside 7 and 8 December preliminarily to hear the case.
Mr Halford said: "I think its highly likely there will be an appeal to the Supreme Court and we anticipate that being held in early December.
"We'll be back. My clients will want to defend what's been secured today, which is the principle that parliament is sovereign and that something of this importance demands proper parliamentary supervision, control and oversight."
A member of the People's Challenge group Fergal McFerran, told The Independent: "Today seems to have been a victory for accountability because it means there will have to be some due process now and there has to be an inclusion of voices from across the country and a structure to the process of leaving the European Union."
Asked whether those behind the legal challenge are optimistic Brexit could still be stopped, he said: "I didn't get involved in this because I wanted to overturn the referendum result. What I was interested in was ensuring... there was accountability throughout.
"There obviously will be an opportunity now for MPs to block it. I would be surprised if they did. I don't expect them to, but what I do expect them to do is hold the government to account."
High court rules Brexit needs Parliamentary approval
The People's Challenge is a crowd-funded coalition of citizens against Brexit, including members who are ex-pats living abroad, as well as citizens in Gibraltar and Northern Ireland.
Investment manager Gina Miller and hairdresser Deir Dos Santos were also chief claimants in the case against the Government.
The challengers' lawyers argued constitutional law requires Parliament to approve all measures which mean British citizens lose rights.
They said that as EU withdrawal will inevitably result in loss of rights, such as the right to travel or live abroad, Parliament must approve Brexit plans.
They claimed that for Prime Minister Theresa May to proceed with plans to trigger Article 50 "would be an abuse of executive power".
What experts have said about Brexit

Show all 11
In the judgment handed down by the court, the Lord Chief Justice said the Government's attempts to trigger Article 50 without consulting MPs were "contrary to the fundamental constitutional principles of the sovereignty of Parliament".
The judgment concludes: "We decide that the Government does not have the power under the Crown's prerogative to give notice pursuant to Article 50 for the UK to withdraw from the European Union."
:: If you're viewing this on Facebook you can read the full judgement here
Join our new commenting forum
Join thought-provoking conversations, follow other Independent readers and see their replies