Brexit talks could become 'impossible' after Theresa May attack on Brussels, EU Council president Donald Tusk warns
The Prime Minister had accused Brussels of trying to influence the UK general election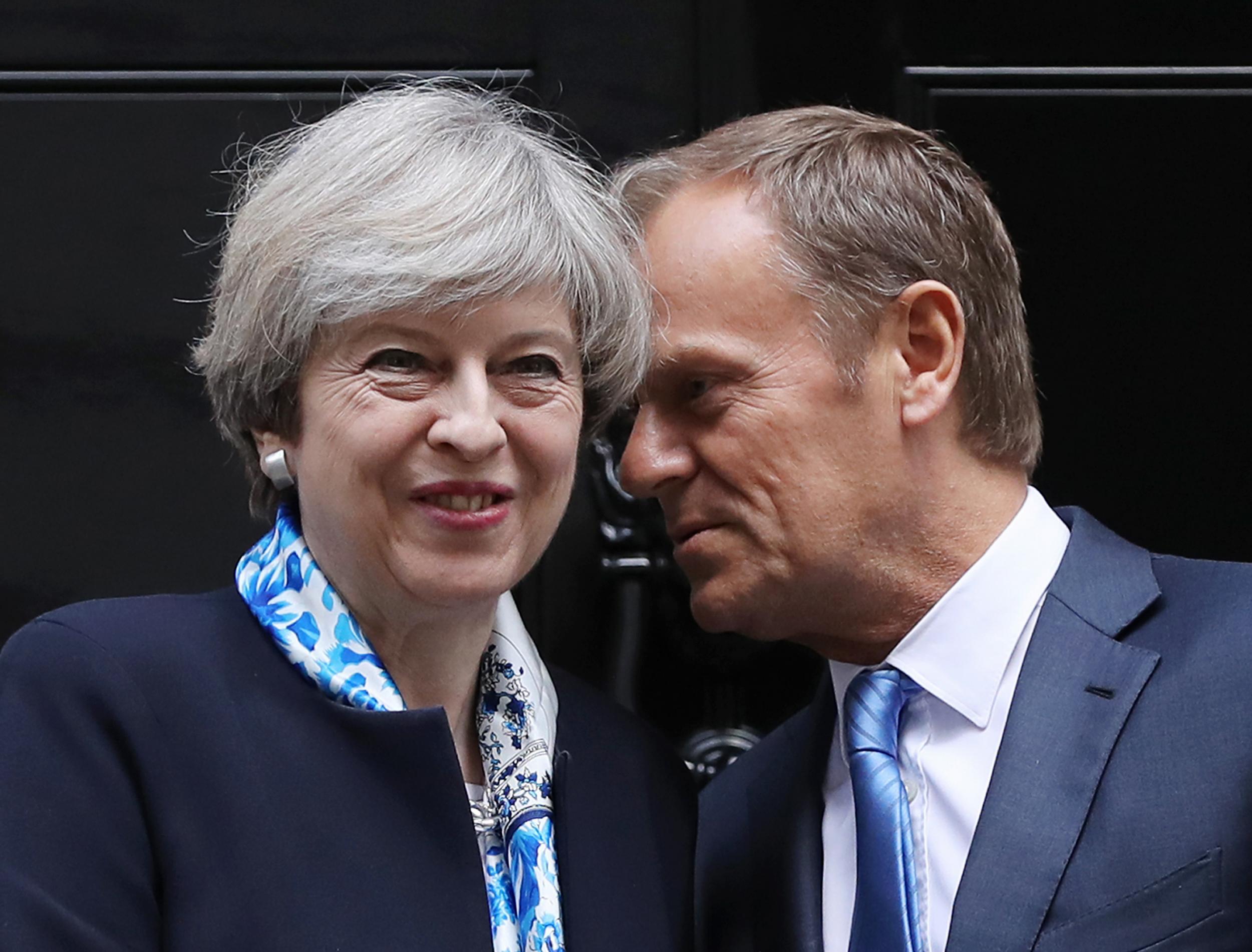 The President of the EU's ruling Council has intervened to calm Brexit tensions 24 hours after Theresa May launched a vicious attack on "Brussels bureaucrats" on the steps of No 10.
Donald Tusk warned that talks would become "impossible" if emotions got out of hand between the UK and EU and called for "mutual respect" between the negotiating parties.
The call for calm comes after Theresa May accused the EU's bureaucracy of trying to influence the result of Britian's general election by maliciously leaking the content of discussions to the media. In an aggressive speech on Wenesday she tore into officials, warning that her government would not let "the bureaucrats of Brussels run over us".
The European Commission this morning reacted indignantly to Ms May's conspiracy theory, with a spokesperson telling reporters that the organisation was "rather busy" and preoccupied with more important matters than trying to fix the poll.
But Mr Tusk, a Polish national who represents the EU states' heads of government in Brussels, said on Thursday afternoon: "Brexit talks [are] difficult enough. If emotions get out of hand, they'll become impossible. Discretion, moderation and mutual respect needed.
"At stake are the daily lives and interests of millions of people on both sides of the Channel."
The call for calm contrasts with that of a Commission spokesperson earlier today, who said: "We are not naive, we know that there is an election taking place in the United Kingdom. People get excited whenever we have elections.
"This election in the United Kingdom is mainly about Brexit. But we here in Brussels, we are very busy, rather busy, with our policy work.
"We have too much to do on our plate. So, in a nutshell, we are very busy. And we will not Brexitise our work.
"To put it in the words of an EU diplomat, the 30-minute slot that we are going to devote to Brexit per week, for this week it's up."
Ms May's intervention was prompted by the leaking of the discussions with Jean Claude Juncker, the Commission's President. The leaks, to the German-language press, characterised her as having a weak grasp on Brexit negotiations.
In apparent response Ms May gave a speech in which she claimed that Britain's negotiating position in Europe had "been misrepresented in the continental press".
She continued: "Threats against Britain have been issued by European politicians and officials. All of these acts have been deliberately timed to affect the result of the general election that will take place on 8 June."
"The events of the last few days have shown that whatever our wishes and however reasonable the positions of Europe's other leaders, there are some in Brussels who do not want these talks to succeed, who do not want Britain to prosper."
Brexit racism and the fightback
Show all 9
The Prime Minister took no questions after her speech to clarify her comments, which were widely through to relate to the Commission.
The comments are expected to play well with Ukip voters, who have flocked to the Tories since Ms May called a general election and demanded national "unity".
Labour leader Jeremy Corbyn accused the Prime Minister of "playing party games with Brexit in the hope of winning advantage for the Tories", while Scottish First Minister Nicola Sturgeon accused Ms May of seeking to "poison the atmosphere for partisan reasons" and described the attack as "deeply irresponsible".
Join our commenting forum
Join thought-provoking conversations, follow other Independent readers and see their replies