Brexit: Majority of British people believe UK should stay in the EU, finds latest poll
Exclusive: The change of heart comes as Theresa May travels to Florence to make a major Brexit speech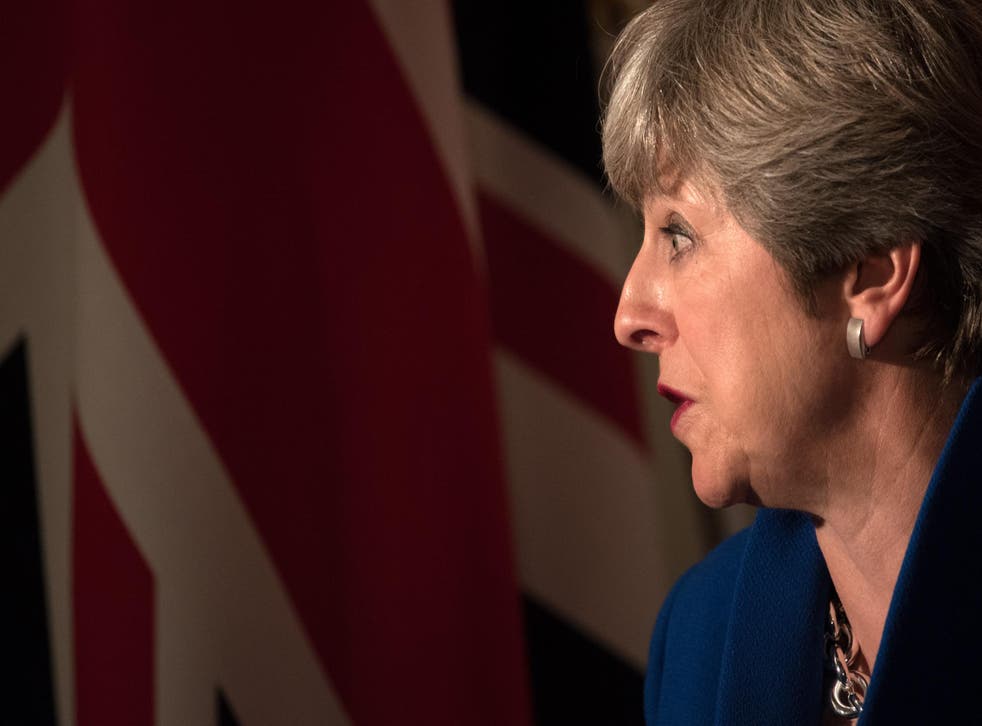 British people have turned their backs on Brexit, according to a new poll released just as Theresa May prepares to give a make-or-break speech on her plans for EU withdrawal.
The exclusive survey for The Independent by BMG Research shows a majority now believe the country should remain in the EU, after weeks in which deadlocked Brussels talks and cabinet splits exposed the sheer complexity of withdrawal.
Ms May goes to Florence in the hope of convincing EU leaders of the "importance of negotiations making further progress" with time running out before Britain falls out of the bloc without terms.
She outlined her speech to ministers on Thursday at a cabinet meeting that ended in a public display of unity, following reports that Brexiteers had planned to quit the front bench if Ms May dared to soften her stance.
The new poll of more than 1,400 UK adults showed 52 per cent of the public back remaining in the EU, while 48 per cent would support leaving.
The numbers are a mirror image of the June 2016 referendum result and a shift from the same poll conducted two months ago, which showed a clear 50/50 split.
Ms May's speech is being seen as an attempt to persuade member state leaders that the UK is serious about paying its Brexit "divorce bill", in the hope they will agree to start talking about a future trade deal.
A briefing released beforehand said how Ms May will be "expressing the importance of negotiations making further progress", and she will "remind leaders that a successful final agreement is in the interest of both sides".
Brexit: the deciders

Show all 8
She will say: "If we can do that, then when this chapter of our European history is written, it will be remembered not for the differences we faced, but for the vision we showed; not for the challenges we endured but for the creativity we used to overcome them; not for a relationship that ended but a new partnership that began."
She will admit that "the UK's departure from the EU is inevitably a difficult process" but will say leaders share "a profound sense of responsibility to make this change work smoothly and sensibly".
Sources indicate Ms May's speech will point to a transition period of two years, during which the UK would be willing to pay into EU coffers.
Although it is not thought she will state an actual figure, it has been reported she is willing to pay between £20bn and £30bn into as the starting price of Britain's withdrawal.
Ms May will try and find a new form of words to convince EU leaders the UK will meet its financial obligations, with UK officials having already briefed European capitals that Britain will ensure no hole in the EU budgets to 2020 and that no member state will receive less money, or pay more to Brussels, because of Brexit.
The Independent also understands Ms May will steer clear of setting out expectations for access to the single market during the transition, a potentially divisive issue in her Cabinet that would have ramifications for immigration and free movement.
Nor will she elaborate on any long-term plan extending beyond the transition period that could tether the UK to European Economic Area regulation – which would been seen by Brexiteers as incompatible with "taking back control".
Theresa May briefs Cabinet on plan to break Brexit talks stalemate
A key purpose of Thursday's cabinet meeting was to unify warring factions ahead of the speech, in particular Brexiteers like Boris Johnson demanding a clean break from the EU, and moderates led by Philip Hammond who want as little disruption as possible to UK businesses.
The talks broke up after two and a half hours, with Ms May having reiterated that Britain must have a "bespoke" final deal unlike either a Canada-style free trade agreement or a tighter Norway-style association with the single market.
The broad-brush nature of the speech allowed Work and Pensions Secretary David Gauke to emerge saying it is likely to enjoy the "backing of all of us".
Recent weeks have seen an increasingly bitter cabinet row over the path that the UK takes, with Brexiteers fearing Mr Hammond and his supporters have gained too much ground.
Guy Verhofstadt: UK involved in internal battle over Brexit position
The Chancellor has been pushing for a transition period with trade and customs arrangements as similar as possible to existing ones, but Leave backers see it as a precursor to tying the UK into paying money and adopting EU regulation for fuller access to the single market.
It came to a head earlier this week when Mr Johnson demanded the UK not pay for continued access to EU markets after Brexit. The Foreign Secretary was later forced to deny he was planning to resign, while Ms May faced calls to sack him.
The pair then spent the seven-hour flight home from the UN in New York together, allowing them to come to a consensus ahead of Thursday's cabinet meeting.
In what appears to be a snub to the Prime Minister, no European Commission officials were expected to attend Ms May's landmark speech.
She has made clear that it is the leaders of member states who will make the final decision over a Brexit deal, and the speech is being seen in Brussels as an attempt to bypass Commission negotiators.
The BMG poll involved 1,447 individuals surveyed between 12-15 September. Results are weighted to reflect the profile of GB adults
Register for free to continue reading
Registration is a free and easy way to support our truly independent journalism
By registering, you will also enjoy limited access to Premium articles, exclusive newsletters, commenting, and virtual events with our leading journalists
Already have an account? sign in
Register for free to continue reading
Registration is a free and easy way to support our truly independent journalism
By registering, you will also enjoy limited access to Premium articles, exclusive newsletters, commenting, and virtual events with our leading journalists
Already have an account? sign in
Join our new commenting forum
Join thought-provoking conversations, follow other Independent readers and see their replies