Michael Gove blames EU for dramatic decline of wildlife as he pledges 'green Brexit'
'The number of farmland birds has reduced by more than half, pollinators such as wild and honey bees have suffered a drastic decline'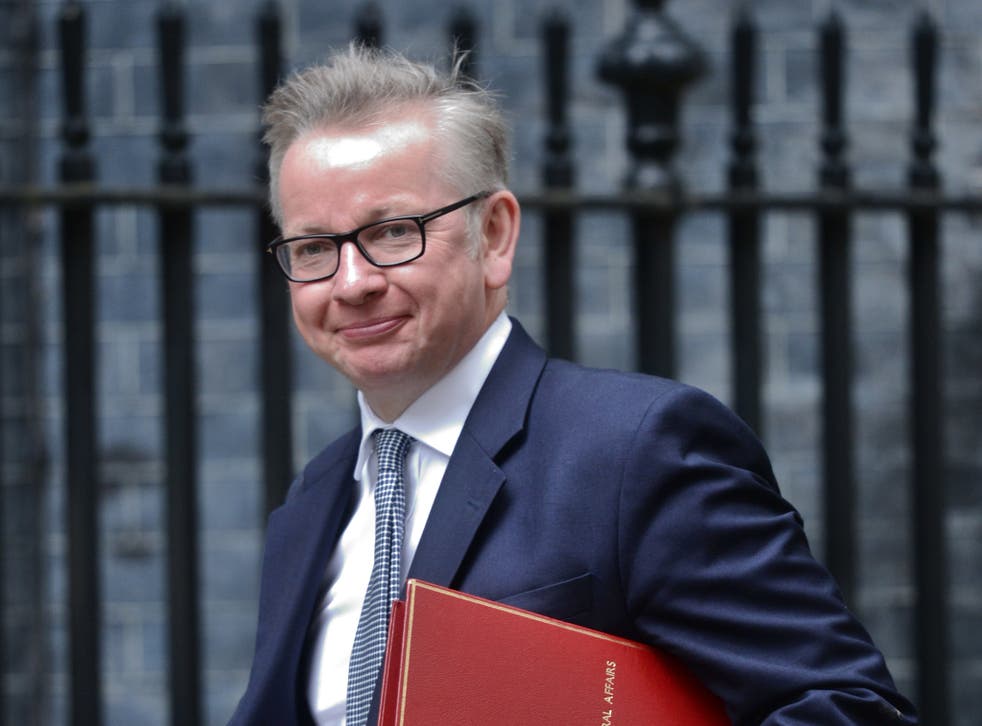 The EU is to blame for the deaths of fish, birds, the honey bee, "small mammals" and even weekly bin collections, Michael Gove has claimed.
The anti-Brussels Environment Secretary tore into the EU's record on green issues as he insisted withdrawal would allow Britain to "secure a special prize - a Green Brexit".
Mr Gove said Brexit would mean leaving behind EU fisheries policy ("economically and environmentally disastrous") and agricultural policy ("environmentally damaging and socially unjust").
And he told the conference: "It's damaged natural habitats, hit biodiversity and harmed wildlife.
"The number of farmland birds has reduced by more than half, pollinators such as wild and honey bees have suffered a drastic decline in numbers, and our rivers and chalk streams have seen fish stocks decline and small mammals disappear."
Brussels had "channelled hundreds of thousands of pounds of taxpayers' money to the already wealthy, simply because of the amount of land they have", he protested.
Mr Gove also claimed that EU law "binds our hands" on everything from VAT rates and animal welfare to "bin collections" – although he did not explain how.
"Inside the EU ministers have been, and still are, prevented from acting as they think right and as the people want," he said.
During his speech, the Environment Secretary also:
* Announced plans for a deposit return scheme to encourage recycling of plastic bottles, already in the pipeline in Scotland.
"This Government has announced a ban on the plastic microbeads which pollute our seas," Mr Gove said.
"And we are looking to go further to reduce plastic waste by working with industry to see how we could introduce a deposit return scheme for plastic bottles."
Up to 80 per cent of the dumped plastic in the ocean is believed to have been lost or discarded on land before it ends up in the sea, he said.
Meanwhile, only 57 per cent of plastic bottles sold in the UK in 2016 were collected for recycling – much lower than 90 per cent in Denmark, which has a deposit return scheme.
* Confirmed that the maximum sentence for animal cruelty will be hiked from six months to five years.
Mr Gove said: "I believe that when we face deliberate, calculating and sadistic behaviour, we need to deploy the full force of the law to show we will not tolerate evil."
* Claimed the Conservatives are Britain's "most ambitious, green party"
Last month, environmental leaders warned that the Government's Brexit legislation threatened to result in a watering down of crucial environmental policies and laws.
But Mr Gove said: "Conservatism is rooted in nature. In respect for human nature. And in reverence for the natural world."
He also joked about his own Cabinet return, saying: "It's wonderful to be here in Manchester - speaking to you as Secretary of State for Environment, Food and Rural Affairs.
"The fact that I'm on this stage this year is proof that this Government is committed to recycling."
Join our new commenting forum
Join thought-provoking conversations, follow other Independent readers and see their replies