Millionaire who bankrolled Vote Leave vows to spend more to give May 'army of pro-Brexit MPs'
Jeremy Hosking says he's willing to hand £5,000 each to Tory candidates in 138 mainly Labour-held seats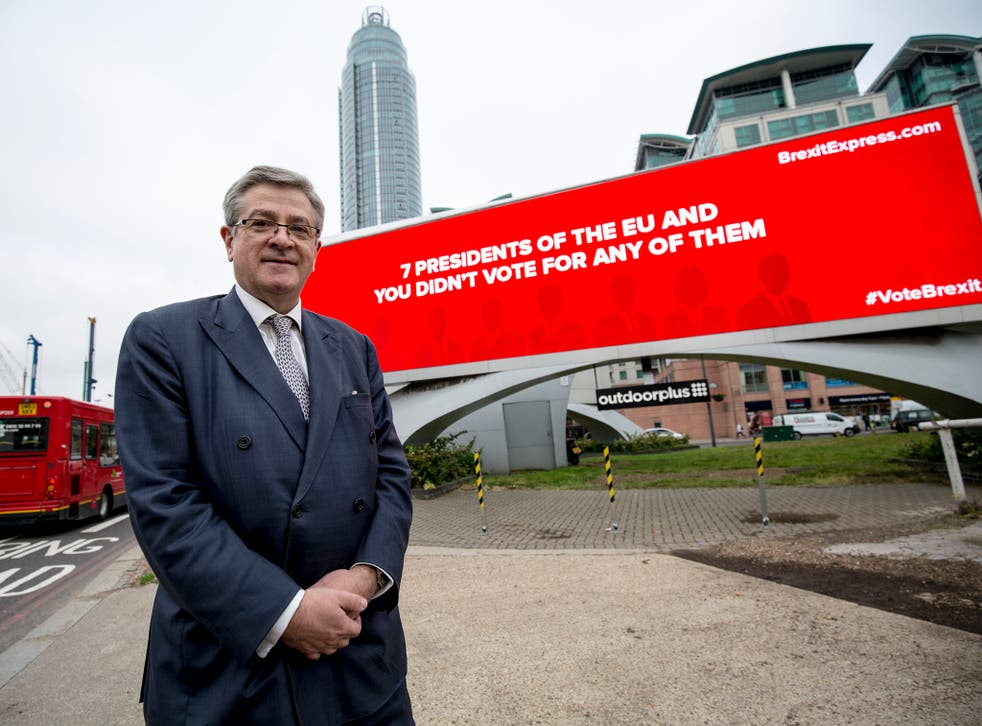 A multimillionaire donor who backed Vote Leave in the EU referendum is now looking to fund a new campaign to oust almost 140 pro-Remain MPs.
City asset manager Jeremy Hosking, who donated more than £1.5m to the pro-Brexit cause prior to last June's vote, said he wanted to make sure Theresa May had an "army" of pro-Brexit MPs behind her after the 8 June General Election.
He told The Observer that he was willing to hand £5,000 each to Conservative candidates in 138 mainly Labour-held seats where the majority of voters supported Brexit, but the MP voted Remain.
The candidates would have to apply for funding – with Mr Hosking willing to spend a total of £690,000.
The city asset manager said he believed Tory MPs from traditionally Labour-held areas could help deliver a "full, national Brexit", rather than a "City of London Brexit".
Mr Hosking backed the Tories ahead of the UK's last election in 2015, donating £100,000 to the central party.
He also launched a Brexit Express poster campaign last June before the EU referendum, plastering parts of the UK with slogans such as: "7 presidents of the EU and you didn't vote for any of them".
"I think it is going to be a lot of hard work so we need the best team there, and we need all the Brexiteers there – particularly the Brexiteers in the Labour heartlands," he said, adding: "I think that will do a lot for Brexit."
Mr Hosking's offer comes after the Best for Britain group, led by pro-EU campaigner Gina Miller, managed to raise £300,000 through crowdfunding to support candidates opposing an "extreme Brexit".
That number has since grown, with the campaign group raising more than £384,000 of its £395,000 goal.
"We need to prevent MPs and the people being forced into an Extreme Brexit that is not in Britain's best interests," Best for Britain says on its crowdfunding page.
"We will support candidates who campaign for a real final vote on Brexit, including rejecting any deal that leaves Britain worse off."
UK news in pictures

Show all 50
The pro-EU group is backing 16 candidates that have vowed to leave all options on the table if Ms May negotiates a bad Brexit deal.
Individual donations have been capped at £499, with recipients including former shadow Business Secretary Clive Lewis and former Lib Dem leader Nick Clegg.
Mr Hosking told The Observer he would only be backing Tory candidates because he believes their support for Brexit would create a "government of national unity" in fulfilling Britain's decision to leave the EU.
He said he was prepared to invest heavily in the campaign to secure the "sovereign future of this independent-minded democracy".
Join our new commenting forum
Join thought-provoking conversations, follow other Independent readers and see their replies