Brexit row erupts between Theresa May and EU over call for negotiations to be held in French
The European Union's chief negotiator has suggested that English be dropped as the official language to be used during the divorce talks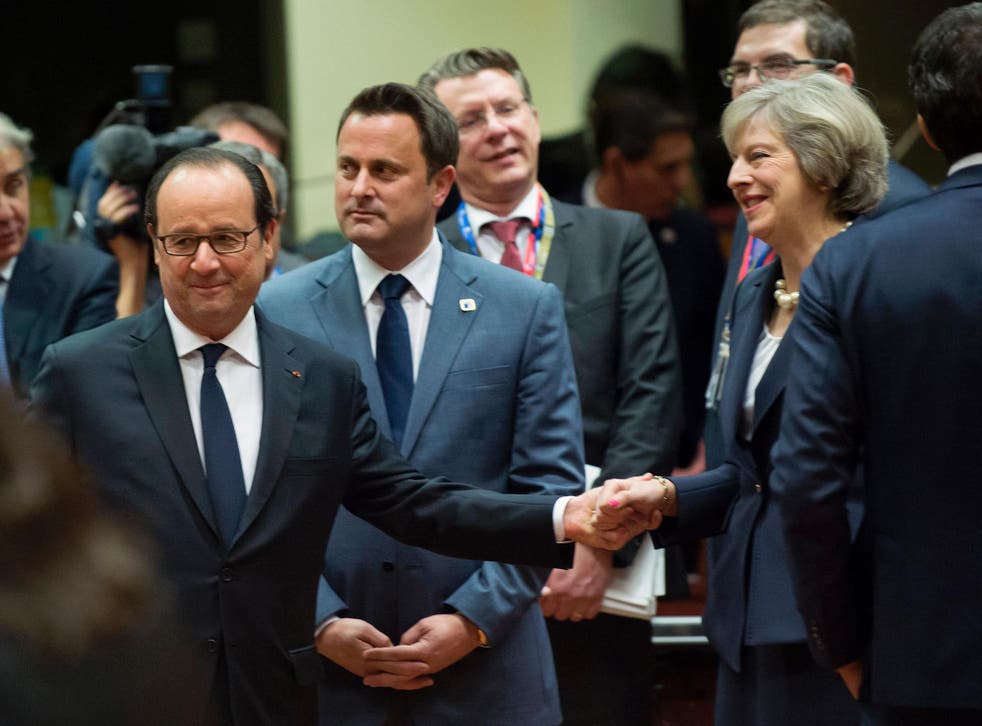 A call for Brexit negotiations to be carried out in French has pitched Theresa May into a fresh battle with other EU leaders.
The row blew up after the European Union's chief negotiator suggested that English be dropped as the official language to be used by British and EU officials during the divorce talks.
Asked whether the idea was further proof of growing iciness towards Britain, the Prime Minister at first refused to be drawn on which language should be used in the talks.
Later, Downing Street sources told journalists that Ms May would not allow the talks to be held in French.
But Michel Barnier, the former French foreign minister running the talks for the European Commission, later suggested he would not be backing down.
He denied he had personally backed the use of French – but made clear which language had been chosen had yet to be agreed.
Mr Barnier tweeted: "Never expressed myself on negotiation language. Work as often in EN as FR. Linguistic regime to be set at start - to be agreed btw negotiators."
The prospect of French being used sparked jokes that Brexit Secretary David Davis would have to be replaced by Foreign Secretary Boris Johnson, a fluent French speaker.
French lost its status to English as the EU's main working language after more northern and eastern European states joined, over the past two decades.
Therefore, the apparent proposal to bring it back was seen as a further signal that that the EU will play hardball in the two-year Article 50 talks, to be launched by March.
EU sources said that Mr Barnier's 15-strong taskforce - which includes no Britons - has already been working mainly in French.
And his appointment, by Commission President Jean-Claude Juncker, was criticised in London because of his record of fighting Britain's dominant financial services industry.
At her press conference at the close of the two-day EU summit in Brussels, Ms May was asked if she considered the idea of conducting talks in French as "a gesture of good intent".
Ducking the question, she replied simply: "We will conduct the negotiations in the way that is going to make sure that we get the right deal for the United Kingdom."
Meanwhile, German Chancellor Angela Merkel said there was no official language for the Brexit talks and that "we are all entitled to speak in our native tongue".
The press conference came after Ms May was made to wait until 1am this morning to deliver a five-minute message about Britain's broad aims for Brexit and determination to carry it through.
The Prime Minister said she had made clear that Britain will carry on talking to non-EU countries about new trade talks before the two-year Article 50 process is completed.
She said: "This will not undermine the EU's trade agenda it is not even in competition with it."
And she denied that was resentment at Britain's determination to play a full role in EU decision-making, insisting: "That has been welcomed – and I think this is the right spirit and approach to take"
Ms May added: "I can assure you that I haven't been backwards in coming forwards on issues."
Tim Farron, the Liberal Democrat leader, said: "Given the haphazard way May is dealing with Brexit in her own cabinet, it's not surprising she is struggling to convince other European leaders that this will be anything like the 'smooth withdrawal' her office is briefing."
Join our new commenting forum
Join thought-provoking conversations, follow other Independent readers and see their replies