The Tories' Brexit negotiations are making their election campaign look like a triumph
Sketch: 'We now know the Tories Brexit negotiating position. S*** on the cake then threaten to eat it.'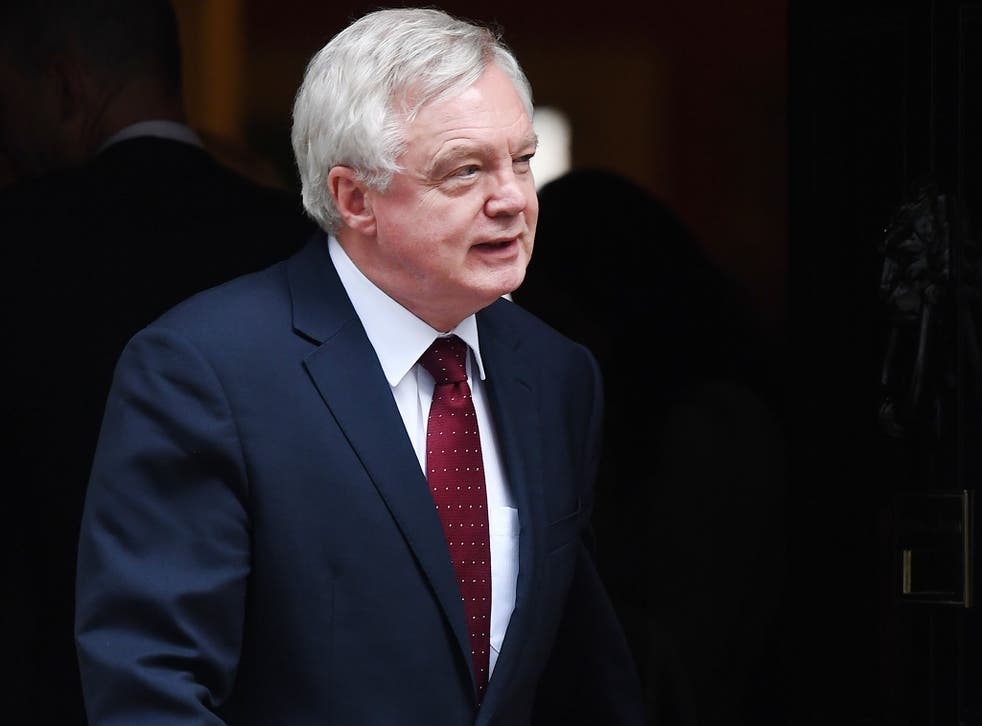 From the moment Theresa May appeared on stage in the small hours of election night, standing next to Lord Buckethead and wearing the mask of a woman who has just had her winning lottery ticket torn up in front of her, the conventional wisdom has been that her election strategy was not a success.
It had been "too presidential" she said. Too much "Theresa May." Not enough "the Conservatives."
Banning almost the entire Cabinet from the airwaves, to be replaced by a personality cult built around a person with no personality had been, we are now led to conclude, a mistake. But suddenly I'm not so sure.
On Tuesday, we had a taste of the alternative, and it was far far worse.
We are back in to the parliamentary swing of things now and, much as she may wish to, Theresa May can't hold everyone's heads beneath the water forever.
Across the parliamentary estate, the four most senior members of her Government – the Chancellor, the Home Secretary, the Foreign Secretary and the Brexit Secretary (The Department for Exiting the European being the great Portakabin of state) – all faced questions.
If, as was never quite said about economists and John Maynard Keynes, you get four members of the current Tory Government to answer Brexit-related questions, you can be sure you'll get at least five different opinions.
Philip Hammond went first. He who spent the election campaign in a cave, and who ever since 10.01pm on 8 June, should apparently have been "allowed to put the economic case" for voting Tory instead of Marxist. On this occasion he didn't say much. Well, he didn't say anything, really. He was hosting a press conference in which he refused to take any questions from the press, which rather says it all. But the press conference he had at least agreed to introduce was for a new OECD report claiming Brexit will be "like the blitz", unless Britain fancied having a second referendum to reverse it.
The Foreign Secretary was next, taking questions in the Commons, which began with Johnson, technically the country's most senior diplomat, turning down several opportunities to either to apologise for having joked about "clearing away the dead bodies" all over the beaches of northern Libya, or to resign for it.
From here we moved on to the semantic mirage that is no-deal Brexit. Johnson was asked if it was still his view that Brussels could "go whistle" for its divorce settlement from Britain, as he told the House several months ago.
Telling Brussels to go whistle would lead to no deal. The Labour Party's policy is to block a no-deal Brexit, even teaming up with supportive Tory MPs to do it. In Boris-land, we discovered that makes Labour "supine, protoplasmic, invertebrate jellies".
But an hour later, Amber Rudd told the Home Affairs Select Committee that a no-deal Brexit would be "unthinkable".
By this point, back in the Commons David Davis was patiently explaining to the House that "the maintenance of the option of no deal is for negotiating reasons".
So that's clear then. The "unthinkable" option is still on the table, and it's there to show the Europeans that we're not afraid to do the "unthinkable". Except that, you know, the Brexit Secretary has told the House of Commons that the option only exists "for negotiating reasons", and that we'll never actually use it. In the world of Brexit metaphors this can only really be described as sh**ting on the cake and then threatening to eat it.
It was not so long ago that it was patiently pointed out to a man called Jeremy Corbyn, amid much ridicule, that if you publicly state that you'll never use the nuclear deterrent, it kind of ceases to be, well, a deterrent.
It's possible David Davis, Boris Johnson, Liam Fox and the rest did much of the laughing. That the Tories have nicked his big idea comes as something of a surprise.
The metaphors for this unceasing disaster leap out but none are quite right. It's not like failing to organise a p***-up in a brewery. It's not even, as wheelchair-bound Dodgeball coach Patches O'Houlihan once controversially observed, like watching a bunch of retards trying to f*** a doorknob.
It is simply like watching the Conservatives trying to negotiate Brexit. It is the gold standard against which all turbo-charged s***-shows of the future will be measured and come up wanting. It is the Vanity Fair Oscars after show of chimpanzee's tea parties. It's the Tories negotiating Brexit. There's nothing else you can say.
And what's worse is that, viewed from here, their "catastrophic election campaign" starts to look an unmitigated triumph.
Register for free to continue reading
Registration is a free and easy way to support our truly independent journalism
By registering, you will also enjoy limited access to Premium articles, exclusive newsletters, commenting, and virtual events with our leading journalists
Already have an account? sign in
Register for free to continue reading
Registration is a free and easy way to support our truly independent journalism
By registering, you will also enjoy limited access to Premium articles, exclusive newsletters, commenting, and virtual events with our leading journalists
Already have an account? sign in
Join our new commenting forum
Join thought-provoking conversations, follow other Independent readers and see their replies