Tom Watson says it's right for the people to have another say on Brexit
Brexit: Labour's old leader would have backed a second referendum, Tom Watson tells Corbyn
Deputy Labour leader hits out at 'wrong-headed' left-wing critics of the EU as he insists former party leader John Smith would have backed fresh public vote
Tom Watson has launched a fresh bid to convince Jeremy Corbyn to back another Brexit referendum by claiming that former party leader John Smith would have understood the need for a Final Say vote.
In a speech on Monday, the party's deputy leader will admit that Labour supporters are "not happy" with its current Brexit policy and make an impassioned plea to them not to abandon the party in European parliament elections later this month.
In comments that will be widely interpreted as on attack on Mr Corbyn, he will hit out at left-wing critics of the EU and say that they are just as "wrong-headed" as right-wing Eurosceptics.
Mr Watson will use a lecture at the Fabian Society in memory of Smith, a popular figure in Labour, to pile pressure on Mr Corbyn to back a Final Say referendum.
He will praise the "pro-European internationalism" of Smith, who died suddenly from a heart attack in 1994, less than two years into his term as Labour leader.
Farage launches his new Brexit Party: in pictures

Show all 10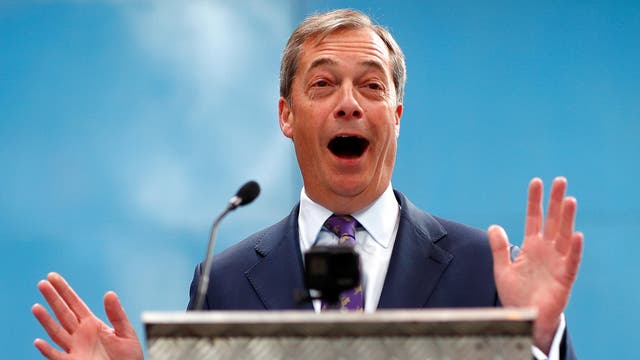 Speaking in London at an event to mark the 25th anniversary of Smith's death, Mr Watson is expected to say: "If John was alive today to witness the great damage this process is wreaking on our country and our public debate, I have no doubt that he would have taken a stand very similar to that of his deputy, Margaret Beckett, and backed a people's vote as a way out of this destructive mess."
Dame Margaret, who remains a Labour MP, is one of the party's leading supporters of a Final Say vote.
In comments that will be seen as a thinly veiled attack on the current Labour leadership and Eurosceptics in the party, Mr Watson will say that Smith saw "anti-EU sentiment, whether of the right-wing independent trading nation variety, or the left-wing 'socialism in one country' variety, as equally wrong-headed".
The deputy Labour leader has spearheaded attempts to force Mr Corbyn and his team to commit fully to a second referendum but has so far been unsuccessful.
Despite pressure on the party leadership from members and many of its MPs, Labour's policy remains that it would only support another referendum if it is on Ms May's deal or to avoid a no-deal outcome. It has refused to commit to giving the public a say on a Brexit deal that Labour supports.
Mr Watson will acknowledge the anger among many Labour members at the party's failure to fully support another Brexit referendum but will "plead" with them to vote for Labour in European elections on 23 May to stop the rise of the far right.
He is expected to say: "I know many Labour supporters are not happy with the position we have taken on Brexit, but I urge those wavering to think about what is at stake in this election."
He will add: "There are only two forces that can win this election – that nasty nationalism of the Farage Brexit Party or the tolerant, compassionate, outward-looking patriotism of the Labour Party. I can only plead with Labour supporters: don't stay at home, don't put that cross elsewhere, don't let them win."
Polls suggest that Mr Farage's Brexit Party is on course to win the elections, with Labour some way behind in second place.
An Opinium survey published on Sunday predicted that the Brexit Party will win 34 per cent of the vote compared with Labour's 21 per cent. The Liberal Democrats are on 12 per cent, narrowly ahead of the Conservatives on just 11 per cent.
Mr Watson is expected to admit that "corrosive far-right sentiment posing as patriotism will dominate this EU election" and accuse Nigel Farage and far-right campaigner Stephen Yaxley Lennon, who uses the name Tommy Robinson, of being "base nationalists of the nastiest kind – the ultimate cynics, playing on fears and lies".
Mr Watson will also call for further devolution in England, saying it is "unfinished business" and is needed to "win back the hearts and minds of people".
He will say: "During the next two weeks we are engaged in a short-term battle against the forces of Farage and Tommy Robinson. But the longer-term struggle to win back the hearts and minds of people in England, who feel left behind and ignored, can only be achieved through a radical shift in power and returning control over their own lives."
Jonathan Ashworth: 'We're in negotiations with the prime minister. They're not getting very far… the prime minister isn't prepared to compromise'
His speech comes after former Labour leader Tony Blair said Labour supporters who did not feel able to vote for the party because of its stance on Brexit should back pro-EU parties.
Mr Blair told Sky News's Sophy Ridge on Sunday: "I do come across people who cannot vote for Labour, in which case I say 'don't stay at home – vote for any of the other parties'.
"At the end of this there's going to be a totting up and ... it's important that the Remain side comes out because MPs will be making decisions based on that."
The former prime minister also warned that the main political parties would face a "silent revolution" if there is a no-deal Brexit that would "sweep them away".
He said: "If we go ahead and tumble out of the EU with a no-deal Brexit of the sort that Nigel Farage and Boris Johnson and people want, you are going to get a silent revolution in this country as well.
"There are going to be people who are going to feel so strongly about this – I just say this to both main political parties: they are going to sweep them away."​
Join our new commenting forum
Join thought-provoking conversations, follow other Independent readers and see their replies