Nigel Farage warns that Tories are 'backsliding' over immigration and could keep free movement of labour
'The suggestion that a post-Brexit Britain would retain open borders even just for workers would be totally unacceptable and akin to Nick Clegg's infamous tuition fees U-turn'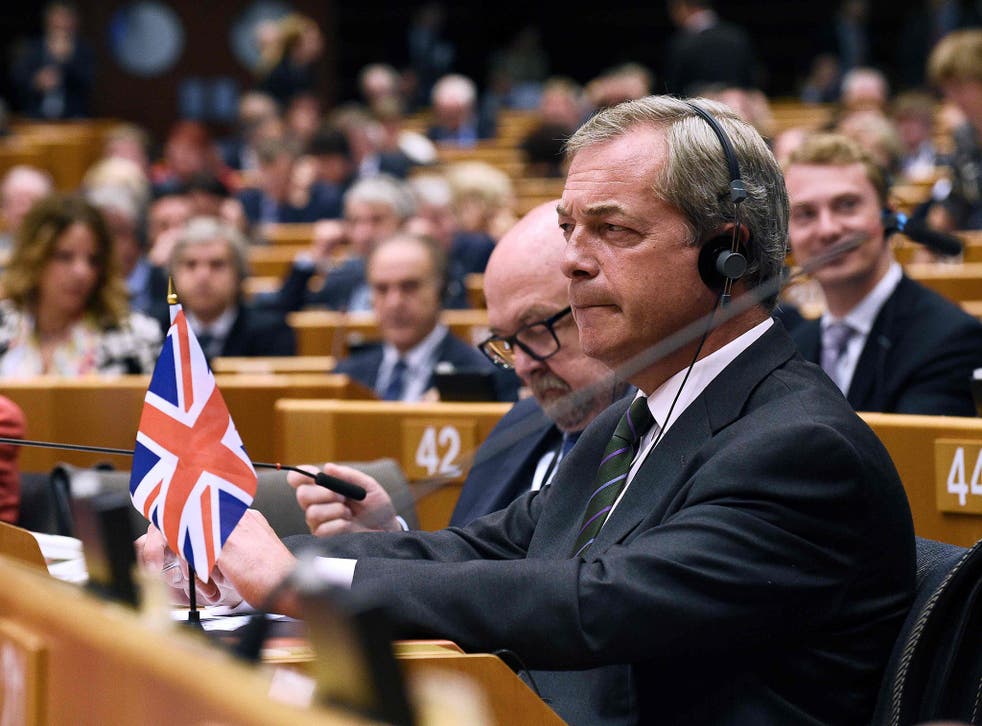 Nigel Farage has warned that senior Conservatives may be "backsliding" over immigration in the wake of the European Union referendum result.
In an article for the Times, the Ukip leader, who described the referendum as "the greatest democratic exercise of my lifetime", said he was concerned at some of the post-referendum analysis by leading Leave campaigners.
"There is no doubt in my mind from travelling the length and breadth of this country during the campaign that it was immigration that was the number one deciding factor of this referendum," Mr Farage wrote.
He added: "It has made me nervous to hear Conservative MEP Daniel Hannan on Newsnight the other day talking of a post-Brexit Britain including the free movement of labour. Though I understand that naturally those who were on the Leave side may have different thoughts on the appropriate level of immigration into Britain, the suggestion that a post-Brexit Britain would retain open borders even just for workers would be totally unacceptable and akin to Nick Clegg's infamous tuition fees U-turn."
The Ukip leader, who attended an emergency meeting of the European Parliament on Tuesday, added that it would "destroy the credibility" of democracy and leave many people "wondering why they bothered turning out in this referendum".
It comes after Boris Johnson, the former London mayor, stressed in his Daily Telegraph column that "is part of Europe, and always will be", envisaging "intense and intensifying European co-operation and partnership" even after Brexit.
The man tipped as most likely to succeed David Cameron as Prime Minister said the UK would be able to "take back democratic control of immigration policy" and impose a points-based system to suit its own business needs, but expected Britons to be able to work and settle in EU states and have access to the single market.
Nigel Farage: We're not anti-Europe, we will be good friends
Striking a conciliatory tone before the meeting of the European Parliament – called for by Commission President Jean Claude Juncker – Mr Farage told Sky News: "A couple of things have to happen: the British government has to start the renegotiation process that will take place here in Brussels.
"Today we have an emergency meeting of the European Parliament… and I'm going to say to Mr Junker today… we've made our decision, we're leaving… why don't we all just be a bit grown up about this.
Nigel Farage: "European Parliament is in denial"
"Why don't we just sensibly recognise that there is a huge amount of trade that goes on between our countries and that if you decide to cut off your noses to spite your faces you will be hurt far more by this than we will."
"We want a new relation. We're not anti-Europe in anyway at all, we want to be good friends, good neighbours, good trading partners and let's get this deal concluded and allow us to pursue our new global ambitions."
The Ukip leader also told Channel 4 News: "I don't care who the next Conservative leader is, as long as it's someone who will hold faith with that referendum result. I think over the next week or two we will see the names coming forward and we will see precisely what they stand for.
6 ways Britain leaving the EU will affect you

Show all 6
"I think that Boris has a lot going for him in terms of public appeal, but perhaps some of the things he's been saying over the last 48 hours indicate there might be a slight softening of his position.
"(He says) that there's no rush, which can be fine but does he really want to deal with this free movement issue? I don't yet know the answer to that. I'm worried that that's being used as a smokescreen to do a different kind of deal with the EU that would keep us within free movement.
"I'm pretty cautious about some of the motives of those who are saying we should take our time. I'm nervous. I'm more nervous than I was on Friday morning. I'm beginning to hear noises, I'm beginning to detect there may be some backsliding and I don't find that acceptable."
Join our new commenting forum
Join thought-provoking conversations, follow other Independent readers and see their replies