Leaving EU with no deal would be an 'iceberg' to sink Theresa May's Brexit hopes, says European law expert
'There is potentially massive disruption in the ordinary day-to-day boring business of administering legal frameworks....it's the iceberg below the top level of the legislation'
Rob Merrick
Deputy Political Editor
Tuesday 07 February 2017 13:55 Comments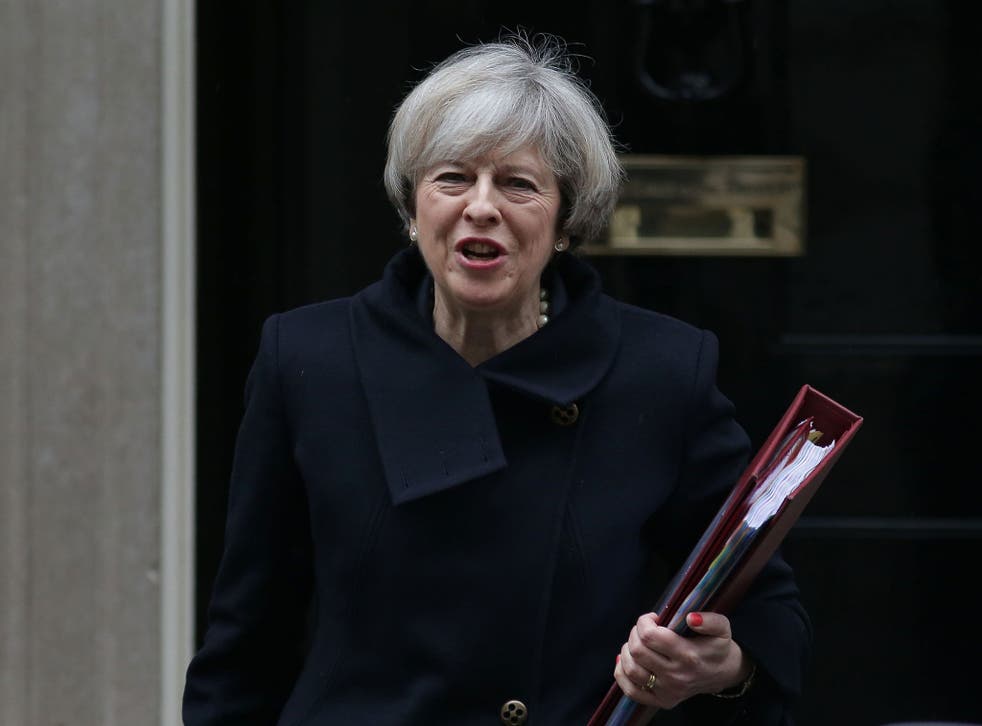 Crashing out of the EU with no deal would be an "iceberg" that will sink Theresa May's hopes for Brexit, a Cambridge professor has warned – ahead of a crunch Commons vote.
Kenneth Armstrong, a Professor of European Law, predicted "massive disruption" for both the Government and British businesses if the Prime Minister carries out her threat to walk away with no agreement.
It would be so damaging it would make the huge task of transferring all EU law into British law – the so-called Great Real Bill – look like a "sixth form project".
The warning came as MPs prepare to vote tonight on a crucial amendment to the Article 50 Bill, to stop the Prime Minister taking Britain out of the EU with no deal without MPs consent.
Some Tory MPs have sided with the Opposition parties by demanding a guarantee of a "meaningful" vote on the outcome of the negotiations.
They want that vote to be held early enough for Ms May to go back and seek a better deal from the EU in 2019, if MPs reject her exit terms.
The Prime Minister is also under pressure or to guarantee a vote if she is unable to reach any agreement at all – a highly-plausible scenario, given the huge complexity of the talks.
Giving evidence to the Commons Foreign Affairs Select Committee, Prof Armstrong said trade with the EU depended on high-level co-operation and legal frameworks, which would be lost without a fresh deal.
He told MPs: "I think there is potentially massive disruption in the ordinary day-to-day boring business of administering legal frameworks
"It's the iceberg below the top level of the legislation that we see with the Great Repeal Bill
"We know that that is going to be a difficult task, to put in place the legal framework to deal with the legislation.
"I think it's going to look like a sixth-form project compared with the task of putting in place the structures of co-operation between administrators, outside of the structures of the European Union."
The Independent revealed last week that Neil Carmichael, the Education Select Committee chairman, is set to rebel in tonight's vote.
Nicky Morgan, the former Education Secretary, has hinted she will join him to guarantee MPs are given a decisive role "even if it appears no deal is likely to be agreed".
And, in the Commons last night, Anna Soubry also indicated that she is poised to vote against the Government, unless it gives way.
She told ministers: "I make it very clear - in the absence of that I will find myself perhaps with no alternative but to go against my Government, the last thing I want to do."
However, it will require up to 20 Tory MPs to rebel later, given that Unionist – and some Labour – MPs will vote with the Government.
Last night, four Labour MPs – Kate Hoey, Kelvin Hopkins, Graham Stringer and Gisela Stuart – voted against Jeremy Corbyn's unsuccessful attempt to force reports on the Brexit negotiations every two months.
Ms May has promised the Commons will be given "more detail" today about the status and timing of her promised vote in 2019.
Register for free to continue reading
Registration is a free and easy way to support our truly independent journalism
By registering, you will also enjoy limited access to Premium articles, exclusive newsletters, commenting, and virtual events with our leading journalists
Already have an account? sign in
Join our new commenting forum
Join thought-provoking conversations, follow other Independent readers and see their replies