Brexit: Amber Rudd contradicts David Davis and says no deal would be 'unthinkable'
Mr Davis said the UK must have the 'right' to walk away from withdrawal talks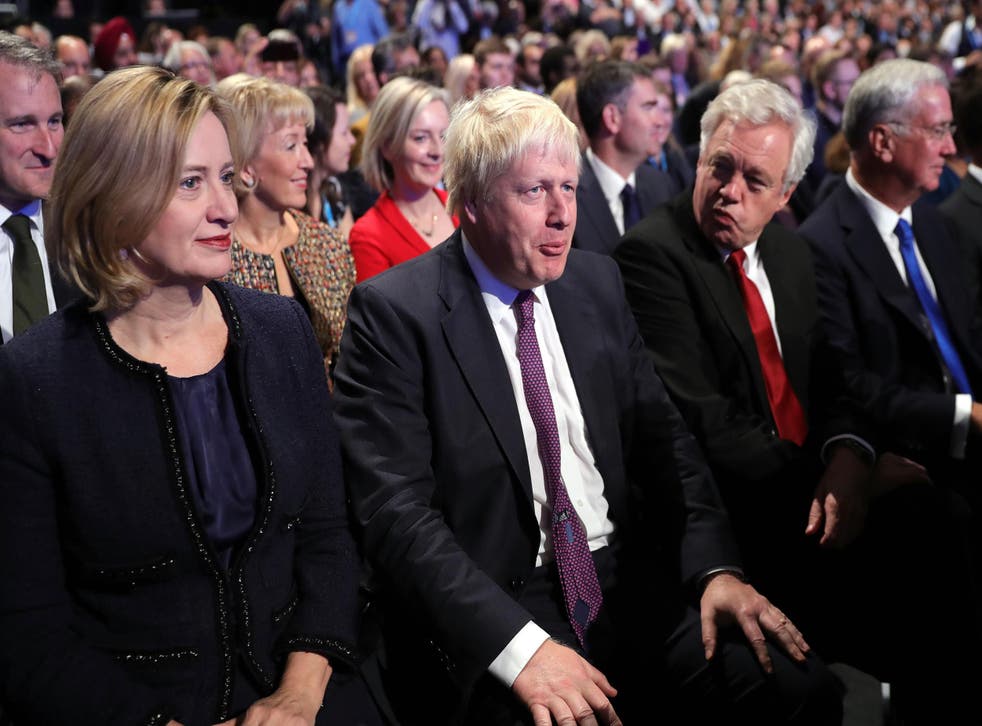 Cabinet divisions over Brexit have been exposed again after Amber Rudd said failing to achieve a deal with the EU would be "unthinkable" while David Davis told MPs the UK had the "right to walk away".
Home Secretary Ms Rudd said there would at least be agreement on security cooperation, while Brexit Secretary Mr Davis said the UK was heading for a terrible deal if it was not able to threaten to ditch talks.
Foreign Secretary Boris Johnson used a session in the Commons to tell the EU to "get serious" over Brexit talks following suggestions that he is holding up progress.
It comes after Theresa May made a flying visit to Brussels on Monday for talks with European Commission President Jean Claude Juncker where they agreed to "accelerate" efforts on Brexit but showed little sign of tangible progress.
Appearing in front of the Home Affairs Committee, Ms Rudd was asked if the UK would walk away without a Brexit deal "of any form". Ms Rudd said: "I think it is unthinkable that there would be no deal.
"It is so much in their interest as well as in ours; in their communities', in their families', in their tourists' interests to have something in place. We will make sure there is something between them and us to maintain our security."
Ms Rudd was a high-profile campaigner for the Remain cause during the Brexit referendum and her comments are likely to cause concern among arch-Eurosceptics on the Tory benches who believe the UK should retain the option of cutting ties with Brussels without any form of deal.
Brexit: the deciders

Show all 8
Mr Davis, who is leading the UK's negotiations with the EU, accused Brussels of attempting to squeeze more taxpayers' cash out of the Government by using the pressure of time as the clock ticks down to the Brexit date.
"They're using time pressure to see if they can get more money out of us, and bluntly, that's what's going on," he told the Commons.
Asked about the prospect of leaving without an agreement, he said the UK had to be prepared "because it's a negotiation with many people and could go wrong" but also "you always have to have the right to walk away – if you don't, you get a terrible deal."
Downing Street attempted to play down any difference between Ms Rudd and her Cabinet colleague.
A Number 10 spokeswoman said: "I think if you look at her words in full, she's referring to the fact that a deal is in the best interests of both sides and that's something the Prime Minister absolutely agrees with."
Answering questions in the Commons over claims from German politician Michael Fuchs that he is holding up progress in Brexit talks, Mr Johnson said the Government is "united" and had "made a very generous offer" to the EU.
He said: "It is up to our friends and partners in the EU now to look seriously at the offer we are making – particularly on citizens and to make progress.
Reverse Brexit with second referendum to save your economy, OECD tells UK
"Everybody wants to make progress, everybody wants to give the 3.2 million EU citizens in this country the maximum possible reassurance and security.
"That can only happen once our friends and partners decide to get serious in these negotiations."
Ms May made a flying visit to Brussels on Monday night for talks with Mr Juncker where they agreed to "accelerate" efforts to find a Brexit deal, and said in a joint statement afterwards that their meeting had been "constructive and friendly".
However, there was no indication the Commission's side was ready to revise its view that the talks still had not made sufficient progress for them to move forward to the second phase, including a free trade deal.
Ms May will get the chance to address EU leaders on Brexit at the European Council summit this week, Downing Street and the European Commission confirmed.
The Prime Minister will not attend a Friday working session of the other 27 leaders on the negotiations, although Commission chief spokesman Margaritis Schinas hinted that the UK would not be entirely absent from the proceedings.
Register for free to continue reading
Registration is a free and easy way to support our truly independent journalism
By registering, you will also enjoy limited access to Premium articles, exclusive newsletters, commenting, and virtual events with our leading journalists
Already have an account? sign in
Register for free to continue reading
Registration is a free and easy way to support our truly independent journalism
By registering, you will also enjoy limited access to Premium articles, exclusive newsletters, commenting, and virtual events with our leading journalists
Already have an account? sign in
Join our new commenting forum
Join thought-provoking conversations, follow other Independent readers and see their replies