Brexit opinion surveys show huge swing to Remain in UK regions that voted Leave
Expert analysts are sceptical of the results, saying the surveys are not scientific and differ vastly from national surveys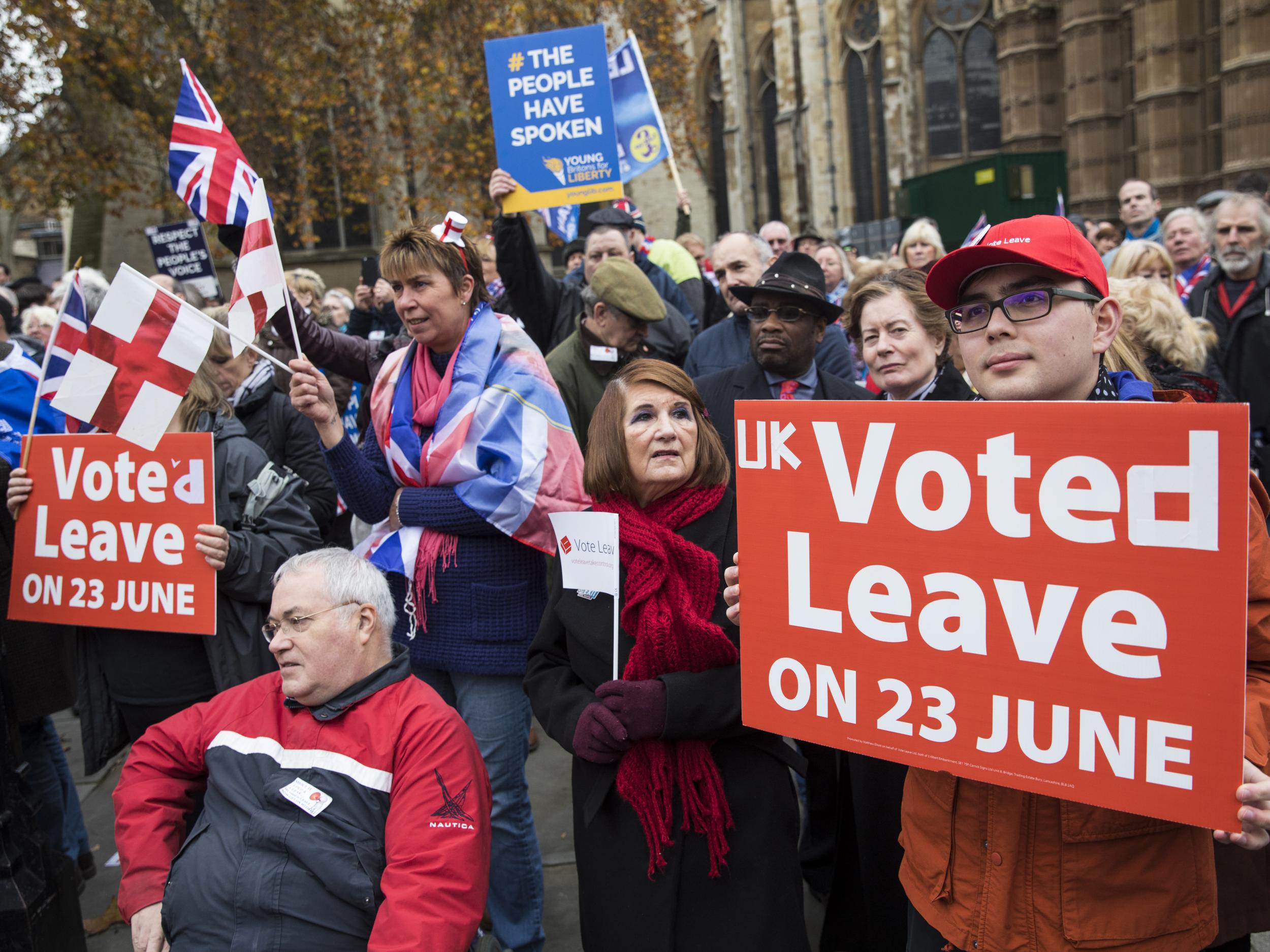 Most people now want to remain in the European Union in parts of the UK that voted overwhelmingly for Brexit, according to opinion surveys by several different local newspapers.
The Wolverhampton-based Express and Star newspaper became the fourth outlet to publish results showing a complete U-turn in public opinion on Saturday, with 60 per cent of respondents saying they would now vote to stay in the EU.
Three other regional publications in the north east and the West Midlands recorded similar findings.
Analysts urged caution over the surveys, saying they were not conducted scientifically and are at odds with more reputable national polls, suggesting the former may not be accurate.
The Express and Star, which surveyed 10,000 readers, also asked readers to fill in a questionnaire in March. At the time, 80 per cent of their readers said they intended to vote Leave, which equates to there having been a 46 percentage point shift in nine months.
In June, 59 per cent of voters in the West Midlands indicated they wanted to exit the union.
The Hartlepool Mail and Sunderland Echo both reported similar findings on 10 December, based on samples of 3,000 people.
Hartlepool voted by 61 per cent to exit the EU in June, while Sunderland was the first city to declare on referendum night, with more than 60 per cent voting out of the union.
Earlier in December the Newcastle Chronicle declared "the North East now wants to stay in Europe" because 1,114 of 1,500 respondents said they would now vote remain.
Nationwide "regrexit" was reported soon after the referendum results were announced, with many people saying they did not expect Leave to win and had filed a protest vote to exit the union without properly thinking through the consequences.
In October a poll by the British Election Study (BES) suggested if those suffering from post-referendum "Bregret" had voted to stay in the European Union, Remain would have won.
But most national polls since then have suggested "regrexit" and "Bregret" have been overstated, with the overwhelmingly majority of people reporting being happy with the way they voted and saying they would vote the same way again.
Professor Jane Green, a researcher at BES and lecturer in politics at Manchester University, said the newspapers could have distorted the results by filtering out people who said they would not vote, which would filter away Leave voters who do not want another referendum at all.
Matt Singh, an election and opinion polling analyst and founder of the website Number Cruncher Politics, said the numbers were interesting, but he would not put any weight on them.
"I would be very sceptical of the numbers," he said. "It is possible that different areas behaved differently, but the north east and West Midlands, very leave-y sort of areas, showing something that is more remain than the national polls are showing does seem pretty odd. The likeliest explanation is that they've all been thrown off by the same thing."
He added that the methodology was probably not scientific.
What experts have said about Brexit
Show all 11
"With normal opinion polls, whether they are done online or by phone or however, you would go through and make sure that the people you had sampled were in the right proportions for the country or local area in terms of age, gender, region, occupation — education is an important one now — who they voted for in the last election, and crucially in this case, how they voted in the referendum. It doesn't look from these write ups as though there's any evidence of them having done that," he said.
"All the scientific polling that has been done at national level... has shown the overwhelming majority of people on both sides would vote pretty much exactly as they did before.
"The week after the referendum itself you got maybe some signs of Brexit regret, but pretty much all the polls since then have been showing something very similar to the result -- so Leave narrowly ahead.
"These polls you see falling out of line with that, the reason these sort of polls can get quirky results is one side might be keener than the other to respond and make their voice heard."
He added there are many ways an online survey can go wrong.
"You can get people on one siding sharing it and going 'look this poll says this, why don't you come in and make your voice heard'" he said.
"They cant even control if people are actually in that area or not."
Join our commenting forum
Join thought-provoking conversations, follow other Independent readers and see their replies